Do you want to create a website using WordPress for listening to the famous reputation of this platform? However, when you find out, you see people mention 2 websites: WordPress.com and WordPress.org . Don't think it's the same but choose any. Especially if you need to create a WordPress site. You need to understand the difference between these two services before making any decisions.
In this article, we will compare WordPress.org and WordPress.com based on the following factors:
Easy to use
Flexibility and customization
Price
Performance
Security
Of course, before delving into the technical part, we will also explain what WordPress.org is and what WordPress.com is first. You can understand the concept between these two platforms after reading! Let's start!
Introducing WordPress.com and WordPress.org
As mentioned above, WordPress.com and WordPress.org are not one. They are two completely different platforms although they are similar to each other.
In the next section we will make a clear comparison between WordPress.com and WordPress.org . For now, the main factor to distinguish these two platforms is: hosting .
WordPress.org is the website containing the famous open source installer 'WordPress' -the world's largest content management system (CMS) software :
In short, CMS is a type of software designed to help create websites and manage data and website content more easily, through a user-friendly management interface.
In the case of WordPress, this platform was originally used to create blogs, but it has grown to become a software suitable for all types of websites and applications. The WordPress.org website contains this latest 'WordPress' software installer. Therefore, when visitors come to this website, they usually download the latest version to install on their web hosting, find documents related to WordPress, find instructions and see information about WordPress.
WordPress.org is a self-hosted WordPress product. Also because of the convenience and robustness of WordPress, many web hosting providers have supported 1 click installation , the process of installing WordPress is also easier and absolutely no technical knowledge needed to create one. The WordPress site is complete and running online.
What is WordPress.com?
On the other hand, WordPress.com is a blog service website, operated by Automattic . When using WordPress.com , you will use the pre-installed WordPress software version:
When using the service of WordPress.com, they hire hosting service of this website, this hosting service only provides WordPress as the main platform. You can sign up for free to paid services, focusing on blogging without having to worry about installing and hosting anymore.
In short, the main difference between WordPress.com and WordPress.org is their way of hosting. While WordPress.org is a "self-host" product, where you use to download WordPress installers, WordPress.com is a provider of hosting services in conjunction with WordPress blog software, where WordPress is already installed and you only write a subscription from free to high-end to blog.
Now that you know the basic difference between the two platforms, dig deeper. We will conduct a comparison between WordPress.org and WordPress.com .
WordPress.org and WordPress.com : The ease of use
In this section, we will evaluate the ease of use between WordPress.org and WordPress.com . To do so, we will first evaluate the initial installation step and article publishing.
Start with WordPress.com . The first thing you need to do is account settings, which can be done for free. You just need to name your blog:
Then you fill in personal information to register for WordPress.com account . This account can be upgraded, we will talk later.
After registration is complete, you will be given a management page. Here, you can manage your WordPress.com account, website.
To view your website, just go to the My Sites tab . You will see site statistics, if you create, nothing will show up:
Here, you can view your website by clicking View Site button :
Of course, you have nothing to see. To publish the content, you can click the Write button at the top of the screen.
This option will open the WordPress.com editor , which is very intuitive. You can write the title, content, edit parameters in the management bar on the right:
When the first blog post is complete, you can preview it to check it out. Then, click Publish to officially show it to your visitors.
In general, for your website to function well, it will only take a few minutes. Writing first blog posts is easy, of course depending on you, the level and length of the article.
Now take a look at WordPress.org . To start using this CMS, you will need to find a hosting provider. That means you need a few steps to prepare before you officially blog. However, it is not difficult to choose a hosting provider, and especially you are not bound by any provider.
For example, Hostinger offers a great share hosting package at a very competitive price. Even the lowest package you will have the right to use advanced features such as multiple PHP versions and SSH access .
After you have finished selecting the web host and registering a package, the next step is to install WordPress on the new server. It usually takes a few minutes, and is even shorter if your provider supports 1 click installation like Hostinger. Of course, this process will not be as simple as WordPress.com .
After WordPress has been installed, you will find the management interface more selective than WordPress.com's :
More options, you have more management rights but also means a little more trouble. However, when creating new posts, it is as simple as on WordPress.com. Just go to the Posts tab > Add New , to open the WordPress.org editor on:
As with WordPress.com , you can title the article and add your content. Moreover, the article's configuration parameters will be adjusted on the right hand side of the screen.
In general, the new publishing experience of both platforms is similar and clear. WordPress.com is a little bit more at the initial stage of installation and both are equally good at putting the web online.
WordPress.org and WordPress.com : Flexible and easy to customize
Although there are still many people who view WordPress as just for blogging, both platforms can really help you operate many different projects.
In this section, we will talk about the flexibility between WordPress.org and WordPress.com and proceed to compare them in terms of customizable functions. The main goal is to see if you have the right to freely set the website as you wish.
Take a look at WordPress.com . From the beginning, you can customize the style of the website with themes. WordPress.com has many free themes. WordPress.com also supports charging themes:
Next is the plugin, a theme next to themes that makes WordPress famous. With the plugin, you can add almost every feature you want to the website, without having to hire a programmer to do this: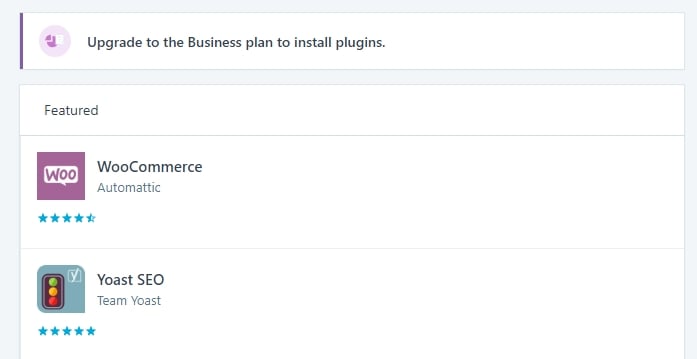 With WordPress.com , you can use the same plugins as WordPress.org . However, the free package of this platform doesn't let you install any plguin. To install the plugin, you need to upgrade to the Business package of WordPress.com.
Self-hosted WordPress (on the other hand, WordPress does not have any limitations). As soon as your website works, you can install thousands of plugins you see on WordPress.org:

With themes, there are also thousands of options for you:
If only counting numbers, WordPress.org obviously has an advantage. The freedom to install plugins and themes also makes you aware of WordPress as a platform for every type of website, with the right features for your needs. If you are an experienced programmer, you can also create your own themes and plugins , even edit WordPress as you like.
So, if you choose the free package of WordPress.com, the ability to customize will be very limited. And so, the second round of the article compares WordPress.com and WordPress.org the victory belongs to WordPress.org.
WordPress.org and WordPress.com : Price
Of course, if you want to create a website, it will cost you a bit. Most fundamentally, you will need to pay at least the hosting and domain fees, in addition to some other fees to operate the website.
In the previous section we only talked about the free version of WordPress.com. Its paid version will contain 3 packages :
Presonal (4 USD a month): With this package, you can remove WordPress.com ads and add your own domain name.
Premium (8 USD a month): Premium users can earn money from their website with ad and use CSSto edit the website.
Business ($ 25 a month): This package allows you to add plugins and themes, as well as allow Google Analytics to be integrated into your site.
Each package will meet your own purpose. However, in order to take full advantage of all the features of this platform, you will need to use the most expensive package, Business. Because it gives you deep access to WordPress plugin system. Moreover, integrating Google Analytics is almost paramount if you want to understand visitor behavior.
So, to take full advantage of WordPress when using WordPress.com , you will need at least $ 25 a month for the website. You can choose the free version, but it will not help you to expand and not like a professional website.
Not to mention you will find several premium themes on WordPress.com, with prices usually around $ 30. Often these premium themes are much more beautiful than free themes, so if you need it, you will need to spend a little more to buy themes.
Continue, let's follow WordPress.org . The platform itself is inexpensive because it is open source, but because you always need a domain name and hosting, you will need to pay for these two intervals.
In order for you to better understand hosting costs, a good shared hosting package will usually cost around VND 70,000 per month or less.
The cost may be a bit higher if you choose a stronger solution, such as Virtual Private Server (VPS) . VPS is an outstanding solution for a website, so you may not need this expensive package, but you can use the small package first and upgrade it slowly as the website grows.
As for domain names, prices vary by type. Usually you will choose a .com domain name , it will cost around 220,000 VND / year. This means that you will initially spend less than 300,000 to set up a WordPress website, including hosting and domain names.
If you want to use plugins and premium themes anymore, the cost will increase depending on the tool. The premium plugin cost about 200k and themes will cost 500k a theme.
Of course, you don't need to spend money buying premium themes and premium plugins. However, according to our experience, most people use high-end products because it makes the site look more beautiful and professional. And these costs are only paid once.
So, the initial cost of creating a website can range from 0 to several tens of millions, depending on the hosting package, domain name and tools. However, because of the free and flexible, the price comparison round between WordPress.org and WordPress.com , we choose the first one.
WordPress.org and WordPress.com : Performance
One of the most important elements of every website is speed. Your website needs to load quickly, users don't have a jerk, or wait a long time to interact on the site.
There are many factors that will affect the speed of websites that are not related to the infrastructure in use. For example, if you use a page with a lot of high quality images without conducting it down , the page load time will increase.
That is the problem later when you are operating the website, you need to constantly optimize it to get the best speed. For now, the preparation step is to choose a good foundation first. WordPress.com has a good hosting platform for the website, all its packages are running smoothly and fast.
So, the main advantage of WordPress.com is that you don't have to worry too much about speed because it has a long reputation. WordPress.com is fast and almost no downtime.
WordPress.org is different. Although it is a very good and fast software itself, but you still need to see if your web host is optimal for WordPress, or at least you need to choose the provider for the best speed.
When using WordPress.org , you should also make adjustments to speed up your website. For example, you can integrate CDN into your website or use browser caching to speed up the web. If you are a perfectionist and need to control all aspects of the website, WordPress.org is the choice for you.
In short, speed is the factor you need to carefully consider. WordPress.com will optimize for you, WordPress.org allows you to control many functions of the website speed optimization. So, we think the win is a bit inclined to the second in comparing speed between WordPress.com and WordPress.org .
WordPress.org and WordPress.com : Security
Last but not least in comparison between WordPress.org and WordPress.com , we will discuss security. Using an essential security platform in the current context, to keep yourself and visitors safe and secure information. You will definitely not want an attacker to be able to gain access to the website and use it to distribute malware or spam, right?
For security, WordPress.com is very experienced in this. Since it operates a fully closed platform, there are not many holes above. Moreover, WordPress.com has an information security team that will keep your site safe, so you can safely operate the website without worrying.
On the other hand, ordPress.org , requires you to know the basics of security to enhance this feature. First, make sure your web host has a reputation for a certain level of security. After that, do some of the following steps to protect the website .
If these security measures are implemented correctly, you can breathe a sigh of relief. Because you can install the WordPress security plugin to enable 2-step authentication, your own IP whitelist so you can only access the dashboard, yes.
We mean, because WordPress.org is an open platform, you can increase the security function more or less. So, since we like to have more control over the website, in the last section of the comparison between WordPress.com and WordPress.org, we still choose org.
Advantages of WordPress.com
We have compared a lot about WordPress.com and WordPress.org, now is the time to sum up the advantages of both platforms.
First, the advantage of WordPress.com is:
Extremely simple to create websites with this platform.
Dashboard is easy to use, has many good features.
You get many free themes.
Performance and security, WordPress.com does well.
However, the main disadvantage of WordPress.com is that you cannot use the plugin unless you subscribe to a 25 usd package a month. Plugin is the main reason why WordPress becomes strong, so, lack of them or the price of owning them too expensive is a big minus point.
WordPress.com is still a good platform if you want to create a simple website quickly. Using it means you can focus on developing content for the website, without paying much attention to technical factors.
Advantages of WordPress.org
There are many reasons why WordPress is so popular. They have the following outstanding advantages:
The open source platform allows you to take full control of every corner of the website
Clear and easy-to-use management interface with lots of options to customize.
You can access thousands of plugins, free and paid themes. You can build all kinds of websites thanks to them.
WordPress can run on any web host or server, you are not dependent on a single provider.
Also to mention the strong community of WordPress, this community is very vibrant and useful. Regardless of your question, it is almost certain that you will find a quote from the WordPress program's tutorials, tutorials, and tips. And many people will be willing to help you.
But speaking again, in order to use the WordPress.org proficiently, it requires a bit more difficulty than WordPress.com . You also need to speed up the website and increase security with different methods.
These methods are very simple to implement, even if you are new. They are also worth exploring to increase your knowledge of web operation. So, as you can see, when comparing between WordPress.com and WordPress.org , WordPress.org is our choice.
Epilogue
On the outside, there are many things in common when creating websites with WordPress.com and WordPress.org . They are almost brothers, but obviously WordPress.org excels at the feature point, because it is essentially open source.
Not using WordPress.com is not good, especially when you don't want to worry about hosting and just need a simple site. However, if you are the type of person who likes to operate and manage websites at every stage, then of course you should choose WordPress.org .
As for you , you like to create a website using WordPress.org or WordPress.com more? Please share your experience when using one of these 2 platforms with us!
Read more :
Compare the difference between WordPress.com and WordPress.org
Do you want to create a website using WordPress for listening to the famous reputation of this platform? However, when you find out, you see people me