Note:
Please read the article carefully before proceeding! If in the process of using you encounter any errors, such as broken download
links
, slow loading blog, or unable to access a certain page on the blog ... then please inform me here. Thanks!
In the previous article, I showed you how to calculate the number of days, months and years between any two times in Excel with the DATEDIF function. However, there is still much reader feedback on complexity, as well as being difficult to use with this function formula.
Yes, because of that, today I will continue to share with you a similar function formula, but with a simpler structure. Help you to calculate the time between any two times is faster and more convenient.
Read more:
#first. How to use the DAYS function to calculate the number of days between two dates in Excel
+ Step 1: First you open the Excel file to be processed.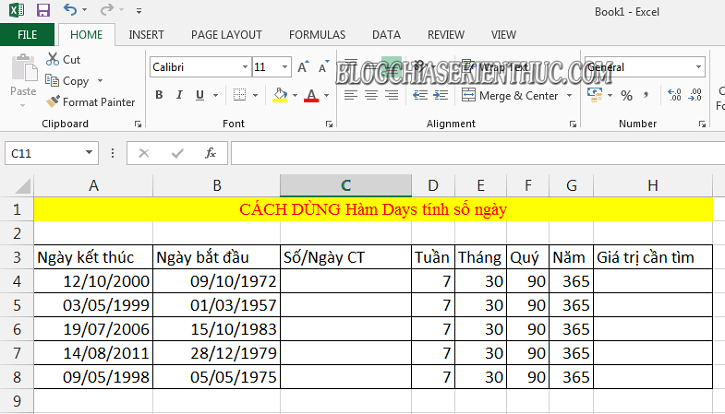 + Step 2: Then you click on the number of days in the worksheet, and enter the following formula => and press Enter for Excel to execute.
= DAYS(end date; start day)
Applied to the example we get the formula: = DAYS (A4; B4)
// That is, subtract the start date from the end date.

+ Step 3: Next, keep your mouse on the plus sign in the formula cell => and Fill it down to the whole list to be calculated.

To be the result of calculating the number of days.

#2. Calculate the number of weeks, months, quarters and years at two times in Excel
After calculating the number of days, you use the division formula to find the value of the week, month, quarter, year (equivalent to weeks 7, 30, 90, 365) ... using the formula below = > Then press Enter to execute:
= number of days/value to find
Then fill the formula down the whole list to apply the formula to the remaining cells.

And this is the result we have obtained.

# 3. Epilogue
With this calculation, you can calculate the number of days (or weeks, months, quarters, years) between the two times, similar to the DATEDIF function, but a lot easier already, right?
In addition, to make it easier to calculate and remove long decimal numbers, you can apply the previous article on how to round decimal numbers in Excel.
Yes ! Here comes the tutorial how Use the DAYS function to calculate the number of days between two dates in Excel I also would like to pause. Hope this tip will be helpful to you.
Good luck !
CTV: Luong Trung - Blogchiasekienthuc.com
Note: Was this article helpful to you? Do not forget to rate the article, like and share it with your friends and relatives!
Read more :