Note: Please read the article carefully before proceeding! If in the process of using you encounter any errors, such as broken download links, slow loading blog, or unable to access a certain page on the blog … then please inform me here. Thanks!
The idioms system (idioms) is an extremely interesting array in English. If you've ever studied through, surely you are also impressed by their unique and colorful.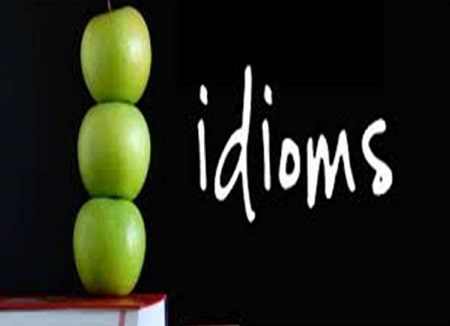 With short sentences and deep meanings, idioms in English are not inferior when placed in the same treasure of proverbs and idioms in our Vietnamese language.
However, their diversity also makes it difficult for learners to research. Exposure to an endless amount of idioms, especially for sentences with too many meanings will be very easy to make you feel bored and want to give up.
Don't worry, we can start from the simplest steps. Today I will help you to summarize some common idioms in English after a long process of exposure and getting used to them. And if you go into this subject, then I am sure that at some point, you will see the importance that these idioms seem so simple.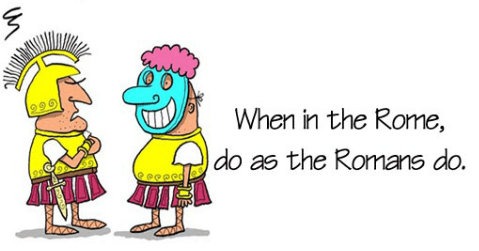 Due to the large amount of idioms, I will divide them into 2 parts so you don't get bored. In the framework of the article, we will first go into 50 simple and most common idioms. Come on, let's find out together!
List of idioms in English very well
• All roads lead to Rome : ĐWe all go back to Rome.
• Blood is thicker than water : A drop of blood digs more than water.

• The more the merrier : The more the merrier.
• Failure teaches success : Failure is mother's success.

• Goodness is better than beauty : Good wood better than the paint.

• Like father, like son : Like father Like Son.

• No man can serve two masters : A wise dog doesn't worship 2 masters.
• Prevention is better than cure : Prevention is better than cure.
• You win some, you lose some : ĐOkay this one, lose that one.

• Grasp all, lose all : Greedy.
• Habit cures habit : Fire kill fire.
• Soon hot, soon cold : Easy come, easy go.
• Actions speak louder than words : Easier said than done.
• Make a rod for one's own back : He sticks beaten his back.
• Diligence is the mother success : Has iron grinding makes perfect.

• Haste make waste : Speed ​​education failed.
• Every dog ​​has his day : Whoever rich three, who difficult three generations.

• Have a loose tongue : Three stingy flowers.

• Time is money : Time is gold.
• Build something on sand : Car sand colon.
• Bite the hands that feeds you : EATn stone porridge bowl.

• Think today, speak tomorrow : Bend your tongue 7 times before speaking.

• Appearances are Deer and Deer : Blue shell red heart.

• Love me love my dog : Love each other the way / hate each other hate each other.

• Love cannot be forced : Pressed oil and grease – anyone willing to press charm.
• Learn something by rote : Rote.
• Pick and choose : Picky.
• Trying to please everyone : Everybody's servant
• Custom rules the law : King lost to the village charter allows.
• Burn one's boats : Cross the bridge to draw the board.
• Walls have ears : Forest ear canal.
• Spare the rod, spoil the child : Punishes injured.
• Nothing stings like the truth : Truth offends.
• Once a thief, always a thief : EAThabit of stealing hands, sleeping on eye.
• Speak by guess and by God : EATn snail snooping.
• First think and then speak : EATn have chew, say yes think.
• Live to be 100 together : Centenaries during aging.
• Beggars cannot be true : EATIf you want to go away Gac.
• A storm in a tea cup : The story of children tearing up.
• Once bitten, twice shy: Birds must be afraid of curved branches.
• Honesty is the best policy : Honesty is the best policy.
• No roses without a thorn : Every rose has no thorns …
• Save for the rainy day : EATn when it heals, save it for pain.
• East or west, home is best : Home is the best.
• Money makes the mare go : Have money can buy everyting.
• The die is cast : Pen dead chicken.
• Two can play that game : EATn tit for tat.
• Love is blind : Love is blind.
• So far so good : Everything is fine.
• Silence is gold : Silence is gold.
Epilogue
So I have shared with you 50 simple and most common idioms in English and know. Easy right? If you pay attention, you will find that their meaning level is similar to the idioms in Vietnamese only. Very familiar, right?
Certainly this will help you more convenient to remember, so if possible, create meaning layers in easier directions!
Part 2 of the article I will try to complete as soon as possible. So visit the blog regularly to not miss the useful knowledge!
Have a nice day!
CTV: Ngo Hoang Mai – Blogchiasekienthuc.com
Note: Was this article helpful to you? Do not forget to rate the article, like and share it with your friends and relatives!
Read more :