Note:
Please read the article carefully before proceeding! If in the process of using you encounter any errors, such as broken download
links
, slow loading blog, or unable to access a certain page on the blog ... then please inform me here. Thanks!
Yes, in the previous article, I have shared with you about what the concept of Portable software is.
And through that article, you also understand the convenience as well as the great advantages when we use Portable software on the computer, right?
If you have not read that article, please take a moment to read it through before going into the detailed tutorial today: What is Portable software? Use the Portable software
#first. Why am I writing this article?
As in the previous article I mentioned, the use of Portable software is great, everything is very optimal for the computer.
However, there is a disadvantage that is difficult to manage and takes time to update each time a new version is available.
Therefore, in this article I will introduce you to a very great tool, only with extremely small capacity (about 5MB), you can manage more than 300 of the most popular portable software. on the computer already.
The tool that I want to introduce to you is probably quite familiar to many of you already. That tool has its name Portable Apps Directory is published by the familiar PortableApps.com website.
Read more:
#2. Introducing the Portable Apps Directory tool
Portable Apps Directory has been published by the famous Portable software site for many years: PortableApps.com
In my opinion, this is really an extremely useful software for every computer and meet all basic needs of users.
You will not need to spend time searching for each individual software anymore, it will be very time consuming and tiring than each update must download again.
When you use Portable Apps Directory, it will be different, here are some advantages that I want to mention:
There management interface, find alkaline applications. Designed quite similar to the menu START on Windows 7 operating system.
You can download more than 300 Portable software through this tool.
Support for managing software and Portable applications that you have downloaded.
Support update the Portable software when a new version is available.
Support Backup and Restore feature very convenient.
Support Vietnamese interface extremely easy to use.
Alternatively, you can change the theme if you like.
There are many other small features, please explore them yourself.
# 3. Download the latest Portable Apps Directory tool
Note: If you download the link from the homepage, this is the green button:

# 4. How to install Portable Apps Directory
Overall very easy to use only. After downloading the tool, double click to start installing it on your computer.
+ Step 1: The installation process is easy, you press Next to start the installation process.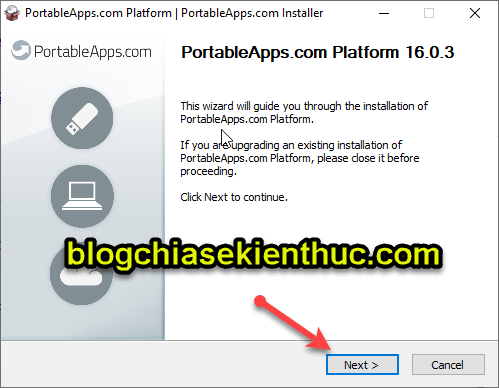 + Step 2: Next, click the button I Agree to agree to the terms of the software.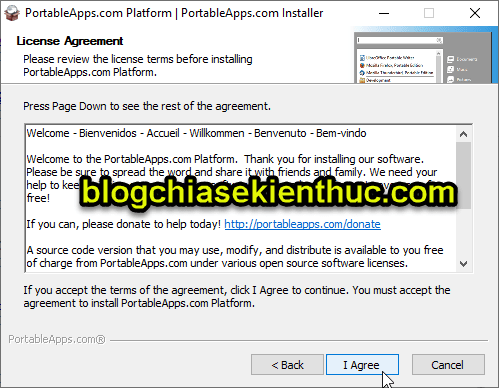 + Step 3: In this step, I will choose Select a custom location.. to select the installation path to the directory in another partition C.
If you leave the default, it will choose to install on the drive C, and when reinstalling Windows, it will be deleted and it takes effort to reinstall.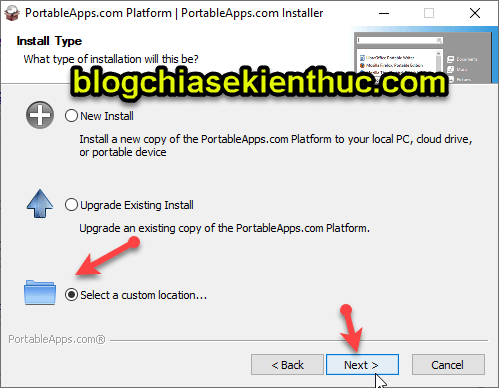 + Step 4: You create a new folder in the drive D or E... For example, I created a folder called Portable already. I will press the button Browse => and select the path to this partition.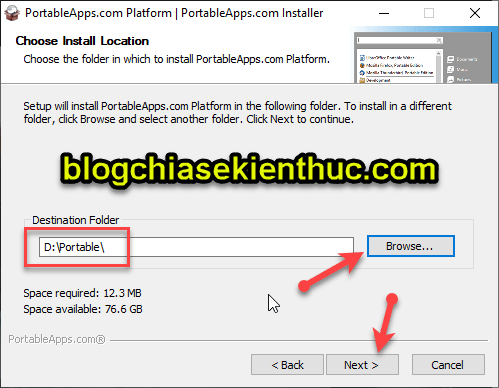 + Step 5: Finally hit Install to start the installation process.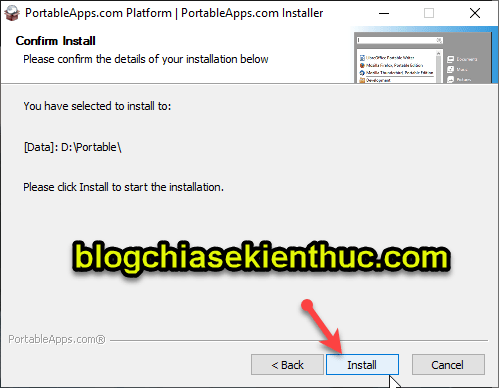 You should check all the options as shown below => and select Finish to finish.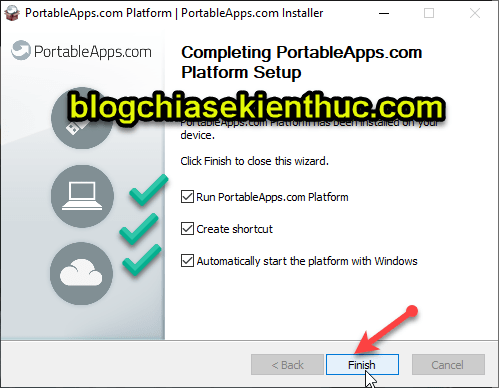 # 5. Use Portable Apps Directory to manage software / applications
+ Step 1: After installation, the interface will appear as shown below (quite similar to the Start menu on Windows 7, right?)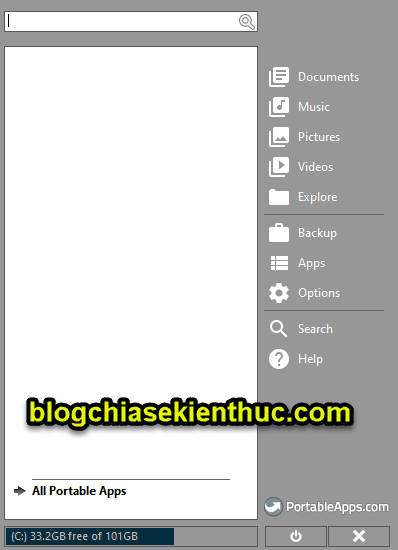 As I said in the introduction, this tool supports Vietnamese so we can switch to Vietnamese language if you like.
Click on the section Option => and navigate to the section Language => change it to Vietnamese/ Tiếng Việt is done.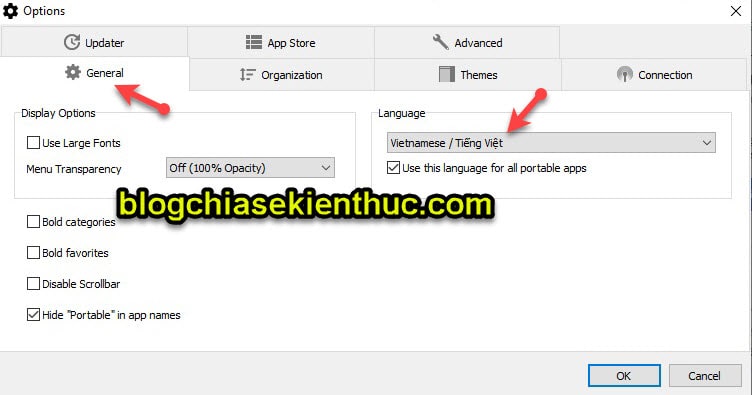 At this time, the management has been transferred to the Vietnamese language.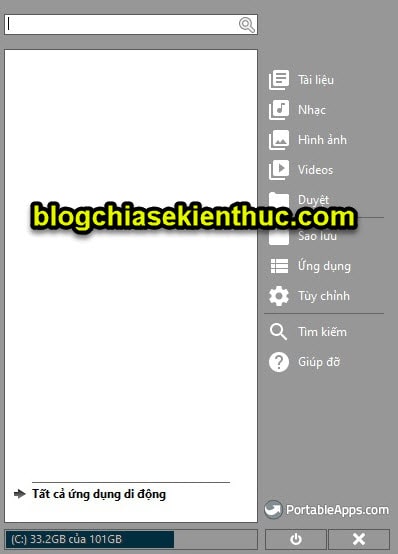 + Step 2: And this is the main interface of the tool Portable Apps Directory. Please tick on the software / applications you want to use => and then select Next it's done 😀
For example, I will try with Notepad ++ software for example.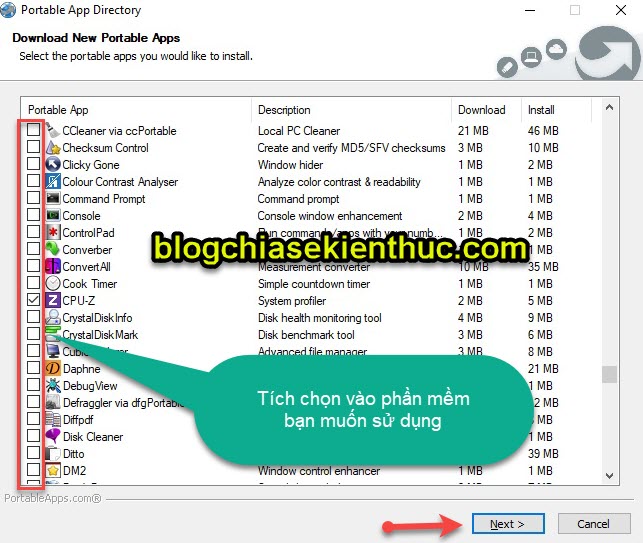 + Step 3: After pressing Next then the application download process Notepad ++ will happen very fast.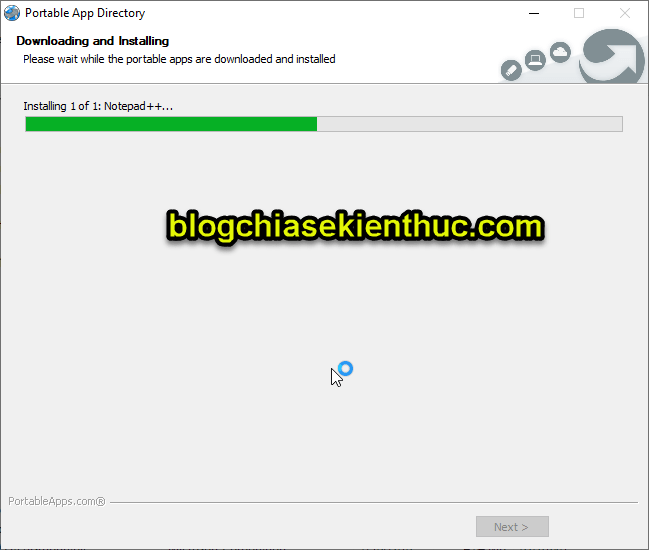 And after the installation is complete, it will appear in the management interface like this. You just need to double click on the application to open the program and start using.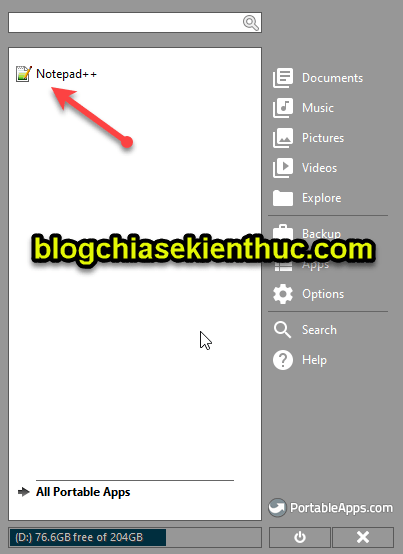 + Step 4: To bring the program's Start button to the Desktop, do the following:
Go to the directory where you installed the tool Portable Apps Directory => Right click on the button Start => select Send to => select Desktop is to be.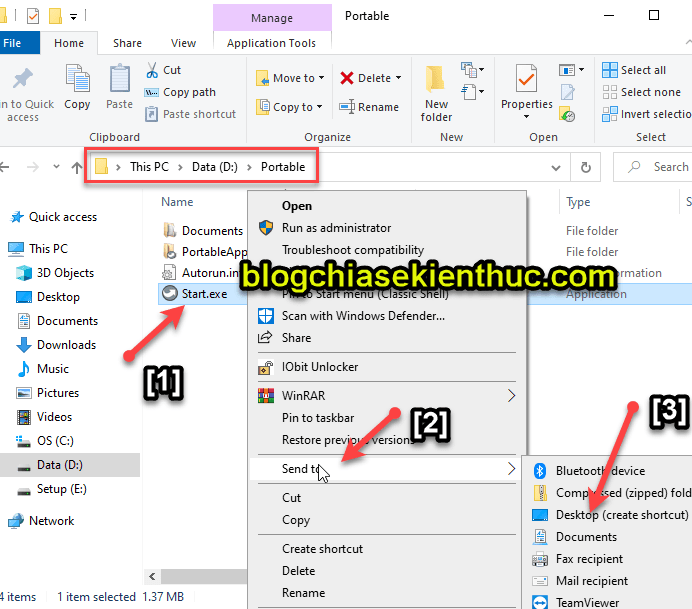 + Step 5: If you accidentally turn off the tool Portable Apps Directory If you're done, you can open it again by clicking Ứng dụng => select Tải thêm ứng dụng .. => select 1 of the first 2 (or depending on your needs) is done.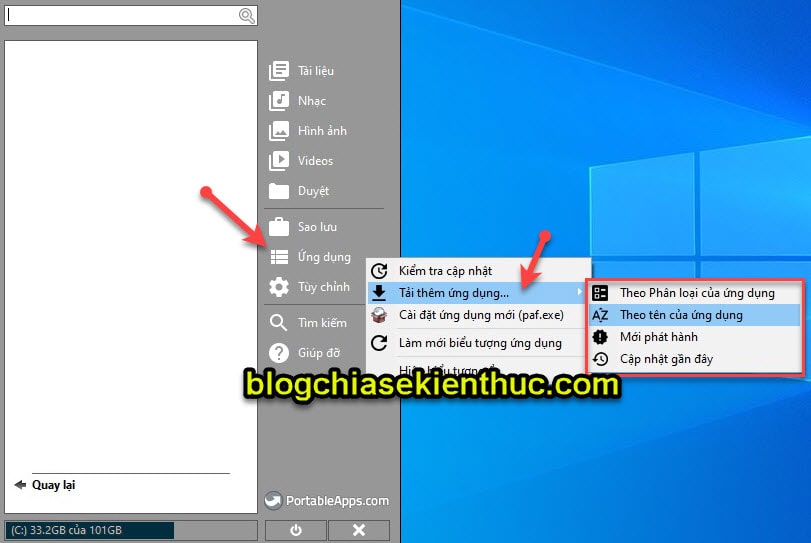 # 6. Epilogue
Yes, so I have just guided you how to manage the Portable software with the Portable Apps Directory tool.
Actually, this is an extremely useful tool that you should use. To restrict the installation of software to the computer, causing computer garbage.
In addition to the basic instructions above, you can find out more about other features by yourself, with Vietnamese interface and then spoiled for fun 😀
Hope this article will be helpful to you, wish you success!
Kien Nguyen - Blogchiasekienthuc.com
Note: Was this article helpful to you? Do not forget to rate the article, like and share it with your friends and relatives!
Read more :