The first thing to say is that this is a surprise to me. I knew about Ezoic 2 or 3 years ago or something. But back then it was only booked a few days and then off. Recently, my brother has booked for 3 months, the result is quite surprising to me. I realized that I had lost a lot of money for a long time without knowing it. Certainly there will be many friends just like me. By the way, I will write to share a bit of Ezoic experience to my present time.
What is ezoic?
Ezoic is a platform that helps you place ads on your website. Ezoic is a partner of Google and many other ad networks. In addition to just placing regular ads, Ezoic also helps you optimize your position, optimize your ads to help you get higher revenue than just placing regular ads through Adsense or other ad networks. This optimization will take time, so if your first month of income will not be really high. It will optimize gradually in the following months when there is enough data.
In return Ezoic will put a small ad of them below your page to "cover the cost" =)) Or you can pay the monthly fee. Generally just register. When we have a lot of money, we will see which is the better way =))

Ezoic fee
Receiving money through any channel?
You will receive money via Paypal or Payoneer.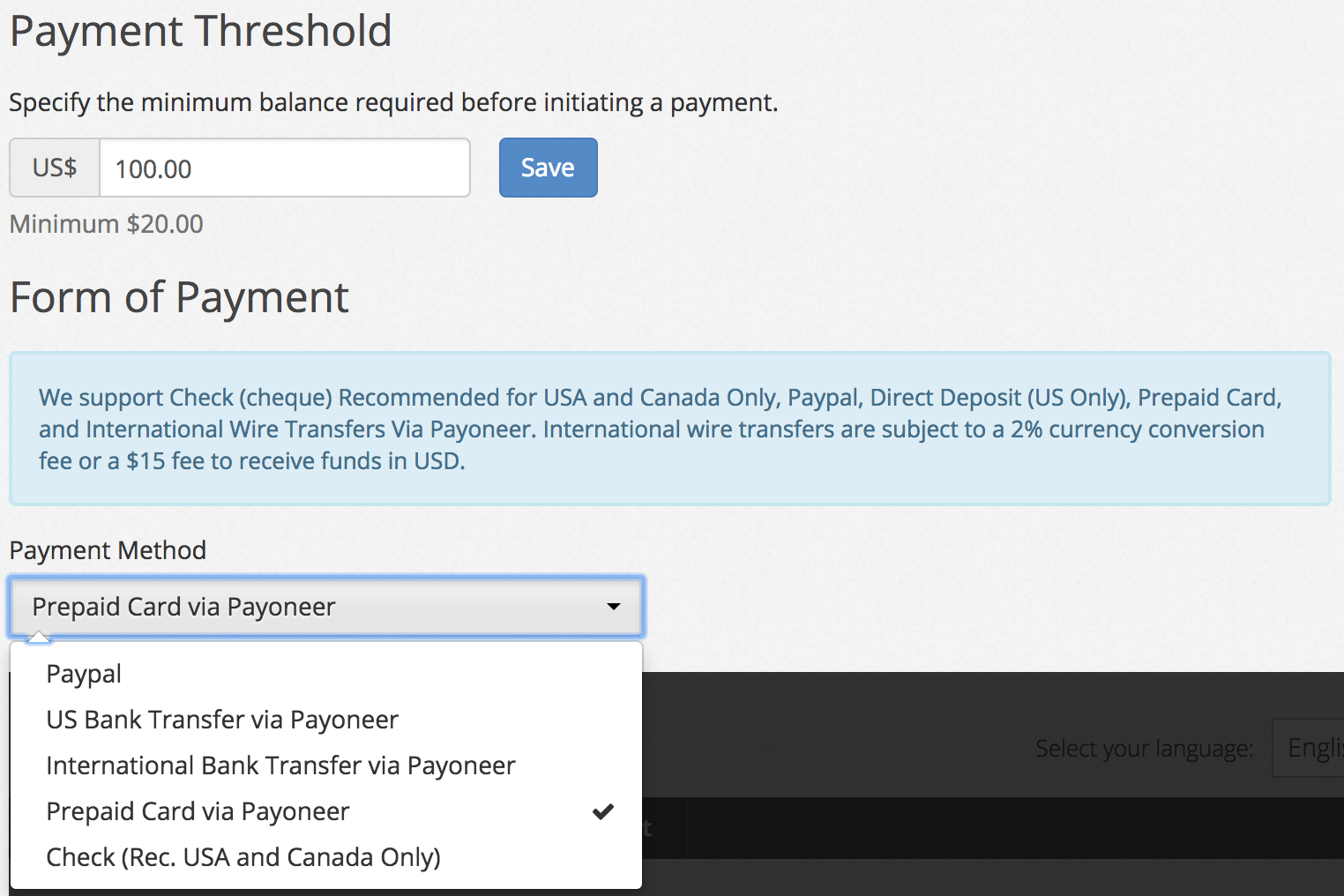 Get Ezoic money
What is the surprising thing?
I knew about Ezoic quite early, but I didn't try it with Ezoic. After placing the ad for nearly 1 month, I feel a bit regretful because I did not place it sooner =)) (Like a aunt who knows how to get married, get it earlier)
I have a cooking topic site, about 1k daily visits. Before that I just put the Amazon affiliate as the main, each month revenue of about $ 200 or something. Around the world.
But you try to see when I order more Ezoic and the amount from Amazon does not change much. What is the amount I can add =))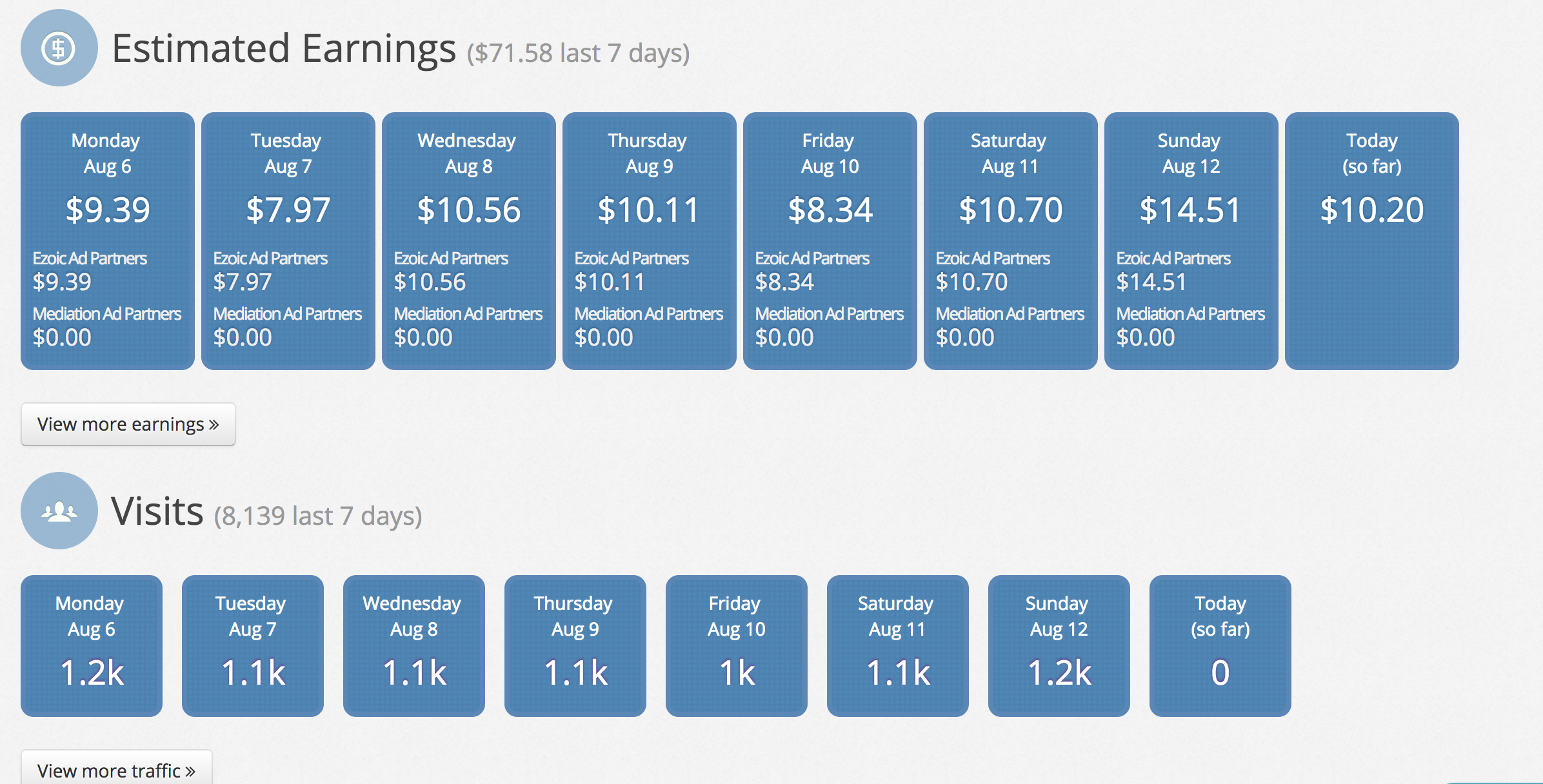 Ezoic cooking site last 7 days
Well you don't get it wrong, every day I get about $ 10. And for the past 1 year, I didn't order Ezoic. The amount of money I'm wasting around must be quite good
Now in addition to $ 200 monthly from Amz Affiliate, I have an additional $ 300 in my pocket from Ezoic ads. An extra income is not small, right?
Another surprising thing is that I have only booked Ezoic for less than 1 month. The beauty of this platform is that it optimizes and increases income over time.
When using Ezoic, one very important indicator to remember is EPMV.
What is EPMV? EPMV is an indicator of how much money you have earned per 1,000 visits.
EPMV stands for 'Earnings Per Thousand Visitors'. This is how much money you earn, for every 1,000 visits to your website and it's calculated as follows:

EPMV = Total Earnings divided by (Visitors / 1,000)
For example:
Your EPMV is $ 10
If your site visits 1k / 1 day => The amount earned is $ 10.
If your site visits 2k / 1 day => The amount earned is $ 20.
If your site visits 500/1 days => The amount earned is $ 5.
Here are his EPMV ratings. I ordered less than 1 month but increased from $ 4 to $ 11. And I hope it will increase further: v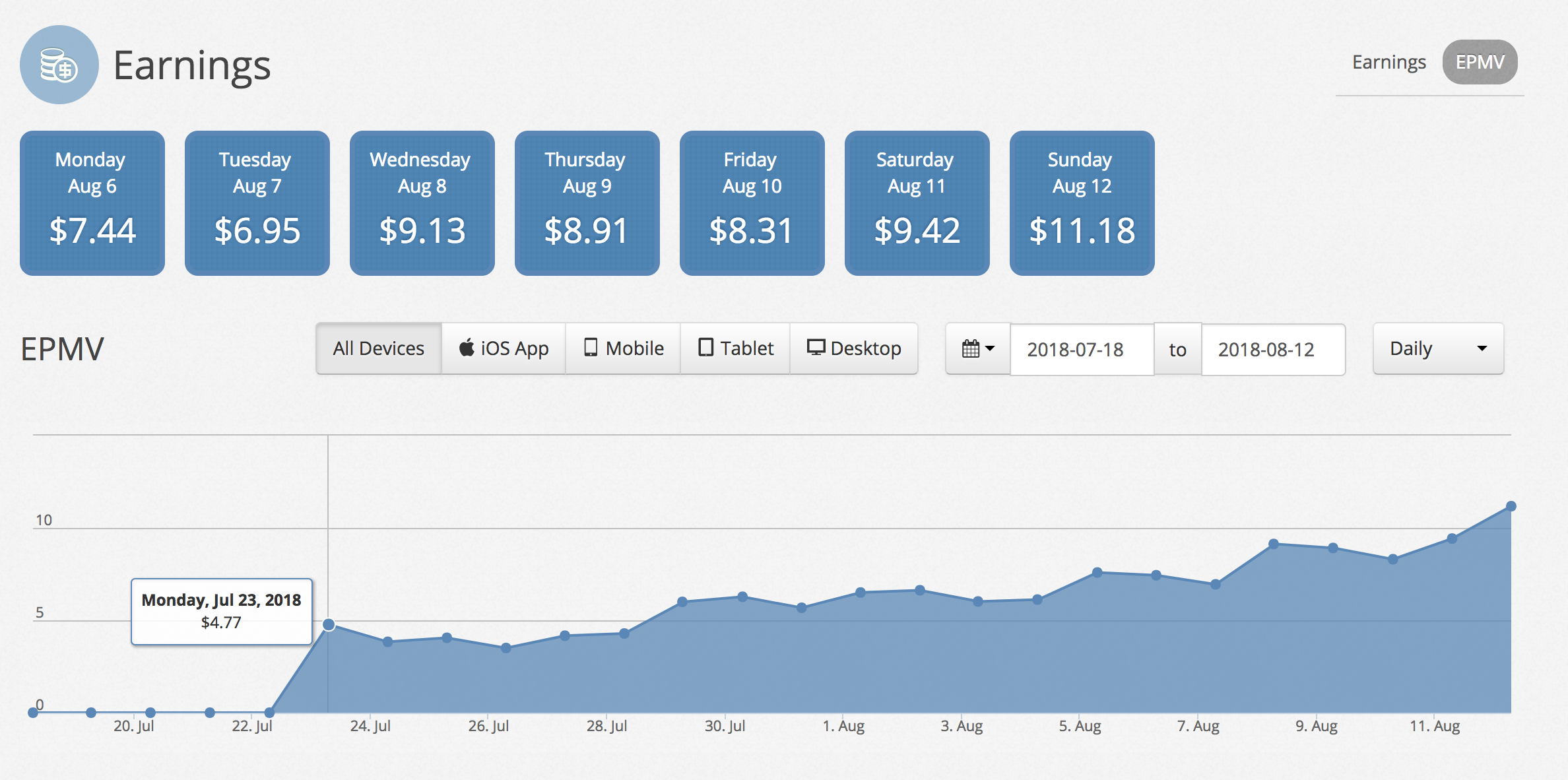 EPMV site cooking
Pros and Cons of Ezoic
Advantages
Super enthusiastic staff. Support fast. The support side supports location settings, optimal for you.
Self-optimizing ads. Increasing sales much more than placing regular Ads (Before I put adsense and I see that).
Sales increase over time
Registration is easy. Many sites can not register adsense but can set Ezoic. A way out for you yet to have an adsense account
Defect
Your site will look a bit ads =))
Your site will load slower than not placing ads. Of course: v
How to install Ezoic?
The installation steps will be in the following order:
Sign up for an account
Ezoic integration into the web (Via DNS, Cloudflare, Plugin WP)
Email Support places ads
Share View Rights Google Analytic Account
Sign up for AdExchange
Turn On
Wait for the money back
Get paid
1. Sign up for an account
Note: The minimum condition to register is that your site has 10k visits / 1 month. That is about ~ 300 visits / 1 day. If your site is a bit lower then just register and email support, Ezoic's support is very enthusiastic, so they will help but not rigid.
First, click on the big big button below to go to the registration home page:
The registration process is normal step by step only.
Sign up for Ezoic
2. Integrating Ezoic into the web (Via DNS, Cloudflare, Plugin WP)
After adding the site. Ezoic side may ask you about traffic, sometimes you have to add google analytic to them to check. There are sites that need, there are sites that don't.
There are many ways to integrate your site. I recommend 2 ways to use DNS directly from Ezoic or use Cloudflare.
2.1 Update via DNS
You will be provided with 2 DNS like this. You go to domain update management as instructions are done.

Update DNS Ezoic
2.2 Update via Cloudflare
1. You must point your DNS to Cloudflare successfully.
2. Go to the app store to install App Cloudflare. Then enter your Cloudflare account information.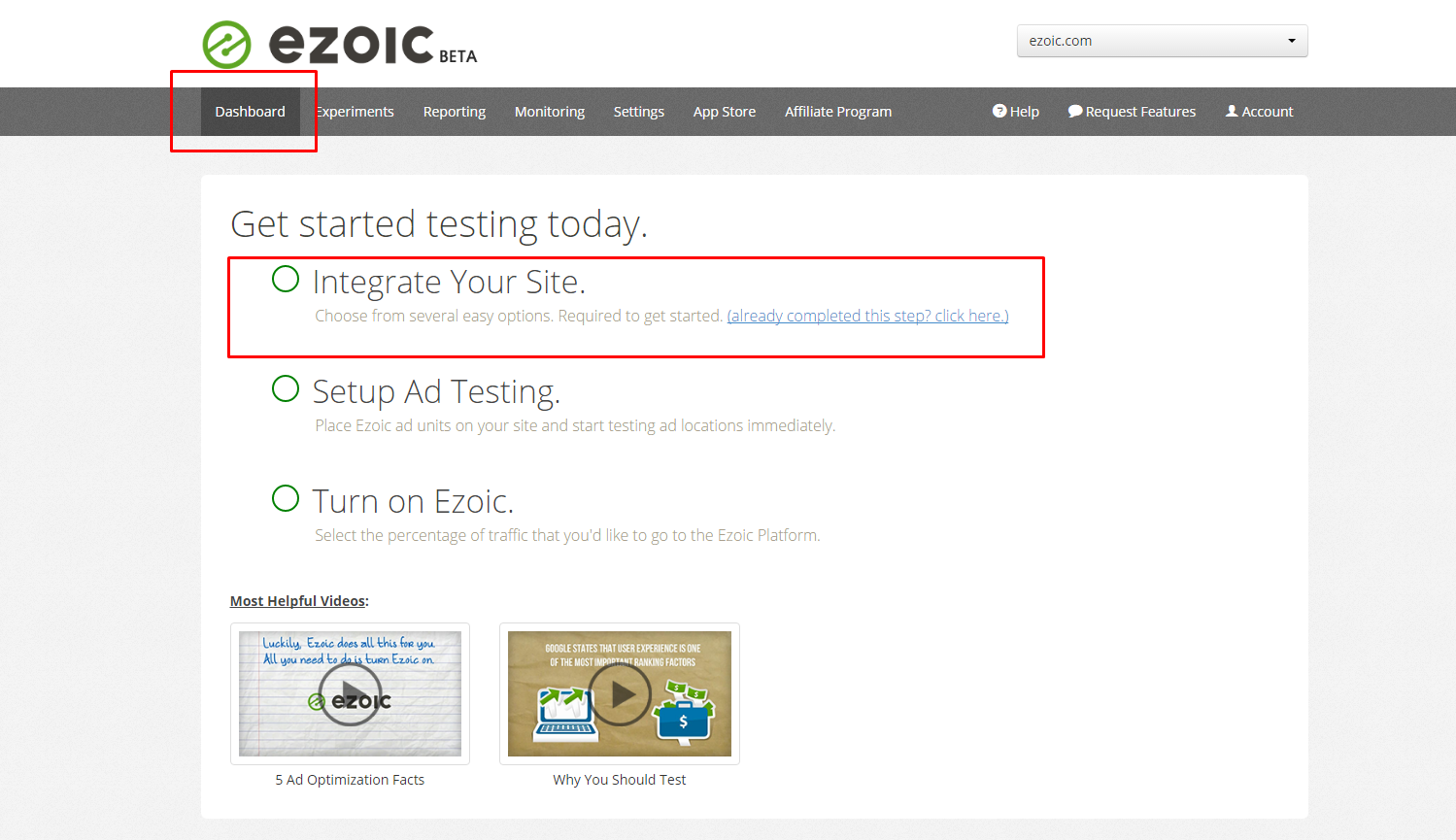 B1. Select Integrate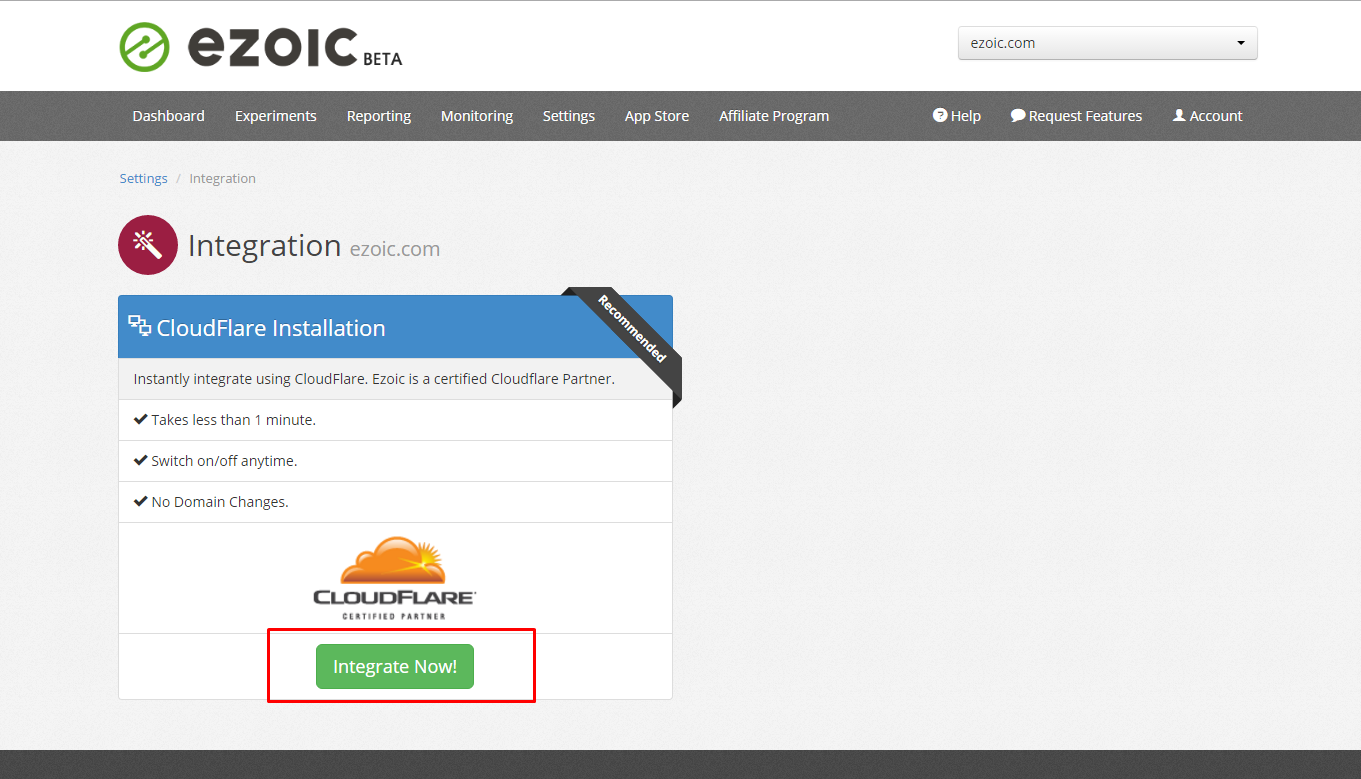 B2. Install Cloudflare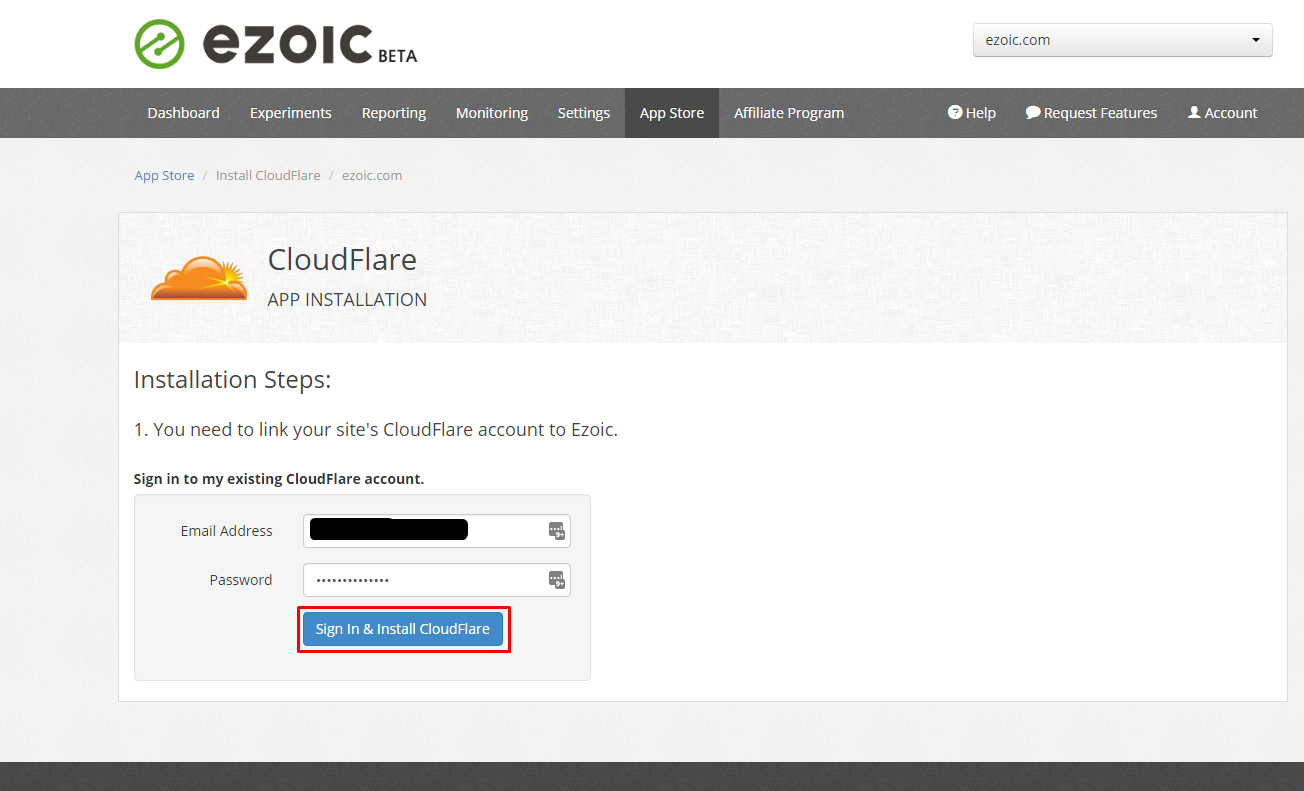 B3. Log in to your Cloudflare account
Note: This will update slower than the DNS way above. It may take you 1.2 days for the status to register successfully.
Read more here: https://support.ezoic.com/hc/en-us/articles/206329735-How-To-Integrate-Using-CloudFlare
3. Email Support places ads
After successful integration. Click the Need Help button in the lower right corner and fill in the following information: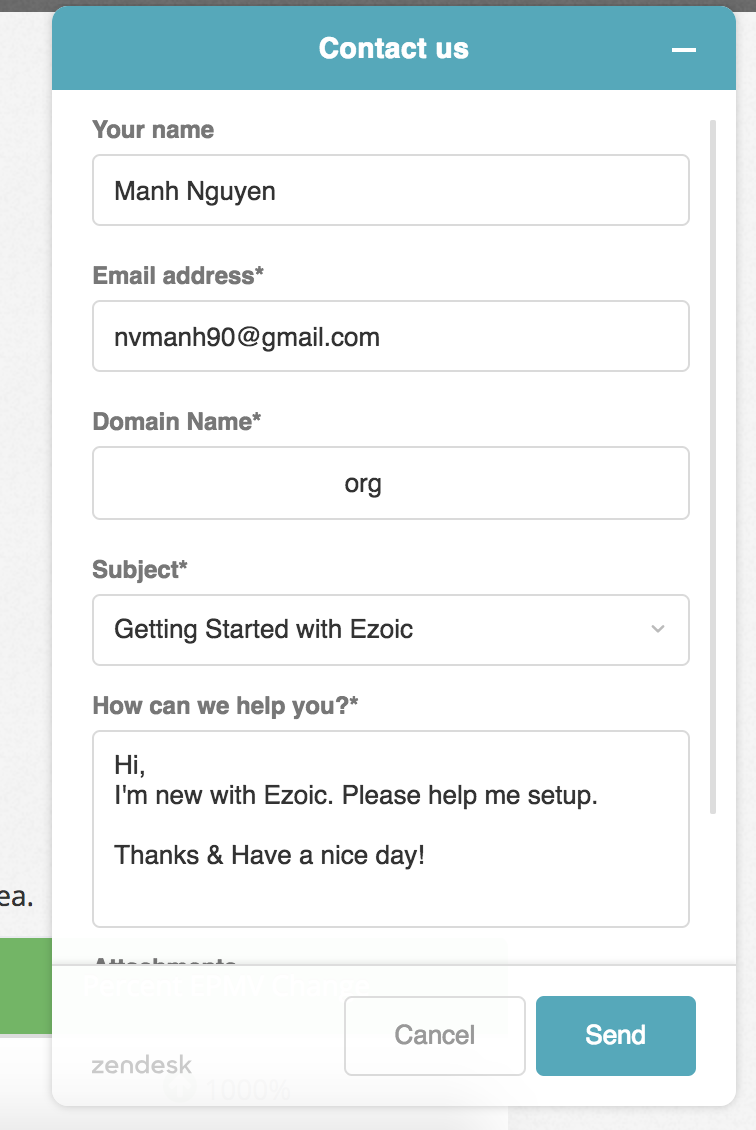 Submit support Ezoic request
Support is a bit complicated, so I asked them to set up and turn it on for me.
Text for those who are lazy to type:
Hi,
I'm new with Ezoic. Please help me setup.

Thanks & Have a nice day!
4. Share View Rights Google Analytic Account
Upon receiving Ezoic's response email, the support team will ask you to share the right to view the Google Analytic account of the website. The purpose of this step is to let them verify that your website's traffic is eligible to register or not.

You just boldly perform sharing as email instructions, Ezoic is one of the official partners of Google, so the traffic information of the website will be confidential and I believe there is no scam here.
5. Sign up for AdExchange
After Ezoic has checked Google Analytic & approve the registration, you go outside the dashboard to see the AdExchange subscriptions section open. Click on "Apply for Google's Ad Exchange", fill in the form and submit.

Note: in some cases of bugs, after filling in the AdExchange registration form, you cannot click the submit button. If this is the case, reopen the browser as "incognito", the bug will usually disappear.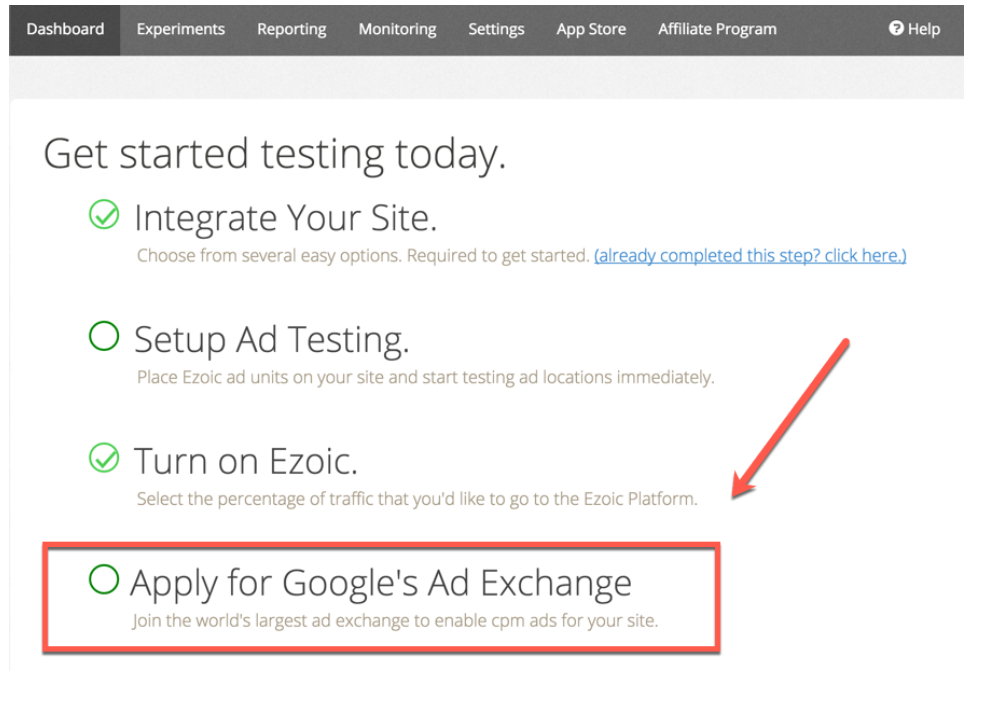 Sign up for AdExchange
6. Turn On
Turn On this I told support after setup is complete, then turn on always help me. You can also tell yourself to turn it on as well.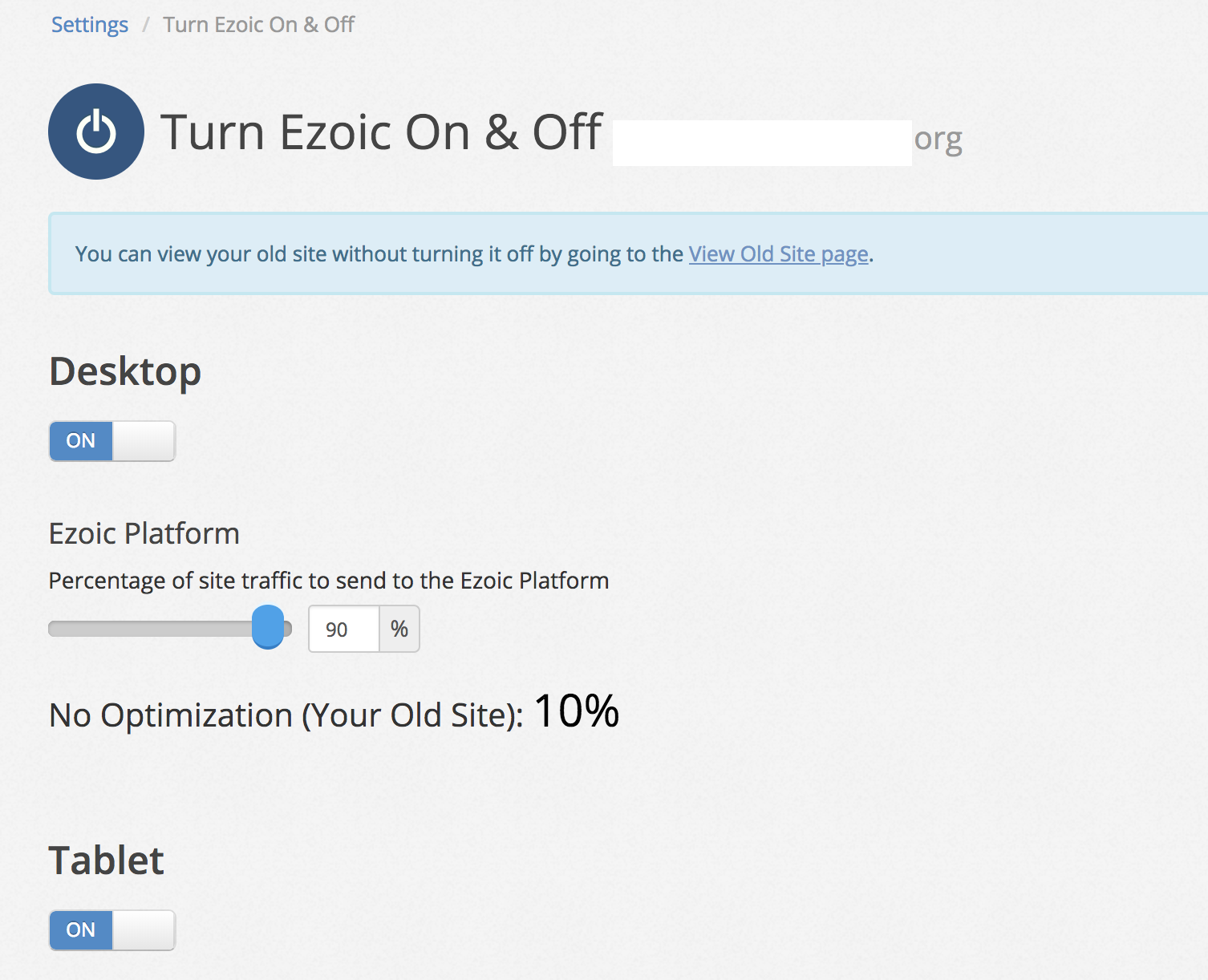 Enable Ezoic ads
7. Wait for the money back and Receive payment
After turn on. You wait after 24 hours to see the jump.
Daily track how to see:))
Receiving the payment, then enter the payment, enter Paypal email or select Payoneer is finished.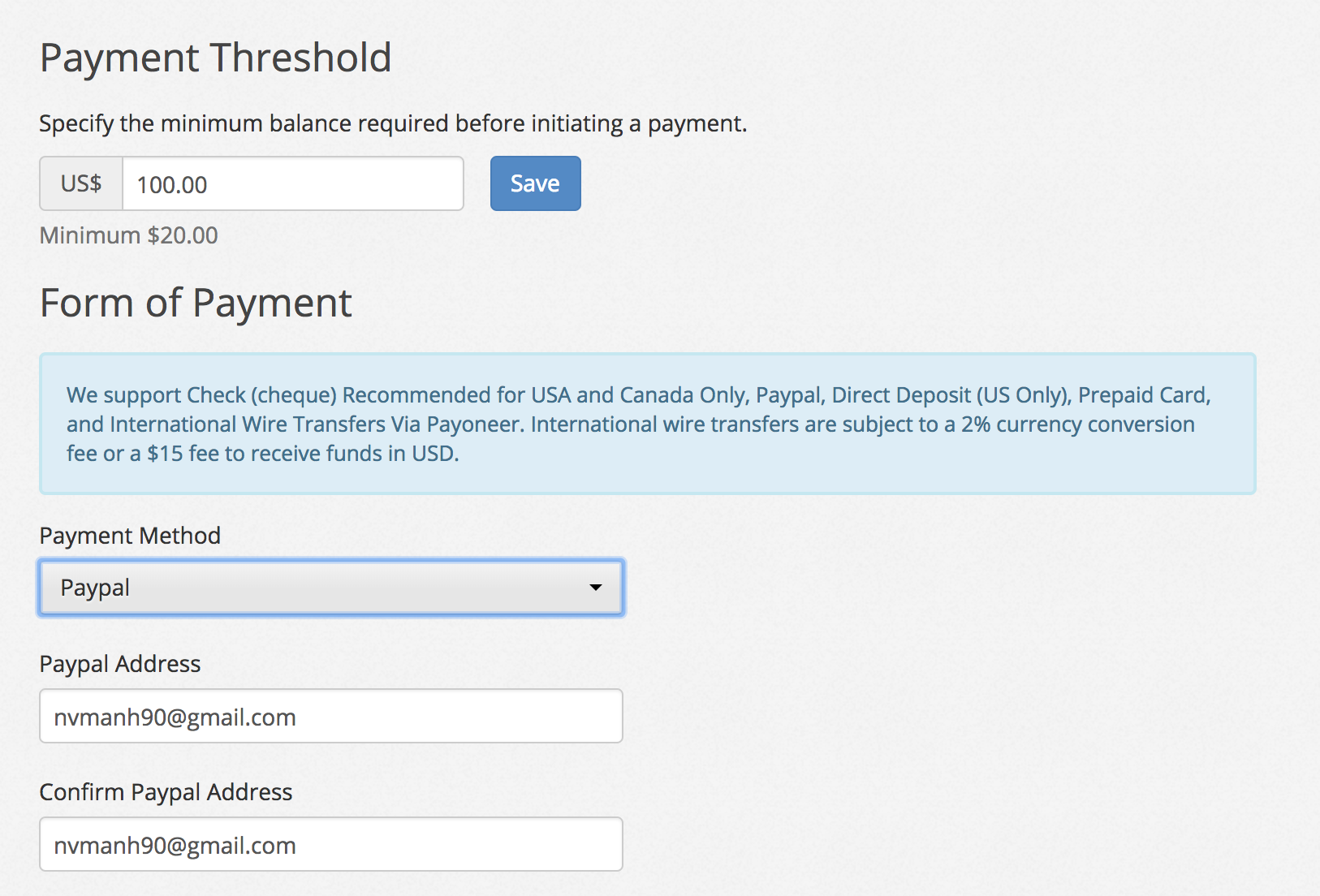 Ezoic payment
Done, so basically set up.
Information about Ezoic Premium (Updated 28/11/2018)

This is an update because I recently received information from Ezoic that has a premium program. I have tried it and have some more information as follows:
Premium: is the premium account type in Ezoic. You will pay to show ads of big partners such as Uber, Adidas, AirBnB, .. These advertisers will get more money than normal advertisers.
You will have to pay a monthly fee for Ezoic. Premium side has lots of packages from started to 7 diamonds. You will choose the right package based on your revenue.
You will be given a monthly review site (This one I have not tried) and found to say that I have access to some big data API. I have not found anything very valuable.
The auction mechanism as shown below explains that you will be given priority to show the better advertisers. You will better understand why premium will bring you more money.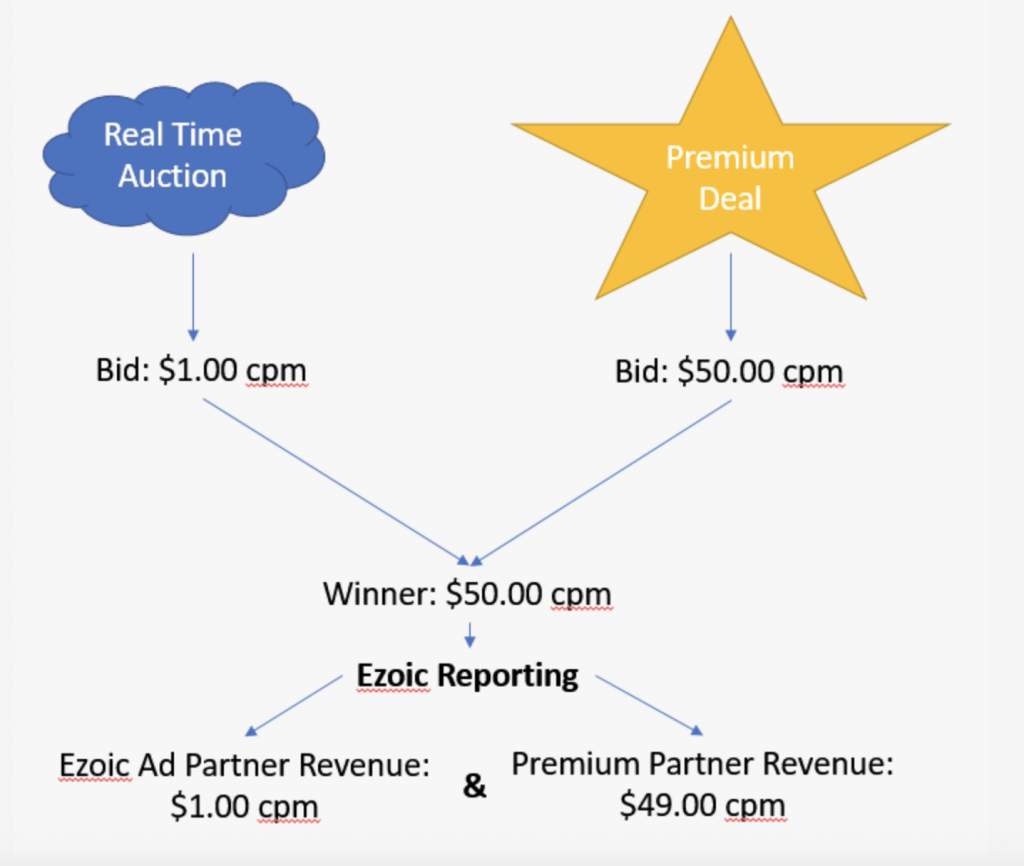 Bidding mechanism of priority of Ezoic premium account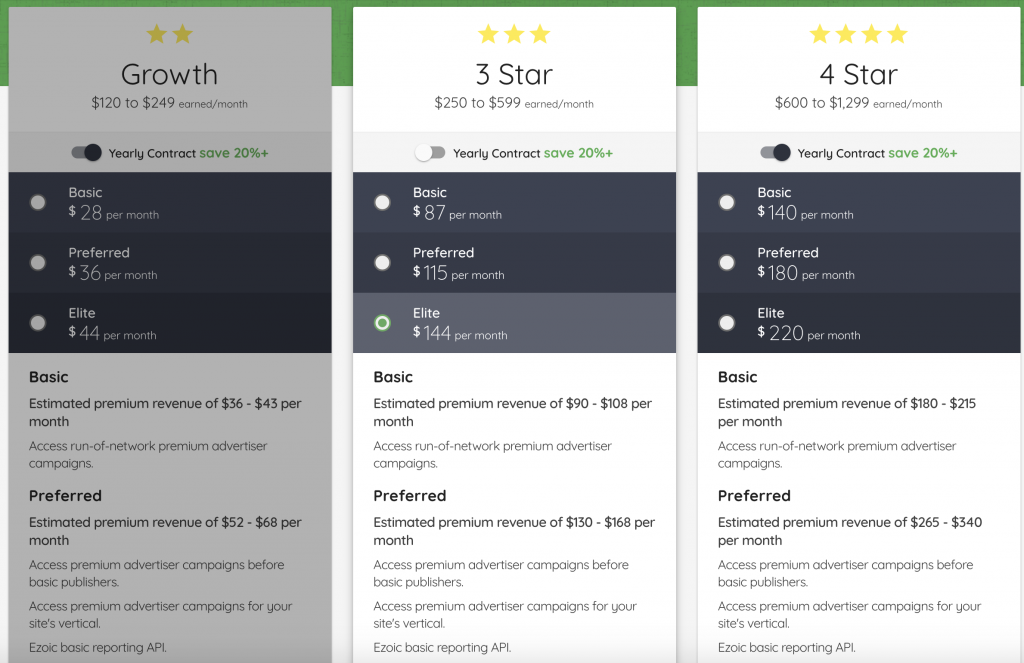 I am using the 3 star package with the cost of $ 114/1 month. Then it is expected to increase more than the normal package of $ 165- $ 210
The highest package is diamond 7, too terrible. Do not know when this new package will be.
After a period of use, I personally see a small increase in money compared to normal accounts. I recommend that those who have a site growing steadily and increase traffic should use. Because usually you will definitely profit.
The Ezoic side also does not guarantee an increase in income when buying premium, but I personally find that if your traffic is real, no cheats, the site does not drop the rank, you should upgrade to premium.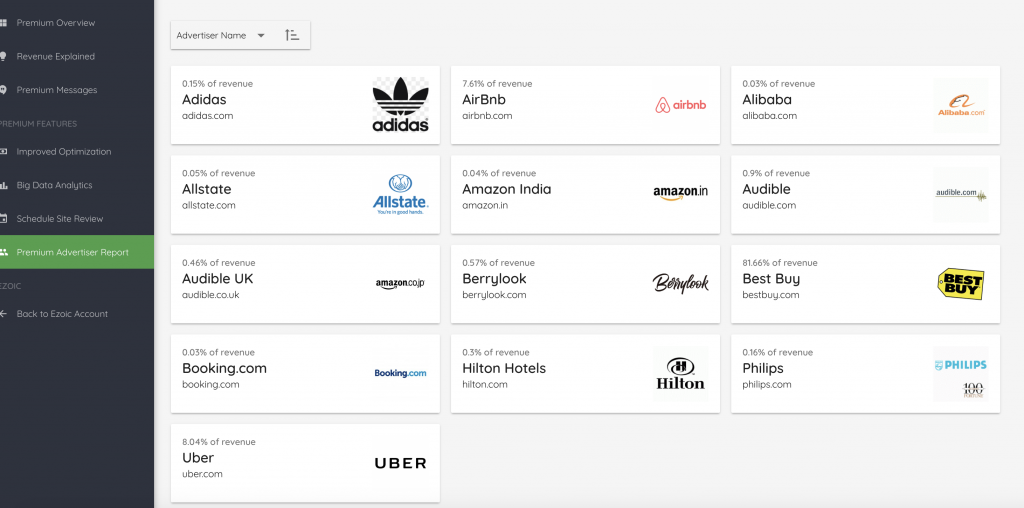 Premium revenue comes mainly from big brands
Some related questions
1. Installing Ezoic Ads full face, will it affect sales from Amazon or other sites?
The answer is yes. But with my experience, Ezoic allows you to turn off ads on certain pages. So I turned off all ads in affiliate pages. Just for informational pages only. All you need to do is install App Excluded Pages. Then fill in the URL for some money pages you are making money on. Then ads will not appear on these pages anymore. No need to worry about losing money =))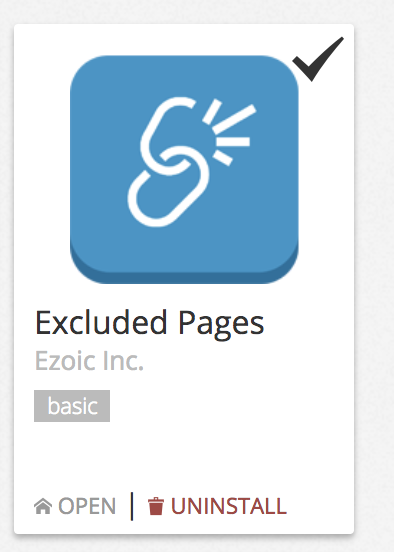 Excluded Pages Ezoic App
2. How to set Ezoic pages
I don't encourage all of you to order Ezoic.
Who should put it: Pages with a lot of content, authority, and lots of traffic to page info. Make the most of traffic sources
Those who should NOT place: Those who own niche sites, mostly pages make money. There is no page info much. Reservations will directly affect the sale.
3. Do sites with different content have the same amount of money?
The answer is no. Depending on your niche, EPMV is different. This depends on your competition, your ad placement rate. I have tried several sites, the Cooking niche has the highest income on the same amount of views. I have some pictures for you to compare.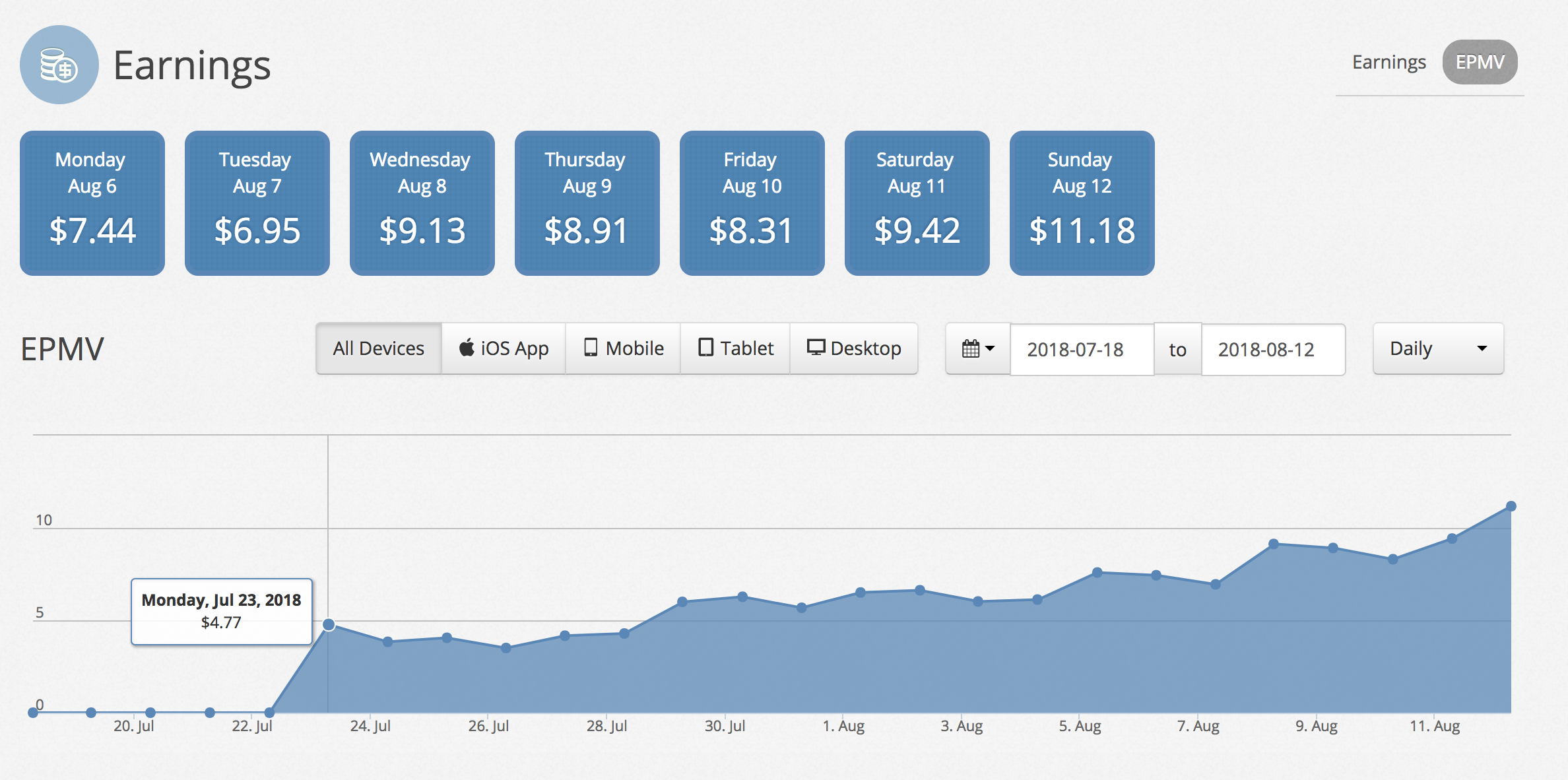 EPMV site cooking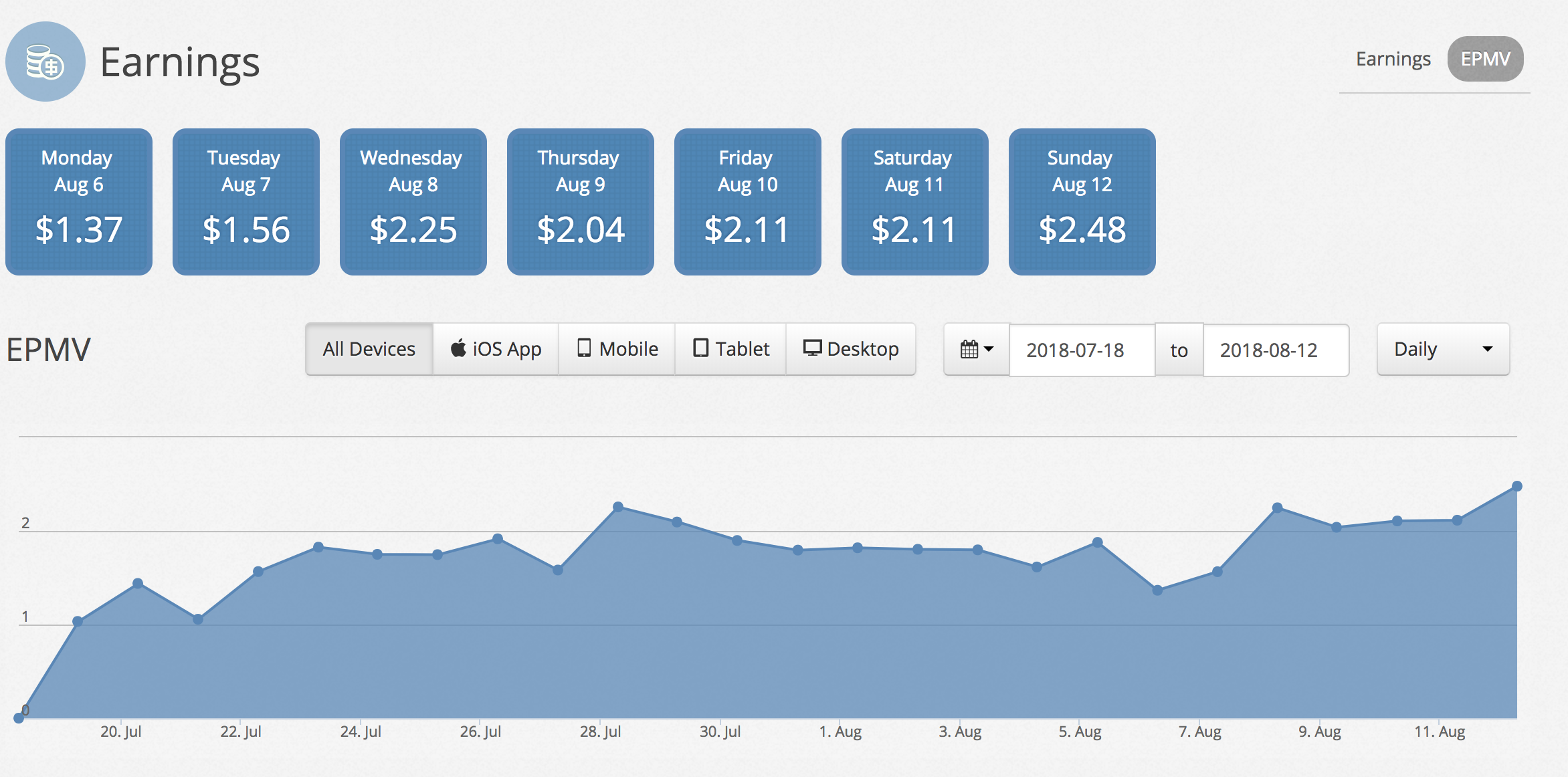 EPMV Niche Beauty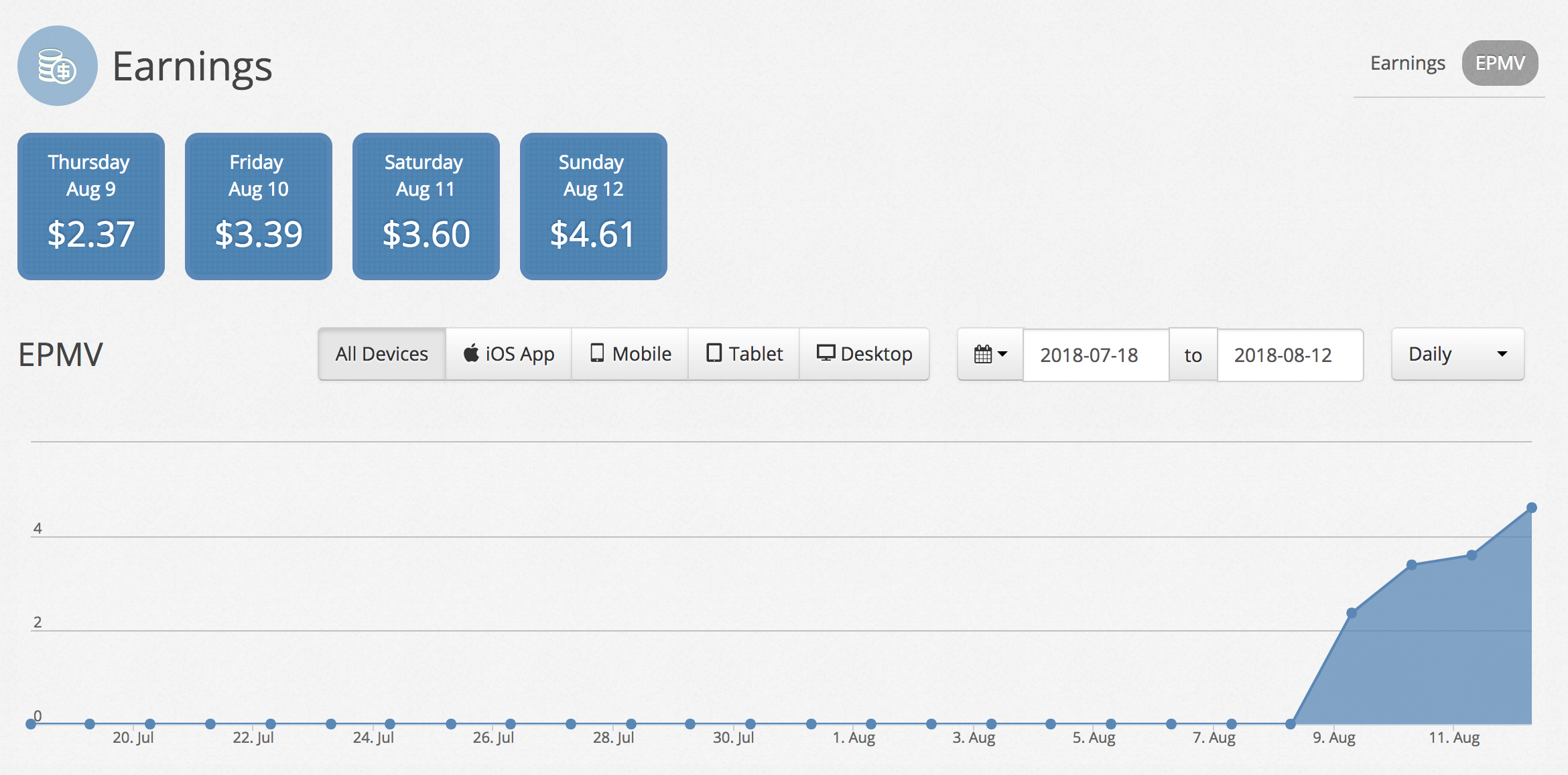 EPMV Pet niche. Still increasing.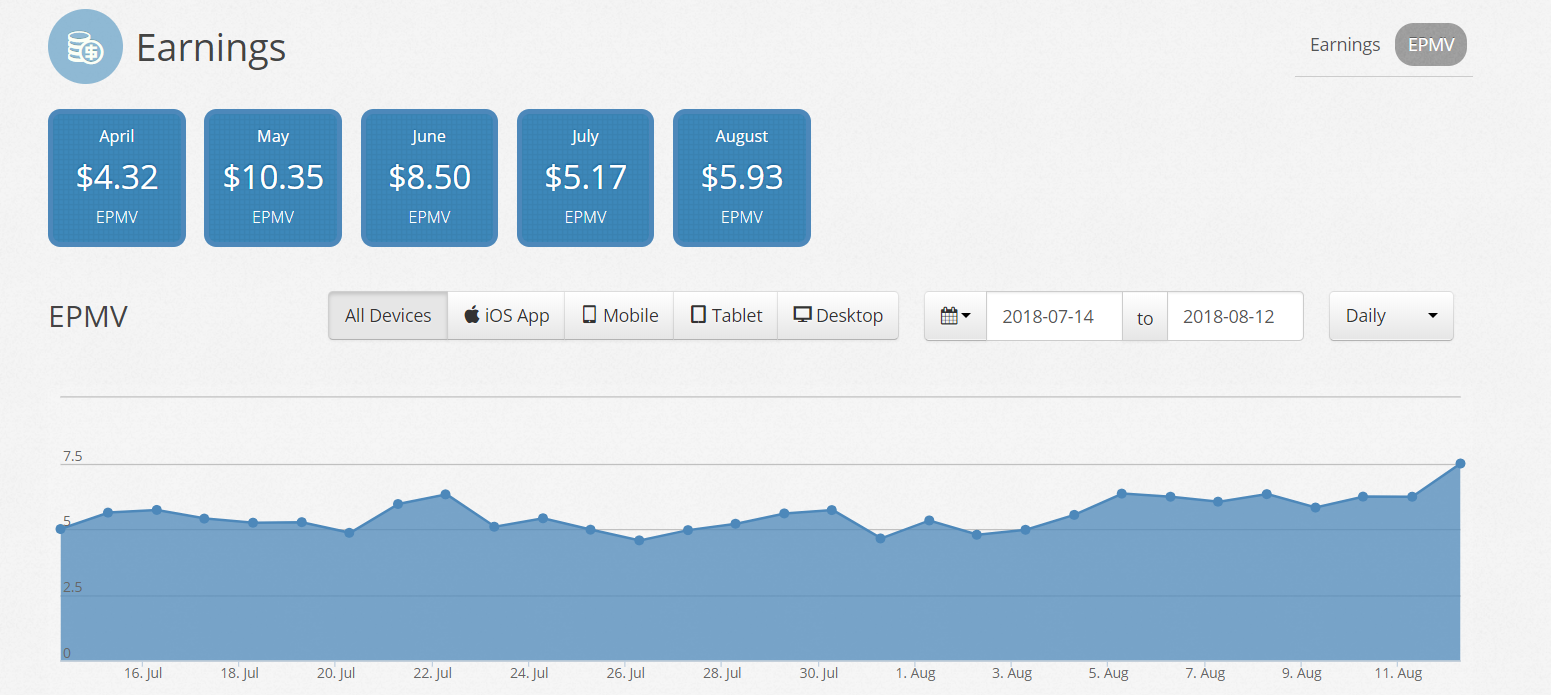 EPMV niche Parenting
Conclude
This is a great channel to make money for those who simply make money with affiliate. Revenue you will be quite surprised
Especially in the days of Amazon rate reduction, SEO increasingly difficult to have an additional source of revenue for you to fight peacefully
(When registering via my affiliate link, I will get 3% of your total income )
Read more :