In the past hours, after running along the $ 9,650 level, the Bitcoin price has suddenly 'erected the column' more than $ 9,850. However, there is still a lot of resistance ahead that could pull bitcoin down anytime.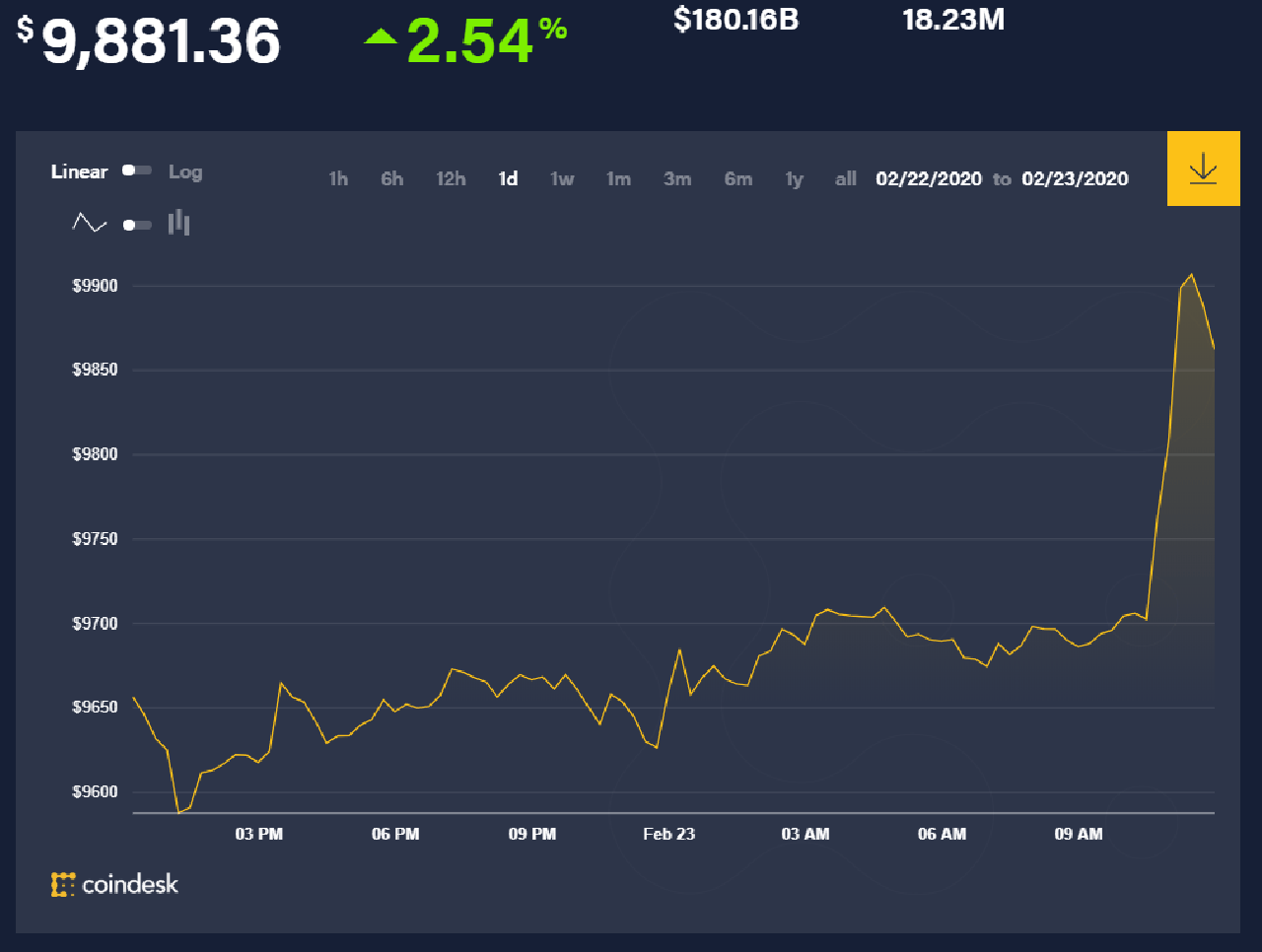 Today's bitcoin exchange rate (February 23) recorded at 12:05 at $ 9,881, up 2.54% from the previous 24 hours.
For the past 24 hours, the lowest price was recorded at $ 9,587 and as high as $ 9,906 – according to CoinDesk exchange rates.
Today's top 100 is more green than yesterday, when there are 75/100 cryptocurrencies according to market value, the price increased compared to the past 24 hours.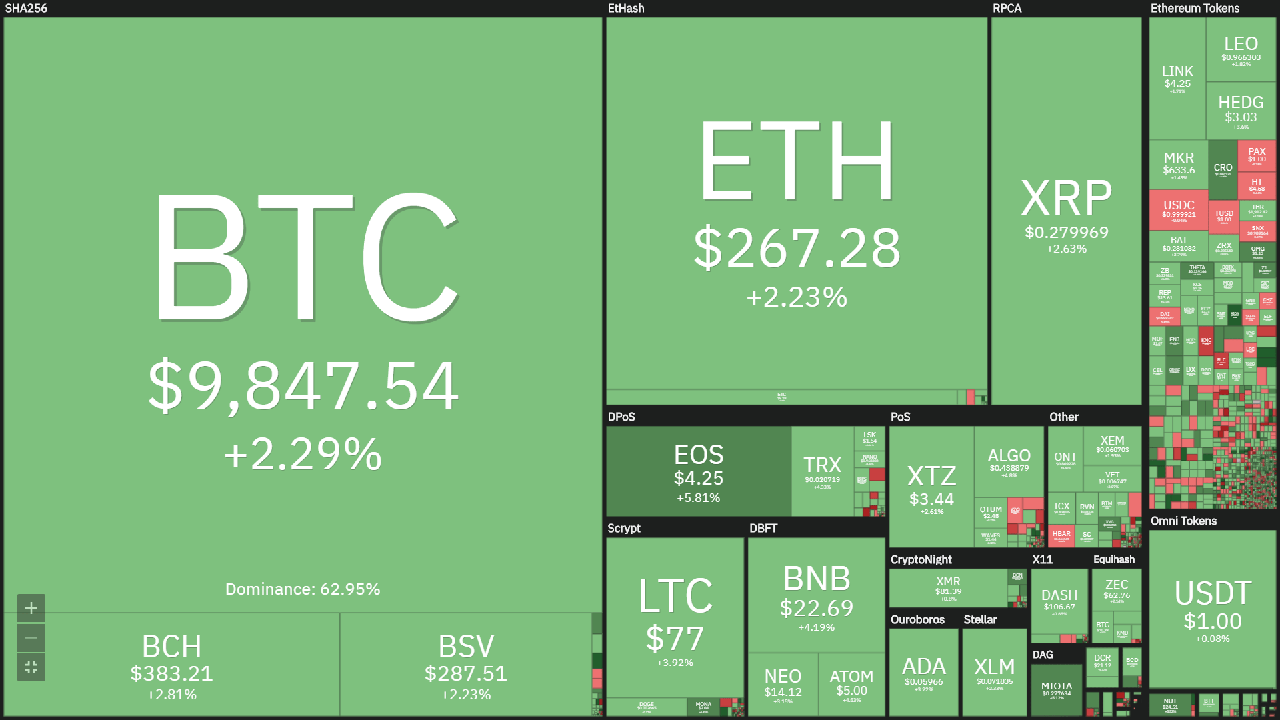 In the top 10, there are 9/10 copper price increases compared to the past 24 hours.
However, compared to the past 7 days, the majority is still in the downtrend.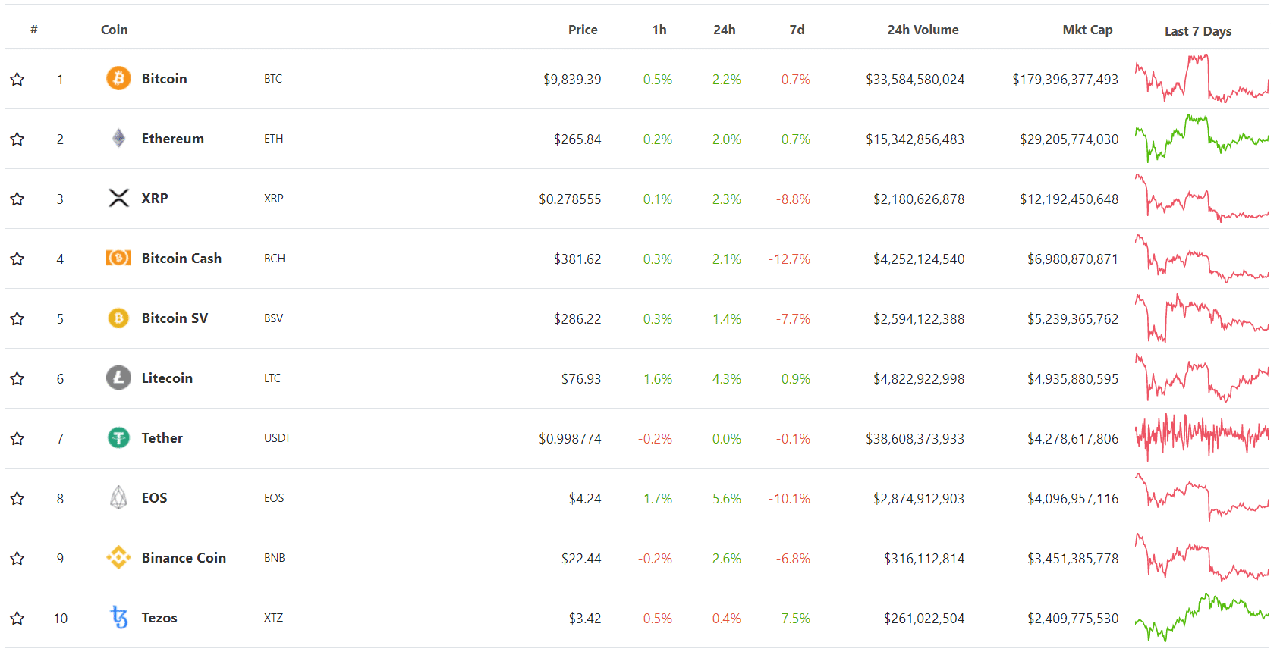 The total market capitalization of cryptocurrencies at 12:05 recorded at $ 284.53 billion, up $ 4 billion from the past 24 hours.

24-hour trading volume on the market continuously recorded a decrease, at 130.30 billion USD, down 11 billion USD compared to February 22.
Some other brief news
Shopify, the Canadian-based e-commerce giant, has said it will join the Libra Association.
According to the announcement, Shopify said, "as a member of the Libra Association, we will gradually build a payment system to help money flow easily and support sellers and consumers everywhere".
"We are excited to be a member of the Libra Association and look forward to how the project can enhance trade everywhere," Shopify added.
Currently, while it does not support direct payments in digital currencies, Shopify allows partners to accept alternative payments with digital currencies through Coinbase Commerce, BitPay, GoCoin and CoinPayments Beta.
Ukraine's cryptocurrency exchange Kuna has launched a price-stabilizing currency tied to the country's national currency, the hryvnia (UAH).
This price stable copper, called UAX, is assigned to UAH in a 1: 1 ratio and is based on the Ethereum blockchain, according to the official announcement of the Kuna exchange on February 20.
According to Kuna, UAX will now be tested on some Kuna users in the beta table until March 20, 2020. The goal in the first phase of the project is integration with exchanges, technical testing on decentralized financial platforms as well as researching the "latest economic theory", the company said.
UAX will be introduced by Founder Kuna Michael Chobanian at BlockchainUa 2020 industry conference in March.
Read more :