After rising above $ 10,100 in yesterday's session, today's bitcoin price has turned down slightly.
In recent hours, the price of bitcoin began to move unstably when it slid back to the area of ​​$ 9,700. Meanwhile, altcoin market mostly decreased.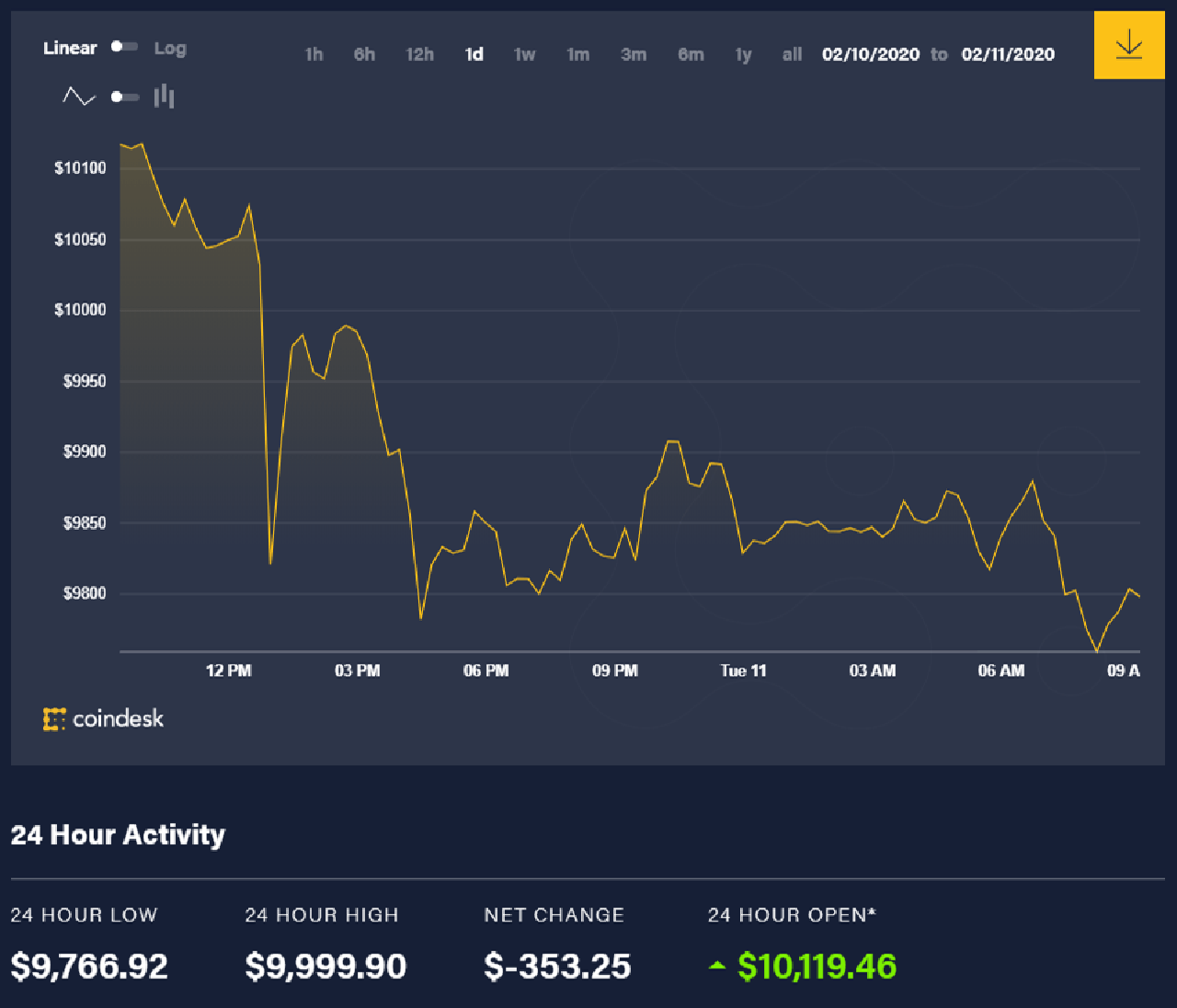 Bitcoin exchange rate Today (11/2) recorded at 9:25 at 9,766 USD, down 3.49% compared to the previous 24 hours.
In the past 24 hours, the highest bitcoin price recorded at $ 9,999 and the lowest of $ 9,766. Bitcoin's market capitalization is recorded at $ 178 billion, accounting for 63.3% of the total market value.
The crypto market today has a lot more red, with 73/100 leading cryptocurrencies by market value falling compared to the past 24 hours.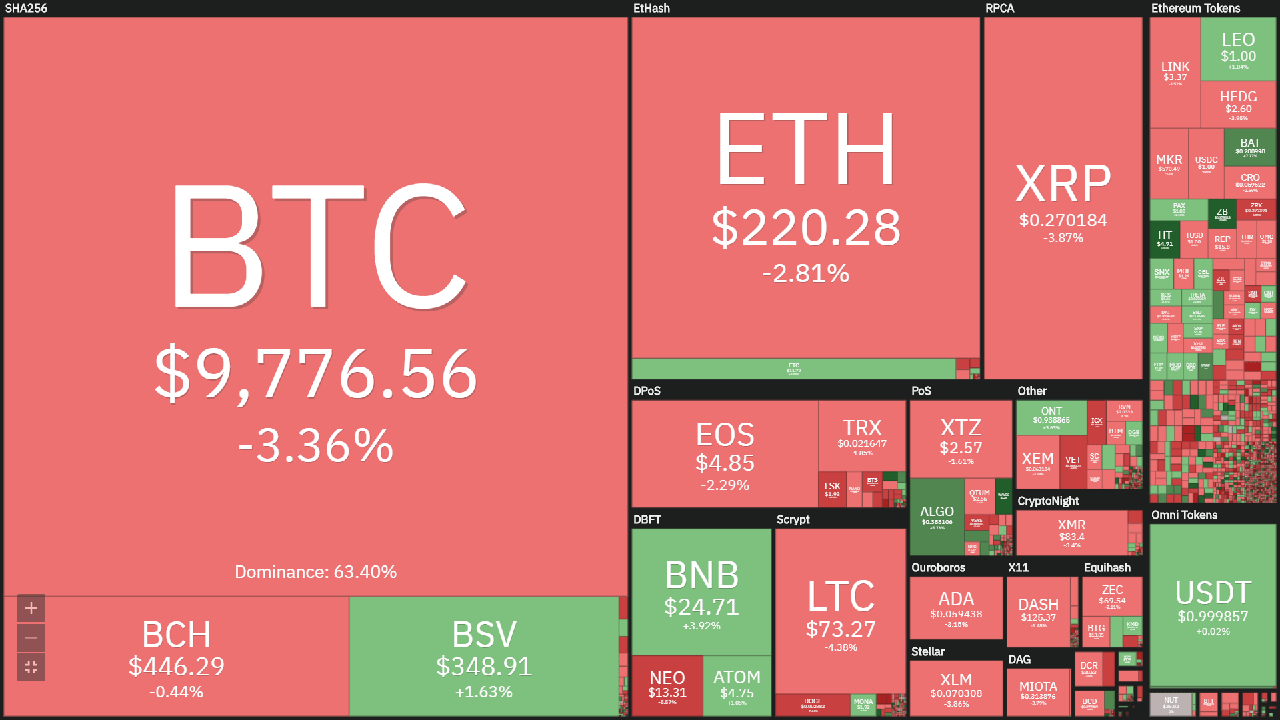 In the top 10, there were 8/10 dong down compared to the past 24 hours.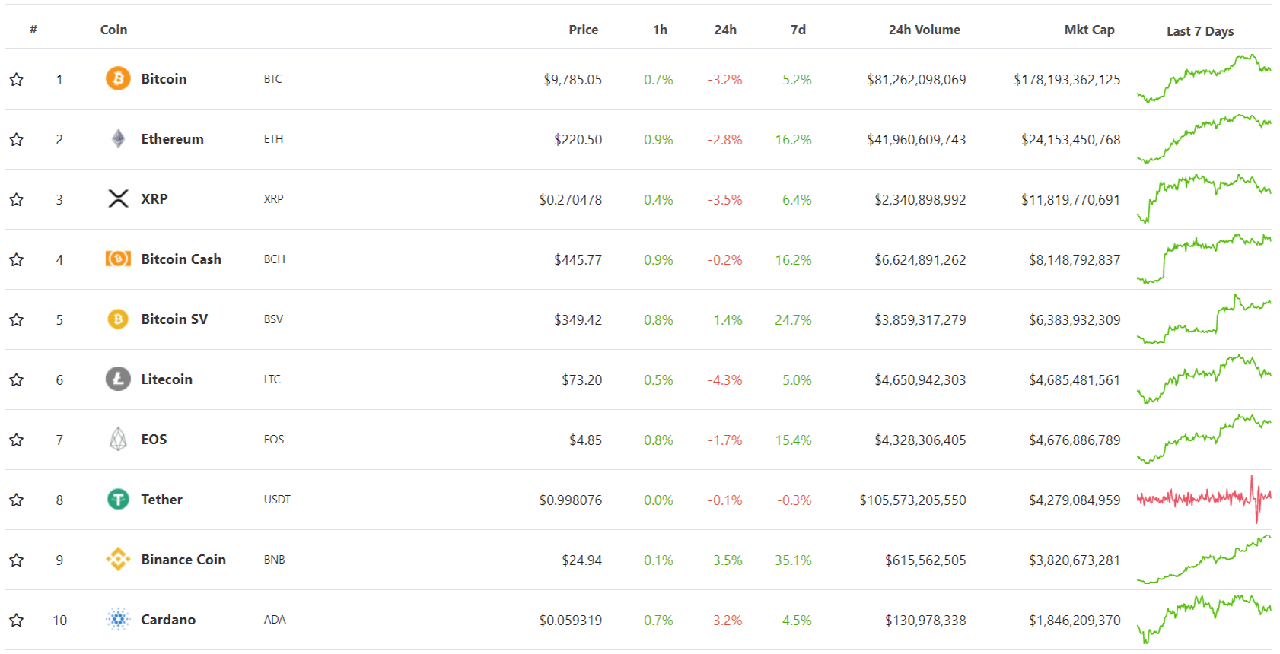 The total market capitalization of the digital currency recorded at 9:25 at 281.53 billion USD, down 7 billion USD from the last 24 hours.

The market's 24-hour trading volume reached US $ 144.83 billion, an increase of US $ 9 billion compared to February 10.
Bitcoin first hit the $ 10,000 mark in 2020
Bitcoin is back at a 5-digit price for the first time since October 2019. According to Coin360, bitcoin is up more than 40% from the previous year, 8.3% from the previous week.
Ethereum also increased by 21% to $ 230, a new peak of 2020.
However, after the world's largest coin hits the 5-digit mark, some people believe bitcoin is likely to fall in value shortly.
Amamela Research co-founder Sam Bankman-Fried believes that prices will only decline when the corona disease situation worsens, and the price is expected to slide to $ 6,800.
Chinese insurance company uses blockchain to process reimbursement for corona virus
Chinese insurance companies use blockchain to process reimbursement for expenses related to corona virus.
Local news website South China Morning Post reported on February 9 this month that online treatment platform Xiang Hu Bao will add corona virus to the list of recoverable diseases with the maximum amount of up to 14,300 USD (100,000 CNY ).
Xiang Hu Bao is a chargeback-sharing platform based on blockchain technology with 104 million users.
According to the report, blockchain technology is used to limit fraud and allow faster chargeback processing.
Xiang Hu Bao is owned by financial giant Ant Financial and uses mobile payment processing service Alipay, which organizes payment for corona patients with the company's capital.
Another company is Blue Cross Insurance, owned by Bank of East Asia. The company said the blockchain application greatly supports the administrative aspect of the corona epidemic.
Patrick Wan, managing director of insurance services, told the South China Morning Post:
"Our blockchain-assisted reimbursement service plays a decisive role in the corona virus outbreak by completely eliminating paperwork and the need to transfer documents back and forth to the clinic … This is so true. help in eliminating the risk of infection due to direct face-to-face contact ".
Read more :