Note:
Please read the article carefully before proceeding! If in the process of using you encounter any errors, such as broken download links, slow loading
blog
, or not being able to access a certain page on the blog … then please inform me here. Thanks!
In the process of working in a team, you have to share the Word file or Excel file … so that other members handle it as often as the meal.
However, in some important cases you want to control the content that you have created, or simply want to know who edited the last file to ensure the data is not patched. , reminded by vandalism.
So what to do?
Yes, in today's article I will share with you a little trick in setting information about the time to create files, and edit the nearest Excel file. Support for reviewing and checking incidents when there are changes to the spreadsheet editing time.
Read more:
How to create the date to start building the file and the most recent time to edit Excel file
+ Step 1: First, open your Excel file. Here you open the Developer tab => and select Visual Basic. Or press the key combination Alt + F11 to open the VBA code editor.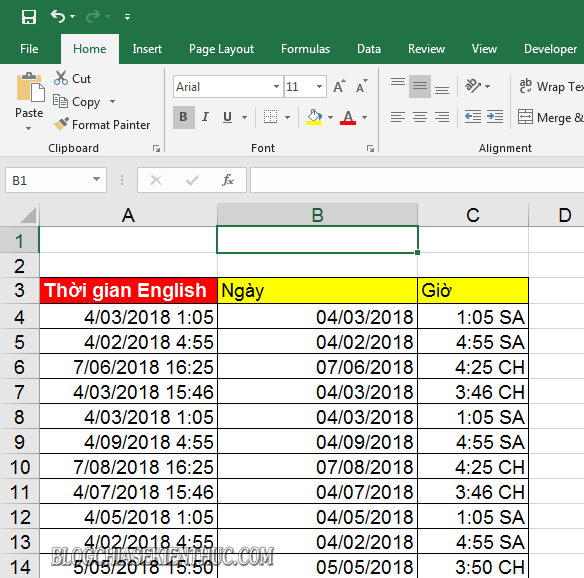 + Step 2: At the dialog box Microsoft Visual Basic for Applications => click Insert => and then select Module as shown below.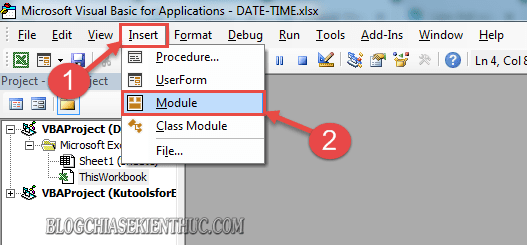 + Step 3: Now copy the following code:
Sub Workbook_Open ()
Range ("A1") .Value = Format (ThisWorkbook.BuiltinDocumentProperties (" Creation Date ")," short date ")
Range ("B1") .Value = Format (ThisWorkbook.BuiltinDocumentProperties (" Last Save Time ")," short date ")
End Sub
=> And Paste into the dialog box Module1 (Code) => then press Run to run the code.
Note is the umbrella A1 and B1 is the output cell of the creation date, and the recent modification date of the Excel file, you can edit the cell position on the Code to suit your spreadsheet.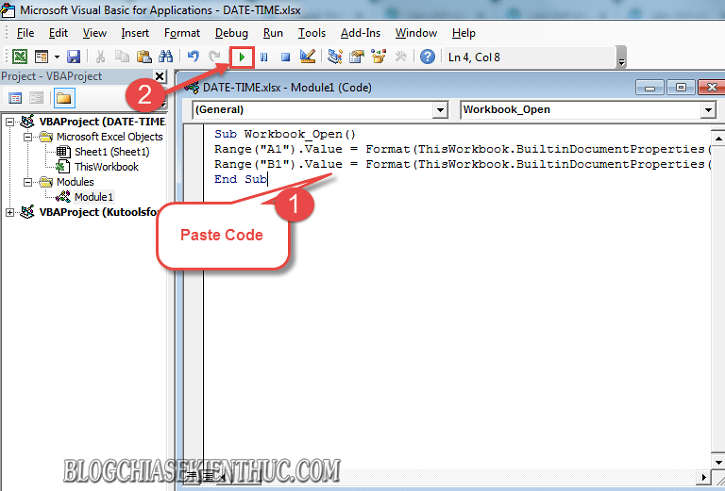 + Step 4: Now we will get the results of the date of creating the most recent Excel file and editing the latest Excel file.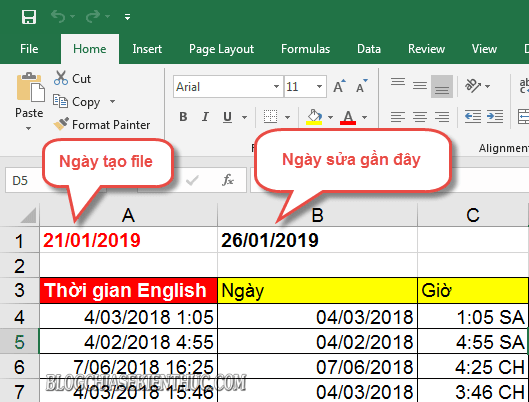 Very simple and fast, isn't it 🙂
Epilogue
Okay, so I have just detailed instructions for you how Set display date to create Excel file and Display the date when you edited the Excel file closest by VBA code then.
At this point, the tutorial on controlling the time to create and edit Excel files for the last time with my VBA code also asks for a pause. Hope this tip will be helpful to you.
Good luck !
CTV: Luong Trung – Blogchiasekienthuc.com
Note: Was this article helpful to you? Do not forget to rate the article, like and share it with your friends and relatives!
Read more :