Note: Read all articles before making offline!
During use email services such as Gmail, Yahoo mail, hotmail …. you often see a feature that almost any email service that's also BCC and CC let you choose when necessary. For example in the figure below is the Gmail service ..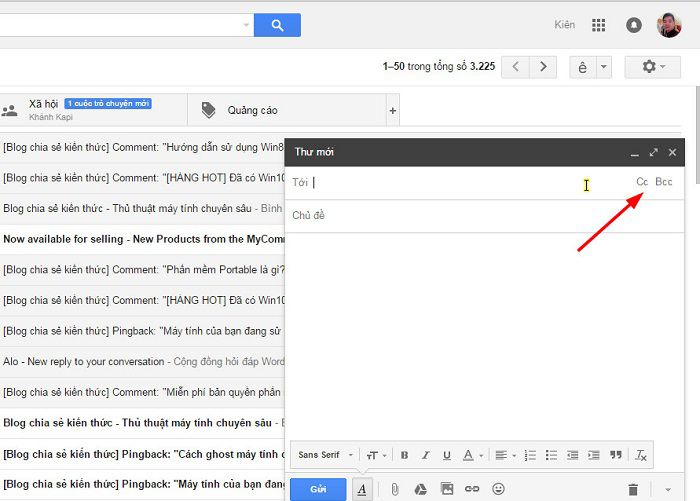 Normally, when emailing any one person, we do not need to care about this issue. Which means you only need to enter the recipient's email to the To: alone is finished. But if you regularly have to send an email to many, many customers are different. Now CC and BCC features really necessary and you need to know about.
See also: How to create a Gmail account secure and efficient
CC in Email is what?
CC full name is Carbon Copy (ie create the copy): You can use the keyboard shortcut Ctrl + Shift + C to use this feature quickly.
What is BCC in email?
full name BCC blind carbon copy (ie the creation of temporary copies): You can use the keyboard shortcut Ctrl + Shift + B to use this feature fast .
CC and BCC how different?
CC and BCC have a common feature that is used when sending e-mail to many people at once. But differ in that:
When using CC , all the recipients will see the email list of people who also receive the message. Therefore you can use CC to send a letter to several members of the same class, the same group …. For this you can show the public and do not require information security, identity.
Features BCC is different, although you send content to multiple people at once, but no one saw anyone, only the sender and the recipient can see each other's e-mail only. Therefore, please use the BCC in case of identity security needs of others.
Note: If you do not use CC and BCC feature that many people still email by default it uses always feature of CC. That is, everyone can see the list, but getting that content email.
Epilogue
Simple like that, the key is that we just need to understand is CC is to send the same content to multiple people at once and everyone who received the message will see the list emails of those who receive such content, and BCC not.
Hopefully the article will be useful to you, to wish you success!
Kien Nguyen – Blogchiasekienthuc.com
Read more :