Are you searching for WordPress live streaming? Or wondering which is the best live streaming WordPress plugin? If yes, then you've landed on the right page. 
Only having a website and marketing is not enough to grow your users. Therefore, live streaming is one of the popular ways to communicate with them. As interaction with visitors helps to clear their doubts and they tend to visit your site to receive your services.
Different types of website owners like bloggers, eCommerce, businesses, personal, etc. use live streaming plugins. Live streaming plugin gives exposure to your product/service. This helps your website to grab the attention of more visitors in real-time.
However, with a variety of WordPress live streaming plugins available in the market, it's a hassle to find a suitable one. To help you, we've come up with the list of the best WordPress live streaming plugins for broadcasters in 2022. 
Let's start!
Criteria for Choosing WordPress Live Streaming Plugins in 2022
There're few things to consider while selecting a live streaming plugin. So, make sure your plugin includes the following things:
Easy to use: Selected WordPress plugins should be easy to set up and use. After adding this plugin to your site, you should be able to quickly add premiere videos or live-stream any videos on your website.
Able to Embed Video Content: Live streaming plugin should allow you to add video content to your site. Whether it be a single video, or YouTube channel, or video from other platforms like Facebook, TikTok, etc.
Monetize Video Content: The plugin should allow you to insert ads, Adsense, affiliate links in your video content. Also, customize the description of your video by adding links to earn money.
Add your logo in the video: Ensure that the selected plugin allows you to add your own logo image and remove the watermark of any 3rd party. So that you can show your brand identity rather than representing 3rd party's identity.
Pricing: The plugin must be within your budget to live stream on your website. Some of the plugins are free to use while some are premium.
With that, let's jump into the list of the 8 best WordPress live streaming plugins for broadcasters in 2021.
---
8 Best WordPress Live Streaming Plugins for Broadcasters (2022)
We've listed the best WordPress live streaming plugins with detailed descriptions, features, and pricing. Go through each plugin to determine which one is suitable for you.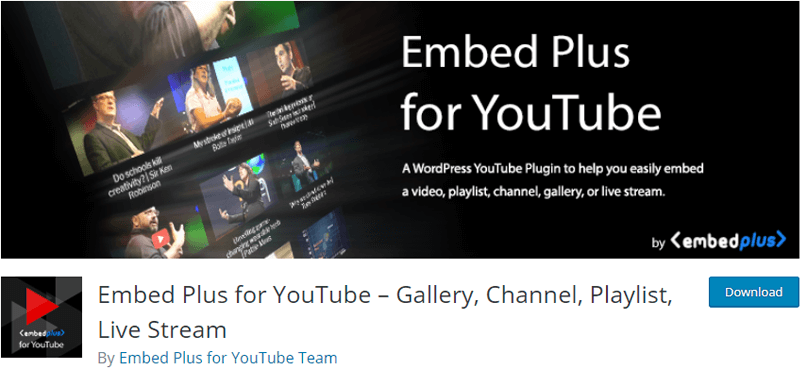 Embed Plus for YouTube is one of the most popular live-streaming plugins with over 200,000 active installations. As its name suggests, this plugin allows you to live stream with YouTube only. You can easily embed and customize videos, playlists, channels, galleries, and live streams.
When you provide a link to a YouTube channel, this plugin will automatically search and display any active Livestream in that channel. You can directly insert a link to a Livestream. Moreover, it allows enabling/disabling to have separate videos running at the same time on the same page for visitors.
Key Features of Embed Plus for YouTube:
Allows autoplay for the YouTube gallery by embedding playlist or channel gallery.
For both the Visual and Text modes of the editor, there is an easy "Insert" button (for YouTube gallery and live stream embedding as well).
When playing videos, hide the YouTube logo otherwise the YouTube watermark is shown instead.
All of your videos will be automatically played in the center position.
Hide/show title and other information of videos. Also, hide/show the related videos at the end of any video.
Pricing: 
Embed Plus for YouTube plugin is free to use from WordPress.org. You can upgrade to the premium version for more features. The starting cost is $39.99 for Core Plan.
---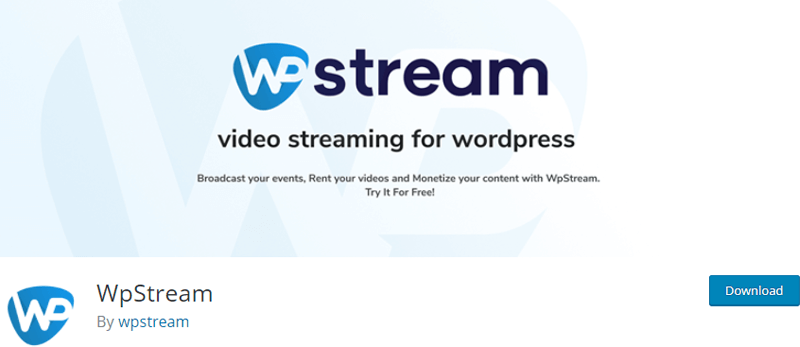 WpStream is yet another powerful WordPress live streaming plugin, designed specifically for WordPress to deliver a cost-effective and seamless experience. It's built for live streaming, video-on-demand, subscription-based live events, and much more. You can create as many channels as you want, upload unlimited videos, and support unlimited viewers.
Moreover, you can either stream live from your browser or use RTMP (Real-Time Messaging Protocol) software like Wirecast, Larix, etc. Furthermore, you're not restricted to desktop apps, you can even use your smartphone. 
Key Features of WpStream:
Each event created will have its pre-made video page. Also allows you to embed the player in any WordPress website.
Your data is protected giving your complete ownership and control over it, regardless of the types of content that are broadcasted.
Set up the WooCommerce plugin and turn your live or recorded videos into products. You can sell for free, as a one-time purchase, or as regular subscriptions.
It allows you to use multiple WordPress websites sharing the same WpStream account.
Pricing: 
WpStream is a free plugin to use but it also offers you a pro version. The cost of the Family Plan is $19/month with 100GB streaming data. But there are other plans as well you can check.
---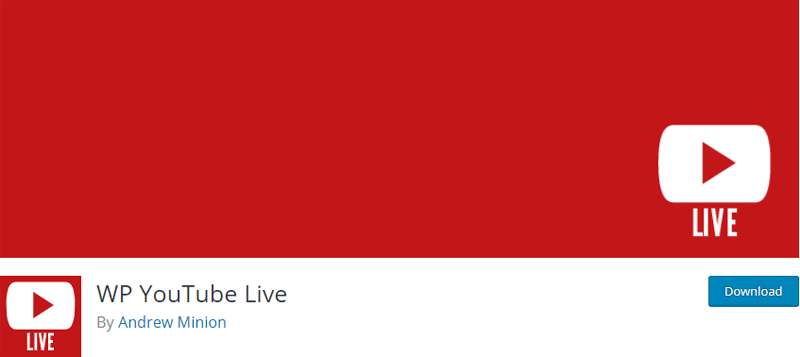 WP YouTube Live is a stunning plugin to live stream your videos. You can display your current YouTube live video from the youtube channel using the shortcodes provided. Also, you must set your YouTube live stream to 'Public' or else this will not work.
Additionally, if there's no live video accessible, you can show a specific video or a 'channel player'. There, it allows you to display your most recent live video, or you can schedule live videos. The scheduled video plays and appears with a countdown to your next live video.
Key Features of WP YouTube Live:
Customize messages using shortcodes to show when there're no live videos.
Set the width and height of the video player on the setting page.
Allows you to enable or disable auto-play videos.
Enable auto-refresh to check for new live video.
Pricing: 
WP YouTube Live is a completely free plugin to use and download from WordPress.org.
---
WebinarPress allows you to use YouTube live or any pre-recorded video from YouTube, Vimeo, or your server. You can easily host live and automated webinars from your website. There, allow your attendees to ask questions, have them answered in your video or via the question and answer option.
Moreover, you can collect the name and email addresses of attendees when they sign up. Also, send them customized and automated reminders to ensure they don't miss your live stream or webinars. Plus, you can make a replay available for registrants who were unable to attend the live webinar.
Key Features of WebinarPress:
Visitors can attend webinars from any mobile device or tablet due to responsiveness.
Lets you customize the styling of every webinar page.
Before the event begins, display a countdown page.
Check how many people are watching your webinar live.
Allows attendees to raise their hands in interactive sessions during live.
Pricing: 
You can use a free version of the WebinarPress plugin but it also has a premium version. The Single Site Plan costs $197/year and Agency Plan costs $497/year.
---
Broadcast Live Video is a solution that allows you to stream live video from your website and handle unlimited channels. Live streaming channels can be broadcast from a variety of sources (PCs, video playlists, iOS/Android, desktop, etc). 
You'll have complete control over the streaming content, without relying on 3rd party platforms. Also have full access to membership, list, pay-per-channel, features, ads, and many more. Visitors register on your site where you can use your billing gateways to sell membership, access, and digital content. Hence, no need to share your income from ads, membership, etc.
Key Features of Broadcast Live Video:
Able to limit broadcasting and watch time per channel.
For external streams with a special RTMP side, it generates snapshots.
Allows you to show event details such as title, start, end, images, descriptions, while the channel is still offline.
Import archive videos with the help of the Video Share VOD WordPress plugin.
Supports playlists (schedule video files for playback as a live stream).
Pricing:
Broadcast Live Video is a free WordPress live streaming plugin. The Starter Plan of its pro version costs $50/month. But it also has other plans where the price range increases accordingly. 
---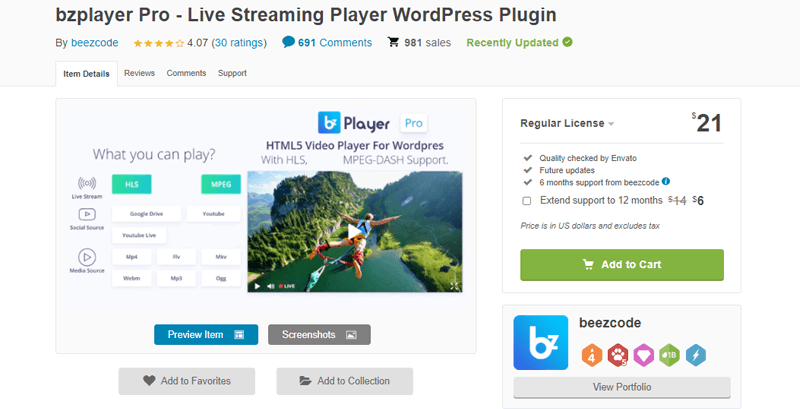 bzplayer Pro is a modern responsive plugin that allows you to live-stream across any device and browser. You can playback video, audio, YouTube video, Google Drive, and so on. Also, it gives you control over full-screen mode, player height, and width, autoplay, hide/show control bar, and many more.
Moreover, you can earn money from your site using advertising options. Simply insert the advertisements in multiple places nearby the video. Advertisements can be added even in the video by setting skip time. Other ads that can be included are popup ads, AdSense ready, inline ads, image supported ads, etc.
Key Features of bzplayer Pro:
Put your own logo image on the player.
Resume playback to continue watching from where you left.
Able to restrict the age of content watchers.
Choose the speed of playback. Also, set any time for backward/forward.
Allows you to disable the right-click option to forbid download.
Pricing:
You can purchase the regular license of the bzplayer Pro plugin at $21. You can extend your 12 month support with additional $6.
---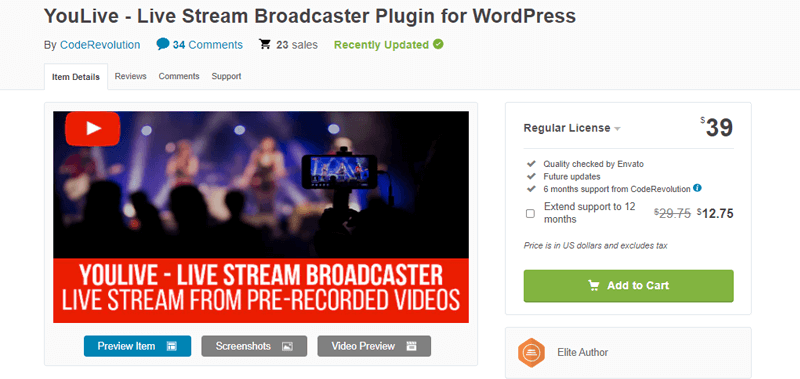 YouLive is another incredible WordPress that allows you to go live with YouTube videos or with pre-recorded videos. It helps to get more visitors if you directly go live via your channel or create live events for stream. Also, it helps to increase channel views, boost traffic, viewer engagement, and so on.
Additionally, this plugin is intuitive and easy to use and requires no coding knowledge. You simply need to embed the videos in the posts and publish them on your blog. Hence, the videos will be automatically streamed live.
Key Features of YouLive:
Live videos that are already broadcasted are autosaved to your YouTube video library. So, the visitors who've missed can watch and generate views even after it's broadcasted.
Customize the title, description, banners of the generated live videos.
Allows you to embed pre-recorded videos even from other platforms like TikTok, Vimeo, Twitch, Facebook, Dailymotion, local videos, etc.
Schedule the pre-recorded video to broadcast automatically.
Pricing: 
You can purchase the YouLive plugin at $39.
---
Last but not least! Streamit plugin is a comprehensive live streaming solution for managing streaming and streaming advertisements. It allows you to playback and live-stream your video across all browsers and devices. 
You've complete access to its controls. Such as disabling the display of controls while playing, setting the starting image, having no sound for each player, and more. Others are autoplay single video or all of them, including starting playback player after the video ends, full-screen mode, etc. 
Key Features of Streamit:
Able to choose the speed of playback. 
Add your own logo image on the player (PNG, JPG, GIF)
Allows you to continue watching the video from where you've left.
Picture-in mode allows you to choose another video.
Pricing: 
The regular license of the Streamit plugin costs $29. With additional $9, you can extend 12 month support.
---
How to Add Live Streaming on Your WordPress Site? (Step-by-Step)
Here, let's take a look at how you can add live streaming to your WordPress website. For that, we're going to use the Embed Plus for YouTube plugin as an example for this tutorial.
Now, let's jump into another section.
Step 1: Install and Activate the Plugin
First, you need to log in to your WordPress dashboard. Then go to the Plugins section and click to Add New.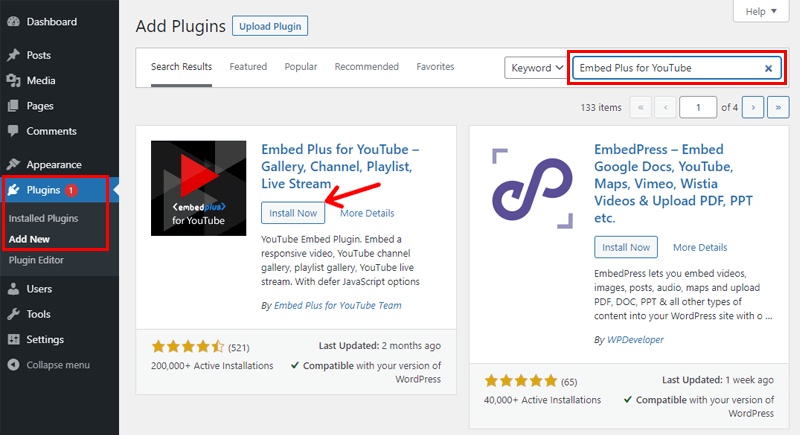 After that, on the top-right side, there's a search bar where you can type "Embed Plus for YouTube".
Now, once you've found the plugin, click on the Install button.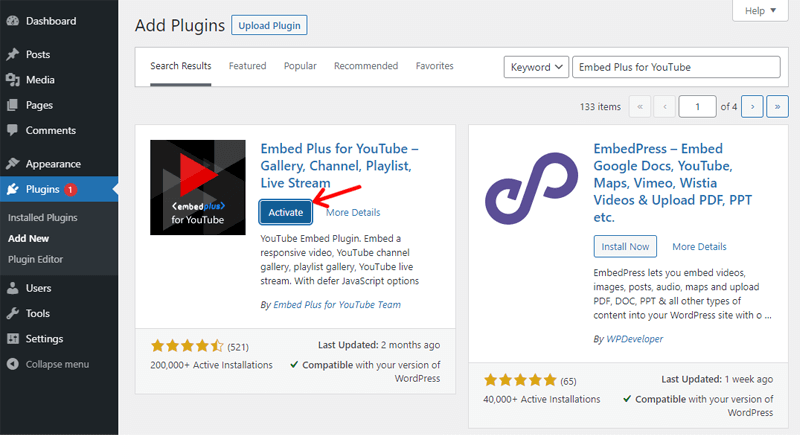 After the completion of installation, you can see the Activate button. Click on it to activate your plugin to ensure if it's working.
---
Step 2: Configure the Plugin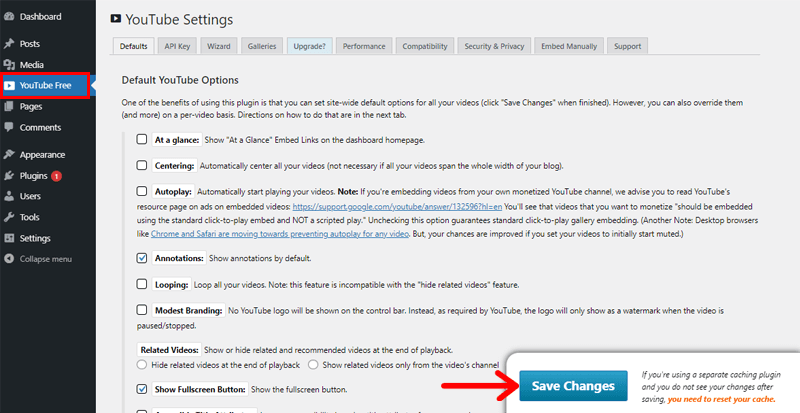 After you've activated this plugin, you'll see an extra menu in your dashboard "YouTube Free". Go to that menu and you can see the configurations. You can go to the default configuration and see each element. It's usually left by default but you can make changes to it and click the "Save Changes" button. 
Hence, you can explore each tab of the "YouTube Settings" and adjust them according to your requirement.
---
Step 3: Use Embed Plus for YouTube
Coming to the most important part! As we know, you can embed the videos both in your posts or pages.
Here, we'll show you how to embed the video in the post. Use the same steps for your pages as well.
In your dashboard, you can see the Posts section. Click on it and go to "Add New" posts.
After that, you'll be taken to the default editing section of your post.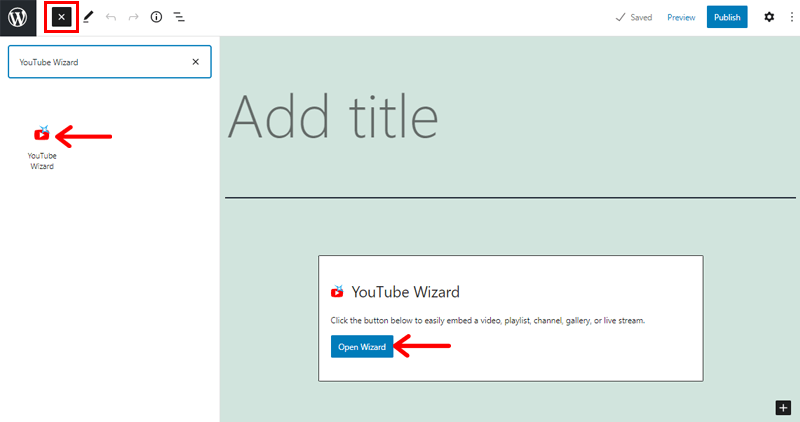 There, you can see the logo of WordPress, and within the right side of that logo, you can see the + button. Click on it, and search for "YouTube Wizard" and click on it. Then, in your text editor, you'll see a wizard where you need to click on the Open Wizard button. 
Now, you'll see various options to insert the video. You can embed a single video, playlist, channel, live stream, or premiere video.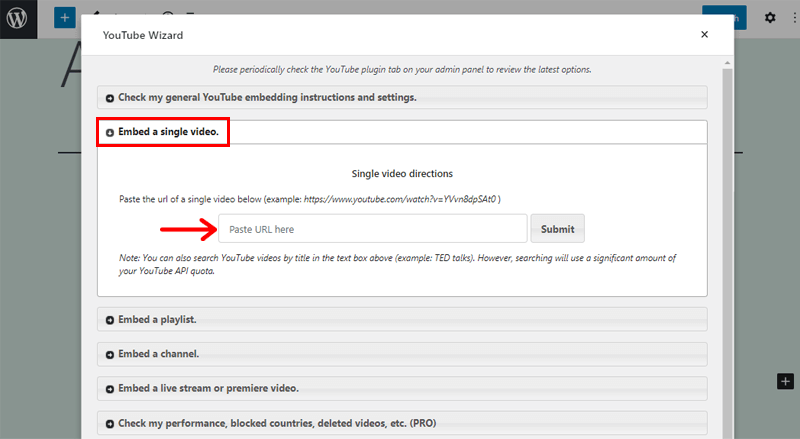 The options are in accordion. So, as an example: click on "Embed a single video", and you'll see an expanded form where it asks you to paste the link. Once you paste the link, click on "Insert Into Editor". The rest of the other inserting process is the same as the example. 
However, let's talk about how to customize the content for "Embed a live stream or premiere video" which hasn't premiered yet.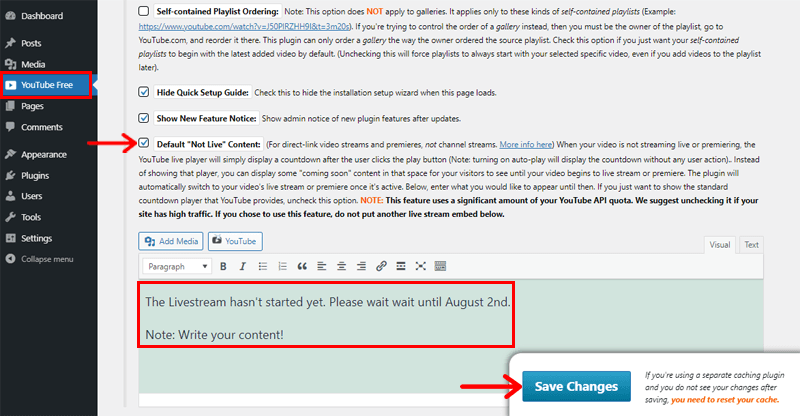 So for that, you can go to the default settings. At the last, you'll find Default "Not Live" Content. Enable that element and you'll be allowed to write your own content. Then, you can see your written content in your video that you've embedded using "Embed a live stream or premiere video".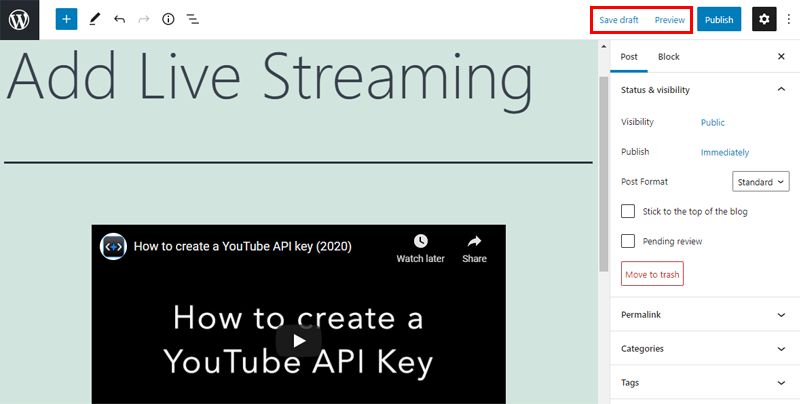 To check how your videos will appear, click on "Save Draft" and go to the "Preview" on the top-right side.
That's it! This is how you use your Embed Plus for YouTube plugin into your WordPress website.
---
Conclusion
So, we've arrived at the end of this article. 
We've discussed the best WordPress live streaming plugins for broadcasters in 2022 along with their features and pricing. 
We hope this article helped you to find the best WordPress live streaming plugins. If you're using any of these plugins for your website, then please share your experience below in the comment section. 
If you have any more queries, then feel free to ask us. We'll get back to you as soon as possible. Also, share this article with your friends and colleagues. 
You may also like our article about the best free WordPress live chat plugins & best WordPress donation plugins for fundraising.
Don't forget to follow us on Facebook and Twitter for more helpful articles.
---
---