Hello friends! If in 2018 in the genuine phone segment, when you want to buy phones in the price range of 4 to 5 million that have good performance and appearance, there probably aren't too many choices.
However, by the end of 2019 and early 2020, when it comes to genuine phones in the price range of 4 to 5 million, it is true that there are many choices to suit your needs.
Yes, and today we will take a look at the Top genuine phones in the 4 to 5 million price range worth buying.
Read more:
#first. Vsmart Live
The reason I put this phone at the top of the table is because its price is only around 3 to 3.5 million, but what it gives me think is worth it even if it deserves from 4 to 5 million muscle !!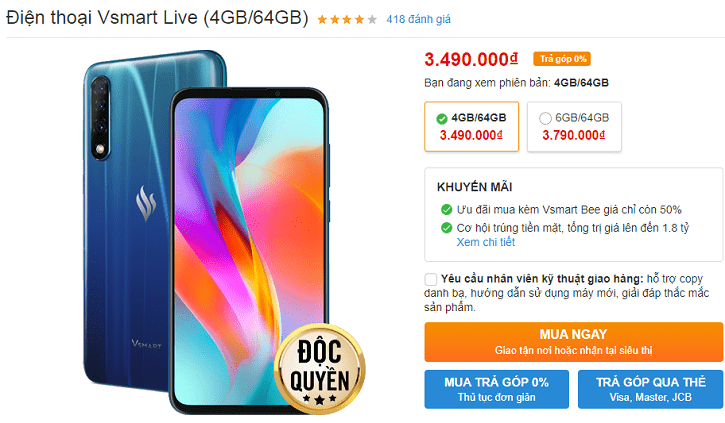 Vsmart Live is currently being sold in the mobile world with the price of 3.7 million for 6GB ram version and 3.4 million for 4GB RAM ram version, it only has the different RAM and the internal memory (ROM) then the same (64GB).
For me personally, I think that if the difference is less money, you can buy the 6GB ram version, but if the difference is much, you can buy the 4GB ram version only, because the Snapdragon 675 chip is suitable for 4GB RAM then should not necessarily up to 6GB.
As the above difference is quite small, only 300k so I think choosing the 6GB RAM version is still better.
Regarding the design, Vsmart Live is designed with a borderless screen without defects, which is quite beautiful. FULL HD + screen
The device has 3 cameras designed in a shape I has a resolution of 48MP, I rate the camera of this phone at a normal level, but the battery is sufficient with a battery capacity of 4000mAh, with 18W fast charging included.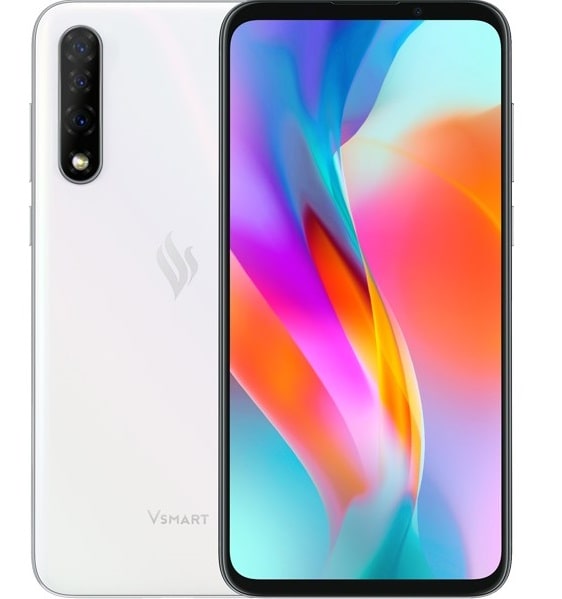 However, there are some drawbacks that I like as the design of the machine made of plastic only.
You might think the other products in this price range are also made of plastic, but I'm saying that Vsmart Live is clearly a step back from the Vsmart Active 1 and Vsmart Active 1 Plus when two This machine was previously equipped with a back made of glass and metal.
Yes ! That is my only criticism.
Vsmart Live is also available on VOS 2.5. The device is also warranted for up to 18 months, 1 for 1 within 101 days. And that is all I rate on this product.
#2. Oppo A5 2020
With Oppo A5 2020, I was very surprised with the price of OPPO with the price of 4.8 million for 4GB RAM version – 128GB Rom, and 3.9 million for 3GB RAM version and 64GB ROM.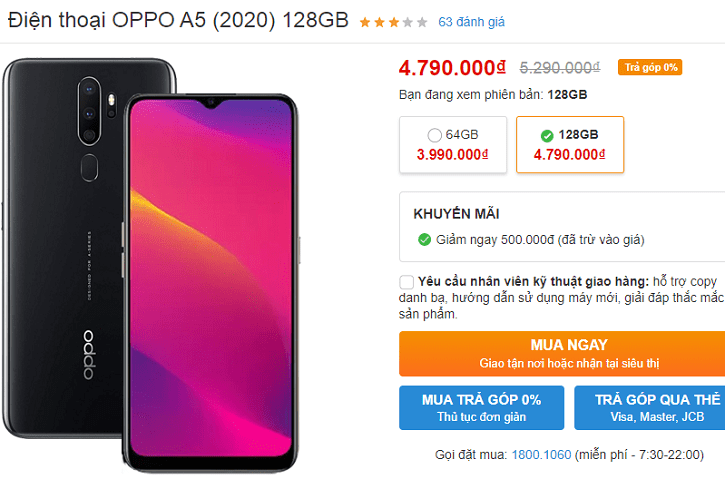 The device is also equipped with a very good 5000mAh battery, very comfortable.
In the price range of 4-5 million we will also get a product with 4 cameras in the back and I evaluate the camera of this machine is good enough and versatile enough.
In addition, we will get a product with dual speakers, to be honest, not many products in this price segment have dual speakers.
And the selfie camera of the machine, we do not need to discuss much to do, because the OPPO family has done very well the selfie camera before.
Everything will be easier if we have a phone with strong performance, Oppo A5 is equipped with Snapdragon 665 chip for excellent performance.
There is also a mode Game Boost 2.0 Enhance your gaming experience with stable frame rates and no distractions when we play games.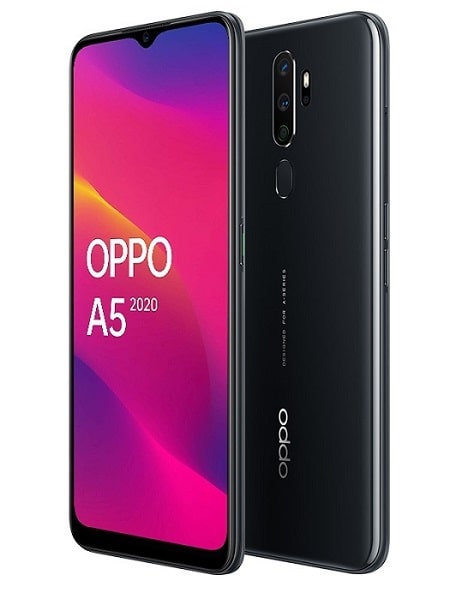 Now I will talk about the disadvantages of OPPOA5 2020:
First, its screen is just HD +, we have to accept sacrifices, the bottle will lose the bottle. Nothing is both delicious and nutritious and cheap.
And with HD + screens, plus panels TST I think the machine has a screen that is not very nice.
That's the biggest drawback of the OPPO A5 2020, there's only one minus point – will you accept it or not?
# 3. Realme 5 Pro
With Realme 5 Pro, it has a little more price, falling at about 5.2 million …
But we will have a product running Snapdragon 712 chip, we will have a plastic design only 😀 and this is also a minus point of this phone.
FULL HD + screen, performance is the best, it's in the price range.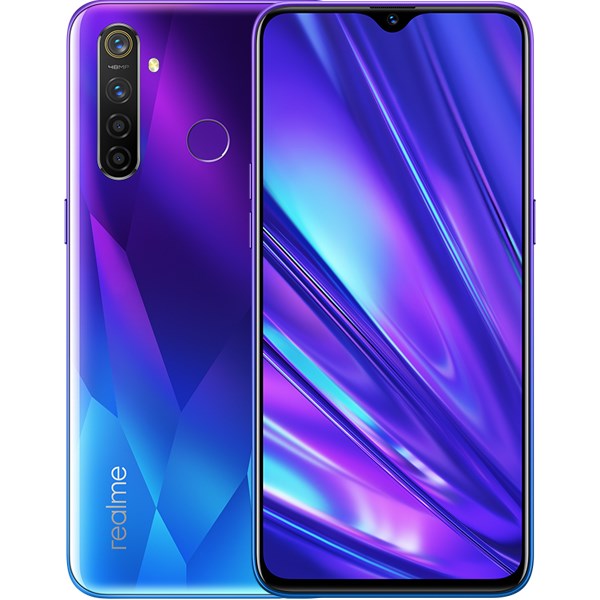 With a price of 5.2 million, we will own the machine with 8GB RAM and 128GB Rom version, 4 rear cameras, its camera performance is very versatile, taking very nice pictures.
Sufficient battery life (4000mAh) supports fast charging VOC 20W.
Those are all its advantages, and its downside is the back is made of plastic as I said above!
# 4. Nokia 7.2
The Nokia 7.2 is priced at about 4.8 million, and I evaluate this is a product with a relatively good design.
Its device is made of metal but it is covered with a polymer layer outside, so the feeling of holding is very solid and comfortable.
Its back is made of frosted glass and the trio of cameras are designed in a circular mold, making me think of Huawei phones.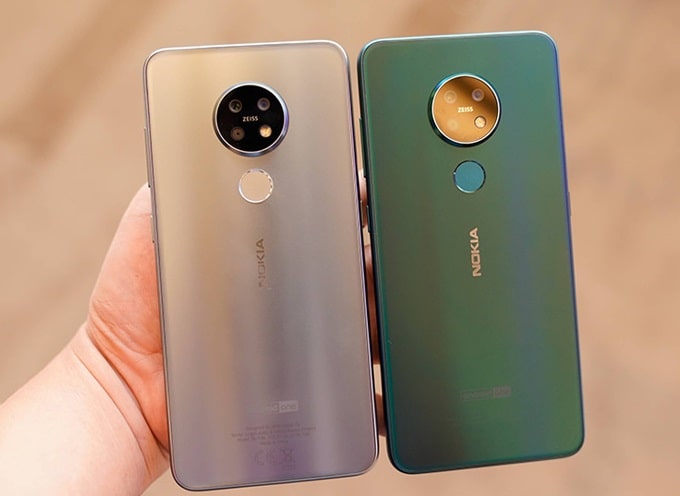 And what are the advantages of Nokia 7.2?
Yes, pre-installed Android One operating system (built on Android 9 platform) is supported to update very long, at least 3 years like the manufacturer's commitment.
The battery is good at 3500mAh, its screen is Full HD +
The trio of rear cameras of my machine is considered to be relatively good, one camera has a resolution of 48MP, a wide-angle camera is 8MP, a camera erases the background is 5MP, selfie camera is relatively beautiful is 20MP.
What is the downside?
There are some points that we will have to criticize that the machine only uses the Snapdragon 660 chip, SD 660 chip is sufficient, but for the machine in this price range is not worthy, really is a bit exhausted in the price range. this.
However, with the Nokia brand and with a commitment to support long-term updates, this is an option worth considering with its design.
# 5. Redmi Note 8
The next product I would like to recommend to you is a product from Xiaomi, which is the Xiaomi Redmi Note 8.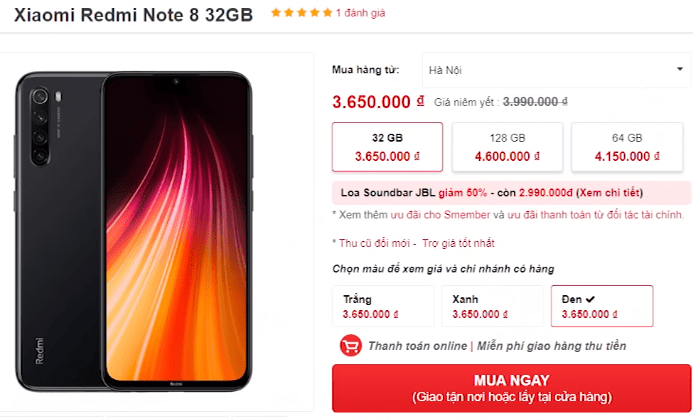 Redmi Note 8 has the cheapest version with 3GB RAM and 32GB ROM only about 3.7 million. And from 4 to 5 million, we get a version with 128GB of internal memory.
The Redmi Note 8 is a product with a glass back and a plastic frame.
The Full HD + screen is beautiful enough, meaning that if compared to the Redmi Note 7, its screen has been greatly refined.
The performance of the device uses Snapdragon 665 chip, a mid-range chip is not the best in the price range.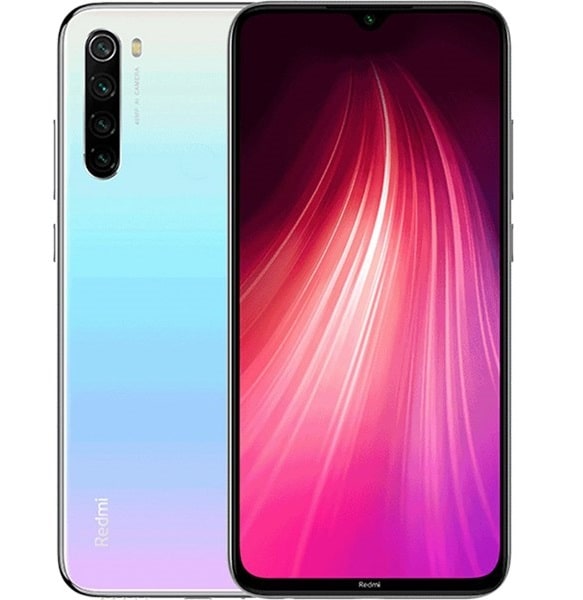 The camera is good enough, there are 4 cameras in the back.
Battery life is also sufficient at a sufficient level of 4000mAh, which supports 18W fast charging. The toughened glass fitted to this machine is GORRILA GLASS 5 and its MIUI is also very long supported.
# 6. Xiaomi Mi A3
If you want a phone with a beautiful camera, the Xiaomi Mi A3 is a more perfect option with a price of only 3.9 million.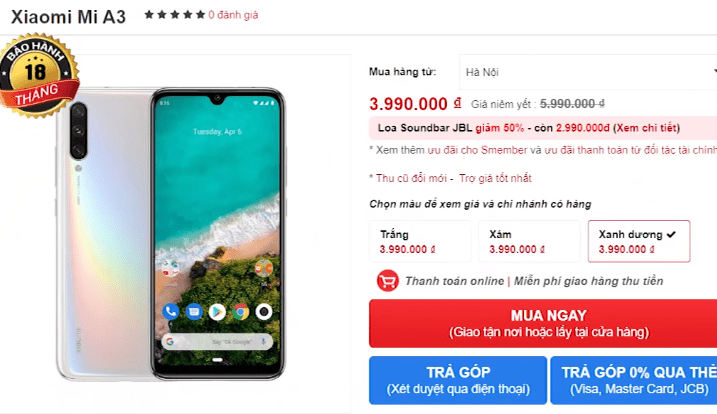 Xiaomi Mi A3 or Remi Note 8 are also warranted for 18 months according to Xiaomi's policy. The screen of the device is only HD +
Xiaomi Mi A3 has the same performance as the Redmi Note 8, it uses the Snapdragon 665 chip but its trio of rear cameras is much nicer than the Redmi Note 8 because the Mi A3's camera is more optimized by MIUI 2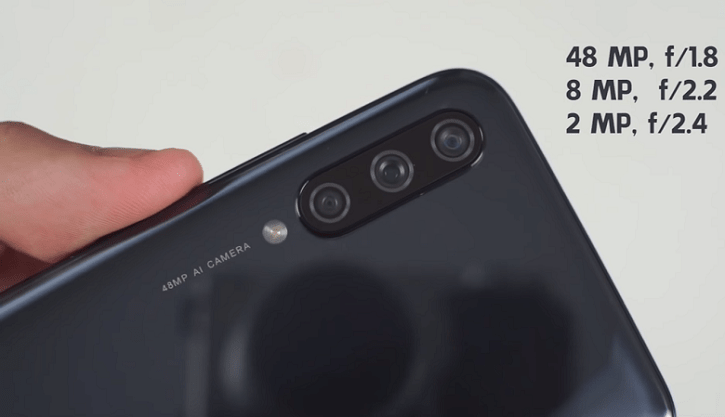 The battery of Xiaomi Mi A3 is also sufficient to have 4000mAh.
If you want to take good photos and relatively good gaming performance then Xiaomi Mi A3 is the right choice to consider!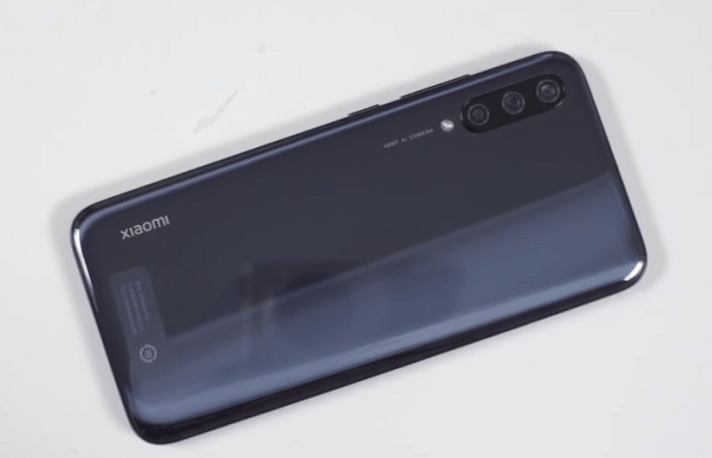 # 7. Realme 3 Pro
The final product I want to give you is the Realme 3 Pro, this is the cheapest Snapdragon 710 running on the market now.
With a price of only about VND 4.2 million and a warranty of up to 2 years, a very long warranty.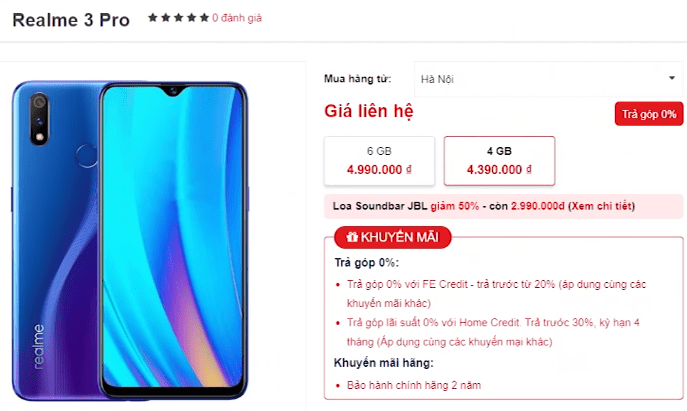 In terms of design, the Realme 3 Pro design is only made of plastic, the charging port is also just a Micro HDMI charging port, but in return we get a Full HD + screen.
We will get the best performance product in the price range with 4GB Ram and 64GB Rom. The battery is also sufficient at 4000mAh buffalo, has 20W fast charging and the duo rear camera at a good enough level ..
### Conclude
And so I have just introduced you to the top 7 phones in the price range of 4 to 5 million, genuine goods that I think are worth buying and most worth considering in early 2020.
What do you think of these products? And in your opinion, which product is the best in its price range? In addition to the smartphones that I have mentioned above, if you see any good products in this price range, please comment below.
Thank you for taking the time to read this article! Hello and see you again in the next post !!!!
CTV: Noob Official – Blogchiasekienthuc.com
Note: Was this article helpful to you? Do not forget to rate the article, like and share it with your friends and relatives!
Read more :