To welcome a new summer, let's take a look at 7 new mobile games with AFKMobi that have just been released in our Vietnamese game market recently.
The Vietnamese game market is getting more and more exciting with many already being prepared to be released in the near future.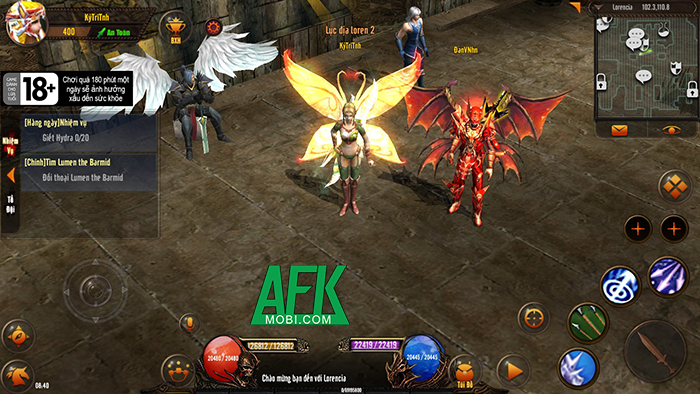 After 2 long years of the epidemic, it has more or less affected the launch of a new mobile game for Vietnamese gamers to enjoy.
Now let's take a look at 8 mobile games with AFK that have just arrived in the hands of Vietnamese gamers at the end of this June!
Condor Triangle DzoGame
Condor Tam Khuc is a new generation generals fighting game inspired by the long-running TV series Tan Condor Heroes, which is quite hot in the Chinese market in the period 2020 – 2021.
At this time, the player will play the role of a young man or a heroic daughter carrying in her boundless passion for martial arts.
Overcoming thousands of dangers, going through the waves of Gypsy to participate in the struggle for the famous martial arts secret book of the Nine Yin Chan Kinh, Vo Lam.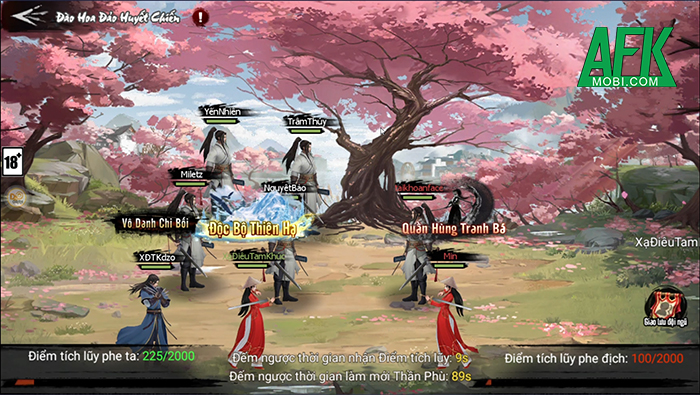 In addition to the attractive storyline, the product also fully meets the necessary features and activities for those who love the tactical general game genre to experience.
Specifically, here you are built up a virtual squad consisting of 1 main character and 5 battle generals from the warehouse of more than 100 characters divided into 3 factions – Main – Evil – Neutral with 6 interactive combat roles. together.
Next, the functions of fostering and developing characters are equally massive from the system of martial arts cultivation, opening the meridians, understanding secrets, ..to strengthening equipment, raising stars, breaking through. , awakening, triggering… the true quality of the general card game series.
Loren Continent – ​​ADNX
Loren Continent – ​​ADNX is a role-playing game with a horizontal screen interface that is about to be released by ADNX in Vietnam in the near future.
The game currently has 5 typical character classes of the MU Online game brand including Dark Wizzard, Dark Knight, Fairy Elf, Magic Gladiator and Dark Lord.
And like many classic role-playing games in the early days of the Vietnamese game village, to become strong in this game you need to persevere in hunting levels, building an arbitrary character development path through many additional functions. related assistance.

In addition to upgrading equipment, building strength for characters, recruiting companion Pets to help increase attributes, players also experience a series of Daily missions, Weekly missions, Team missions. – Guilds are extremely diverse.
Of course, not only perfectly reproduced in terms of visuals, but also Loren Mobile Continent revived these virtual characters by building their own unique combat characteristics as well as the "standard without adjustment" skill set. following the mind of MU Online fans for the past 20 years.
Even the part of the move to perform and use the skill is also transferred from the PC to the Mobile platform. Thereby bringing a realistic feeling in both the audio-visual part and the operation.
New Oolong Institute SohaGame
New O Long Vien is a hands-free chess game that allows you to control the characters of the super cool childhood comics Mr. Long Vien and Mushroom Head famous from China.
In the game, players will meet many familiar characters such as Master with long eyebrows, Master with big eyebrows, Big brother or Tieu junior brother.
The humorous element is the way the game creates emphasis and it is shown very clearly through the character creation as well as the skill system that is both familiar and humorous.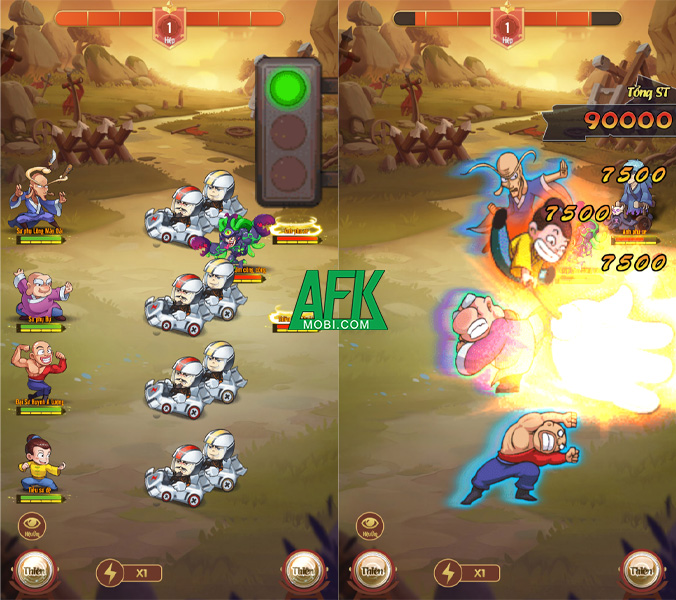 The game possesses 2D graphics with vertical screen gameplay, so the game has a light configuration, not picky about machine configuration.
In addition, the game exploits the hands-free fighting style, so gamers do not need too many operations to be able to play.
The game's character system is quite diverse with a character store of more than 100 people divided into 7 factions Human – Heaven – Earth, Yang – Yin and God with mutual contrast.
Knight Island Mobile
Knight Island Mobile is an idle role-playing game with a vertical screen interface released by Funtap.
The game possesses a chibi-style 2D graphics background, much reminiscent of the legendary MapleStory game, also known in Vietnam under the name Luu Ky Dwarf Mushroom.
Participating in the game, players will be transformed into the heirs of ancient warriors with the responsibility of stopping the forces of darkness and protecting the world.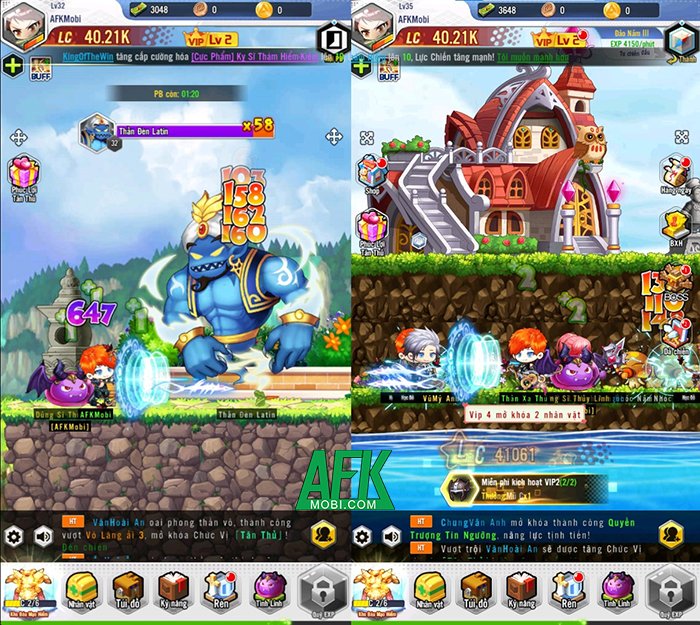 The game gives those who have played through MapleStory a feeling of nostalgia about intense childhood with extremely attractive battles and lovely "dwarf mushroom" characters.
Besides that lovely feature, the game's use of new combat effects will help bring a sense of awe and stimulate your vision.
You will be able to choose between 3 character classes including Knight, Mage and Archer. Each character has its own fighting ability and unique set of skills.
In addition, because it is an idle game, the control system is also optimized for mobile, intuitive and smooth operation.
Gamers can easily manipulate to help the character move, release skills and fight quickly with just one finger.
Memories of Goddess Mobile
Memories of Goddess Mobile is a new generation strategy game, allowing you to own a Harem at your fingertips.
Entering the game you need to form an army of your own, open the Gate of Time to crusade against the brutal Lucifer army.
In that perilous journey, you can expand your relationship with the Goddesses in the game, turning them into the Harem of your dreams!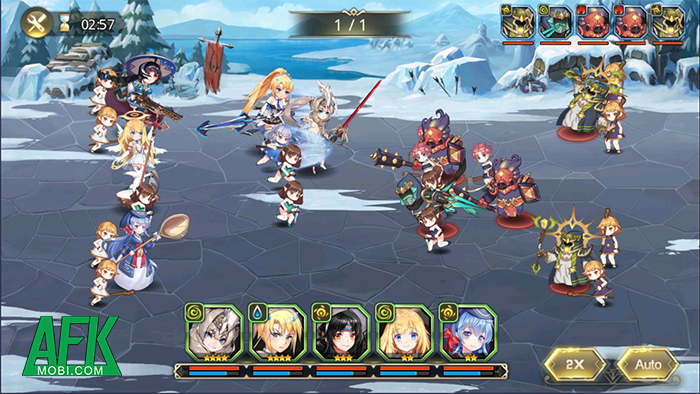 In addition to collecting, you can enjoy the game by immersing yourself in character development with the right equipment and skins.
The gameplay of the game is in the style of general card strategy, you can combine different characters to create an invincible squad with countless stats added.
The game also brings an elemental system of Water, Fire, Wind and Light that plays a mutual role in everything that always moves the Goddess into battle.
Therefore, it is important for each gamer to arrange and combine different characters in their squad so that they can maximize their own strength as well as successfully overcome the faction squad. enemy.
Mobile Conqueror Academy
Mobile Conqueror Academy is an anime/manga hands-free general card game exclusively released by NPH Duo in Vietnam market.
Participating in the game, gamers can freely choose more than 100 generals who are characters from more than 40 famous Anime series in the world.
Let's meet Ace (One Piece), Kakashi (Naruto), Songoku (Dragon Ball), Levi (Attack on Titan), Asuna (Sword Art Online), … in the anime multiverse world with many surprises.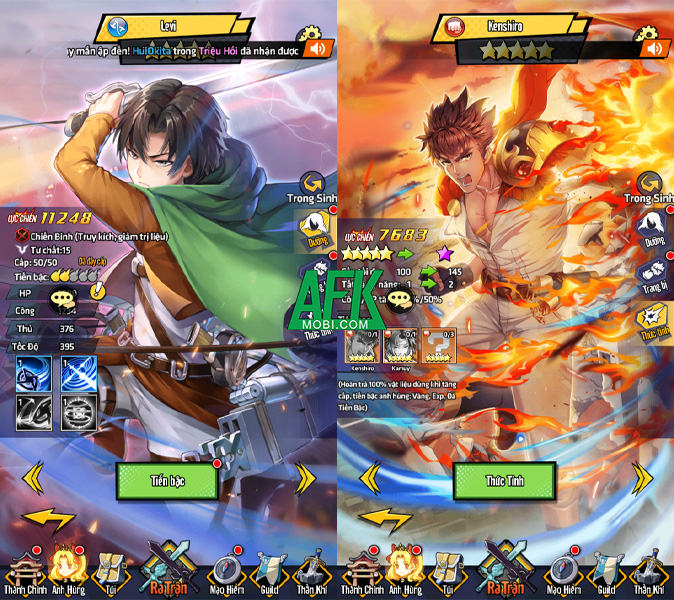 It is known that each student in the game has unique skills, the effects are also depicted quite eye-catching.
In addition, the formation system with 5 systems: Science – Magic – Combat – Demons – Gods overcome each other.
With many types of battles such as: Strength of Science, Power of Harmony, Power of Evil, Power of Chaos… will help players build a dream team.
Fantasy of the Three Kingdoms Funtap
Fantasy of the Three Kingdoms is a general strategy mobile game with 3Q theme released by Funtap in Vietnam.
Entering the world of the game, players will be free to create their own squad regardless of the country of Quan Hung, Thuc Han, Northern Wei or Dong Ngo.
Here, gamers will transform into more intelligent and talented Gods to create the strongest squad towards the goal of unifying the country.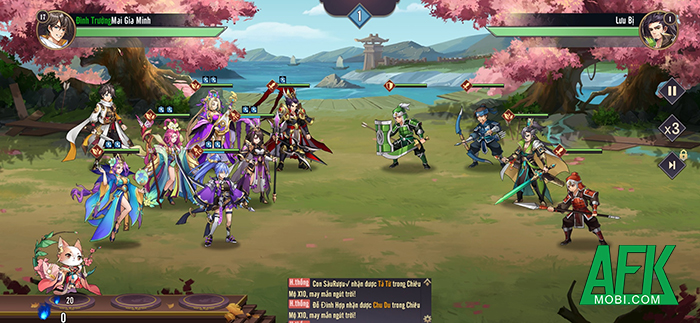 The unique feature of the game is the graphic background in a youthful style, somewhat breakthrough compared to 2D games of the same type.
During the game, you will discover a diverse system of generals with more than 45 famous generals such as Cao Cao, Luu Be, Lu Bo, Quan Vu, Trieu Van …
The generals have different skills combined with super "top" combat effects to create eye-catching matches in both quality and quantity.
---
Follow on Google News feed
---