Note: Read all articles before making offline!
Service What is cloud storage?
Perhaps Services cloud storage too familiar for those who are exposed to the Internet environment, right? and I also do not need to explain more ahead. You just need to understand simple like this:
Instead of storing data on a computer hard drive, you can upload important files to the cloud storage service to store it permanently on. At this point, your data will be stored by a computer / server of a company or corporation created that cloud services. Understand simple like that!
should choose the cloud storage service do?
Now on the internet there are hundreds of cloud storage services, but to talk about the prestige and security of file services is not always met. And for hundreds of hosting services on, I just believe in 6 service that is:
Dropbox.com – service is very prestigious and convenient security.
Google Drive – cloud storage service from Google.
OneDrive – cloud storage service from Microsoft.
Mega.nz – this is a cloud storage service very prestigious US.
Fshare.vn of Vietnam.
Mediafile.com – file sharing services with high-speed file downloads.
Tips: If you want to use the service, simply log on and use only – very simple. Also the case if no account, you can click on the corresponding link to create a separate account for yourselves.
rating – choice of matching demand?
6 cloud storage service on you can choose which one also, but to optimize as well as to what's best for your job, here I will analyze the advantages and disadvantages of each services for the easy option you offline.
1. Cloud storage service Dropbox
Tips: If no account, you can sign up using this link to get additional 500 MB of permanent storage.
This service is suitable for office workers, because of free storage, but it does give you quite a few, just 2GB of free storage only. However, if you just save the file as Word, Excel .. alone is there that does not go away for a lifetime ?
Why do I say to the people best suited Dropbox office? Oh wait, to use this great feature, you must download the app Dropbox syncing ago was (download here, then install on your computer). After installation is complete, the computer will now create your Dropbox folder named Dropbox , you just copy the text files or any files you want into this folder it will be automatically synced to the Dropbox servers. That is, you do not have to upload manually, but just copied to that folder and it will automatically sync your data only and not only stored on the computer where it is stored on the server always Dropbox again, that's why your documents always have a backup copy.

Another special thing is, if you use multiple computers or other devices to work together. His take for example you have a personal computer at home, a PC at work, 1 the ipad, iphone … is to 1 the data synchronized on 4 device, you simply install the Dropbox app in computer / ipad / iphone then log into the account correctly it done. Data will be available on all 4 device, but a prerequisite is to have an internet connection and somebody else.
=> Suitable for storing personal data.
2. Google Drive service
Just have a gmail account that you can use Google Drive service is easy and fast then. Google Drive lets you upload and share files to other people very quickly.
One advantage of it is the speed of ultra-fast upload and download, in addition to e-mail using Gmail, you can attach files that are larger in Google Driver in gmail is easy and convenient.
Tips: Whether you're using a cloud storage service no matter what the user should also add this service Google Drive offline.
=> Suitable for storing personal data.
3. Data stored on OneDrive
With home advantage, ie it is the brainchild of Microsoft – maker Windwos operating system, so that it has integrated the service always Onedrive on the version of Windows 8.1 and Windows 10 and almost forced users to use its services. But is the hosting service and security of OneDrive also very good so this is pressed acceptable ?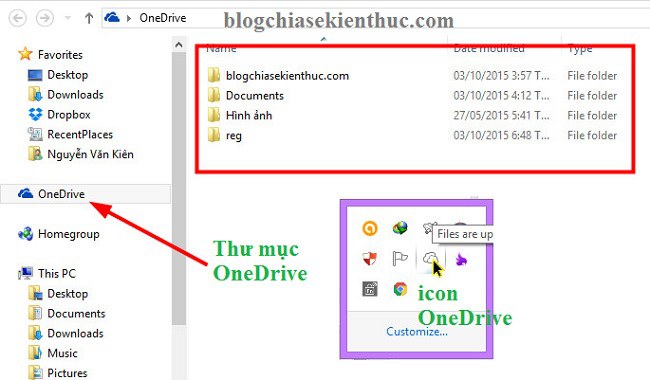 You just login account and begin using Microsoft completely similar to Dropbox service, except that you do not need to install anything and more OneDrive also gives users 15GB of free. So you can store more data, but in terms of data synchronization keeps multiple devices together, the guy seemed lost Dropbox.
=> Suitable for storing personal data.
3 service have the same characteristics that support ultra-fast upload and download. But not suitable for the storage of personal data because it is a common feature that is without the person downloading the file in a certain time period, the data will automatically be deleted.
3 services are only suitable for sharing and upload files to the community, but high-volume files only. By default when you create a free account, then these services will give us 50GB of free space, pretty comfortable right ?
=> No right to store personal data.
Epilogue
Okey! this is above 6 cloud storage services feel that their best today and always encourage you to use. How about you ? you're using a cloud storage service to store personal data and cloud hosting services to upload files to share with the community? Share to let people know the advantages and disadvantages of it offline.
Hopefully the article will be useful to you, to wish you success!
Kien Nguyen – Blogchiasekienthuc.com
Read more :