Printing is one of the daily tasks indispensable in modern life today, especially for office workers, or for teachers, teachers, or even business people … then printing is even more important.
Yes, and in the course of printing documents, of course, there will be times when you will encounter mistaken printing, printing the wrong document to print, printing the wrong number of sheets needed …. or other than printing, the printer has an error.
Actually, the wrong printing is not too serious, it only costs white paper, ink and time to print again … 😀 Therefore, in this article, I will share with you some ways to cancel the print job. Quickly on Windows operating system!
Read more:
I. Share 4 ways to cancel a print job on Windows 10
// In this article I will perform on Windows 10 operating system, other operating systems such as Windows XP / 7/8 / 8.1, you will apply the same.
Here are 4 how to cancel the print job I have compiled so that you can cancel printing documents quickly, apply for Windows 10.
In addition to the ways that I share in this article, if you know of any other good ways, don't forget to share them again with your brothers and sisters by leaving a comment below this article.
But….
First, to cancel the print job, you must press the button Stop (usually red or orange) on the printer to stop printing in the printer first. Then combine 1 of the 4 ways below to stop printing entirely on Windows.
Method # 1: Cancel the print job using the Service Management Console
Most applications / software on the Windows operating system require an accompanying Services to work in order to use the software normally and stably. And the printing feature on Windows 10 is no exception.
Just you for stopping the service Print Spooler then all printing on Windows will stop. Of course to do this you need the help of Services Management Console – Tool to manage services on Windows 10.
+ Step 1 : You open the Run dialog box (combination Windows + R) up => enter the command services.msc => and then press OK to open the tool Services Management Console on Windows 10.
Or You can use the tool Windows Search (Windows + S) to search with keywords services.

+ Step 2 : Scroll down to the services section to find it Print Spooler.
Tips: For a quick search, start with the word P or press the key P on the keyboard also, look here for a service called Print Spooler.
By default the service is always running even when you are not printing anything (it is always in the state Status : Running), now right click here to select Stop to stop it. Or double click on that service to open it up for setup as well.
Also, if you do not print on this computer then it is possible Disabled Always this service to speed up Windows computer, no effect at all.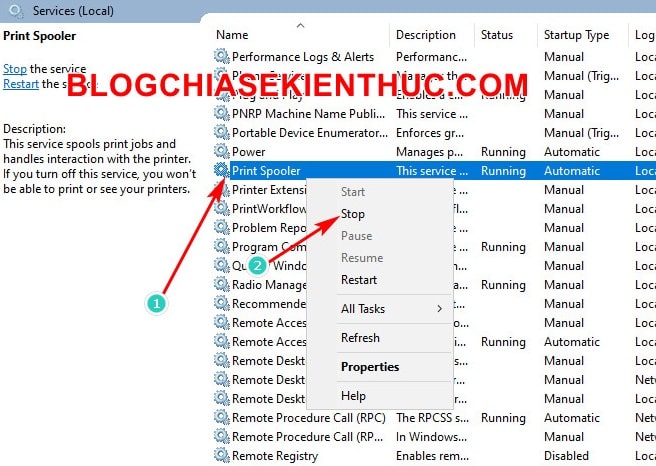 + Step 3 : Next you open Windows Explorer (Windows + E) => and access the folder PRINTERS follow the link:
C: Windows System32 spool PRINTERS
=> Select all files by pressing key combination CTRL + A => Then delete all the files in this folder as shown below.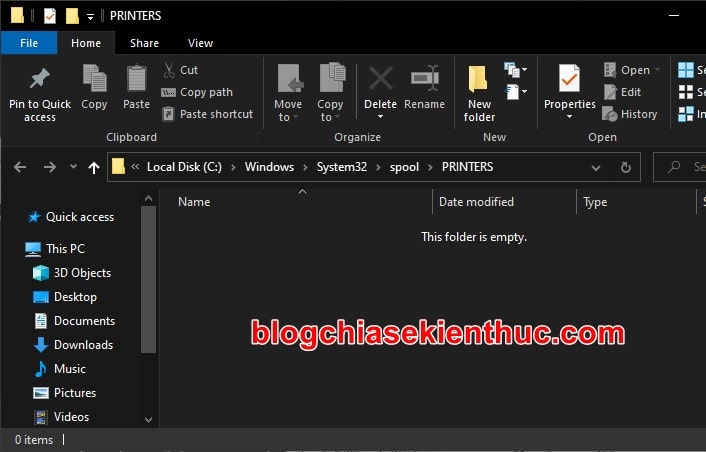 What if I want the computer to print again?
+ Step 4 : Yes, you went back to the window Services Management Console => and right click on the service Print Spooler choose Start to reboot it.
If omitted Bước 4 If so, you will not be able to find the printer in the list of connected devices and to be able to print. Now follow the steps from the beginning to print the desired document.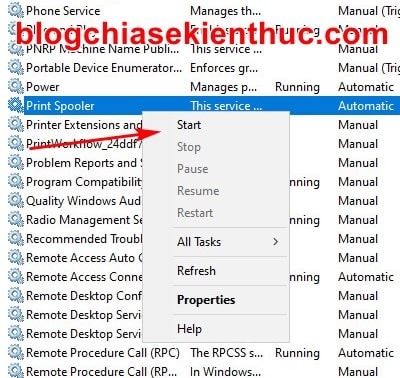 Method # 2: Stop the print job with the command in Command Prompt
Command Prompt or CMD is one of the powerful tools on Windows 10 in particular and all Windows operating systems in general => so there is no reason why we do not use cmd to cancel a print job on Windows 10.
In fact, this way 2 is no different from Method 1 above, but instead of performing on the graphical interface as usual, here we will use the command line instead, it looks much cooler 😀
// If you know how to use multiple commands on Windows, it will shorten a lot of work, I'm general, not just cancel the print job.
+ Step 1: First, open Windows Search using the key combination Windows + S => then enter the keyword cmd.
Then you right click Command Prompt in the search results and select Run as Administrator to run CMD with Admin rights. See more ways to open cmd with Admin rights!
+ Step 2: In the CMD interface, enter the command below => and then press the key Enter to stop the print service on Windows 10. This command to stop running the service Print Spooler.
net stop spooler
+ Step 3: Continue, enter the following command => press Enter:
del% systemroot% System32 spool printers * / Q
=> Sure you can guess what it did, right? – Yes, it is used to delete all files in the directory PRINTERS just now.
+ Step 4: And finally enter this command line => and press Enter To restart the Print Spooler service:
net start spooler
If, after each run, the content displays as shown in the figure, OK, you have successfully canceled the print job.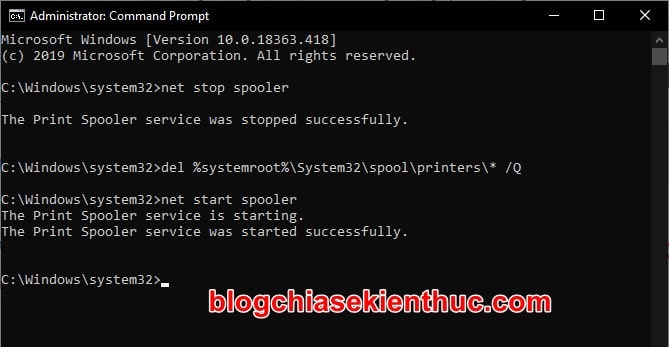 Method # 3: Use Device and Printers to cancel the print job
Device And Printers is a place to manage devices connected to the computer and printers connected to the Windows operating system.
+ Step 1: Open Device And Printers by entering the command control printers Go to the Run => dialog box then press OK.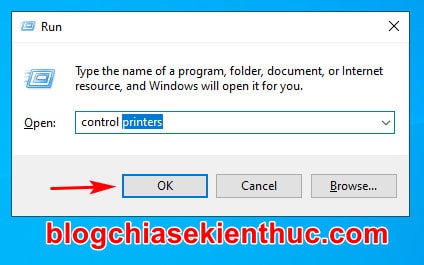 + Step 2: In this, you scroll down to the section Printers => and right click on the printer you are using to print but now want to cancel => and then select See what's printing to see which documents are currently printed and waiting to be printed.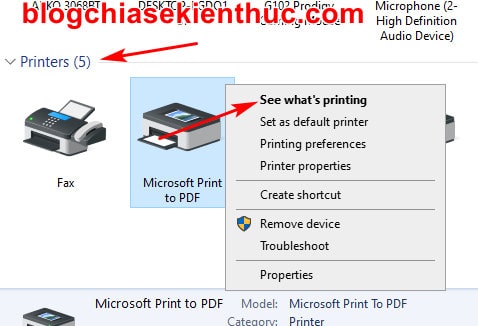 + Step 3: Finally, you click on Printer on the navigation bar => and then select Cancel All Documents to cancel printing all the documents, here I do not print any demo so this line does not light up.
Then you return to the path below => Then delete all the files in this folder and you're done:
C: Windows System32 spool PRINTERS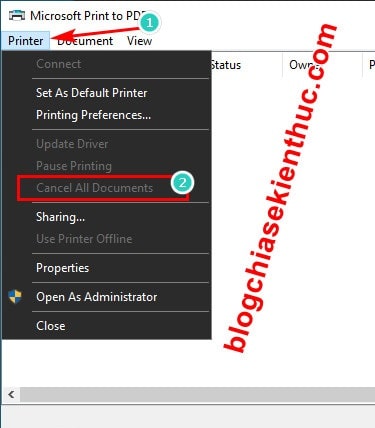 Method # 4: Reluctantly, you have to do it 🙂
Yes, actually, if you read this article before printing, you can do it in time, but if you do not remember how to print or it is time to print wrongly and then search, it is probably not timely to cancel the command. If I find this post, then it will come out 😀
Therefore, in an urgent situation where you have made too many print jobs without knowing how to cancel, take the printed paper back into the paper tray so that it reprints on that sheet.
Alternatively, press the cancel button on the printer or turn off the printer as well. And if nothing important is running on your computer and you're not too in a hurry, you can restart your computer 😀
// However, restrict the usage of how to turn off the printer, because it will sometimes affect the hardware of the printer and many printers it still has unfinished commands, so when opening it will continue to print.
II. Epilogue
So I just finished the tutorial for you 4 how to cancel a print job on Windows 10 and other Windows operating systems, I hope you will experience less negligence in the process of using the printer to print your documents and documents more quickly and economically 🙂
And if you know any other way, don't forget to leave a comment below the article. Good luck !
CTV: Nguyen Thanh Tung – Blogchiasekienthuc.com
Note: Was this article helpful to you? Do not forget to rate the article, like and share it with your friends and relatives!
Read more :