Videos are a very effective, proven method that can increase interaction with visitors, keeping them longer on the website. However, you need to ensure the layout and user experience are not affected or the interface needs to be adjusted to suit the eyes. The birth of WordPress video themes is to ensure this.
We know finding a suitable theme is very difficult. So we share our 20 WordPress video themes for you to choose from. You can refer to what their features are, what they look like right after.
List of the best WordPress video themes 2019
PenNews is a flexible WordPress video theme suitable for all projects. You can choose from over 100 sample designs, to find the best fit. Ranging from news sites, magazines, online stores , video portfolio to landing pages.
All of these template designs are easy to edit. With over 40 content blocks, you can quickly design as much as you want. Drag and drop will also help you edit quickly, does not require any technical knowledge.
Autoloading next posts also helps traffic grow. It saves user time and helps you present the best content. This is an effective way to keep visitors on your site.
Other advantages:
Thumbnail Auto video downloader
Optimized for high traffic
Site loads 5 times faster with Accelerated Mobile Pages (AMP) and 10x faster with Facebook Instant Article.
Price: $ 59 (regular license)
Vlog claims to be the best video theme
Its video sliders make it easy for users to view content – no need to scroll through pages or find videos. This saves time and is a modern way to watch many different videos.
Visitors can use the comment box to share feedback and start conversations with others. You can combine videos with writing content, images, and photo galleries. You can make your videos stand out by using the sticky video feature.
Other advantages:
Automatically detect video thumbnail
Automatically import videos from YouTube and Vimeo
Back view button to smooth user experience
Price: $ 69 (regular license)
VideoTouch presents all the best videos on a single slider. It will surely catch the attention of the users and make your site unforgettable.
This WordPress video theme is easy to customize – includes 2 to 12 content and 5 styles for listing posts. The powerful meta data option will help users tailor each page, article, sidebar, thumbnail, link and more.
Other advantages:
Integrate with Google font
Theme management panel
Retina support and responsive for multiple devices
Price: $ 64 (regular license)
Soledad WordPress video theme has more than 4000+ options for the home page and over 1000 types of sliders of all kinds, as well as the web incorporating blogs. No need to know it is the biggest theme ever for blogs and magazines since 2018.
Soledad helps you add elements from many different demos into your site. You can choose any slider, blog layout and post template to design the best website you need. Infinite design possibilities
Other advantages:
Load pages faster than 1.38s based on Pingdom
Set many different positions for Google Adsense
Compatible with the Toolset Types plugin
Price: $ 59 (regular license)
VideoPro summarizes the functions well and the interface is gorgeous. Everything you want and need to be able to design a great video sharing website.
The upload video front end makes content aggregation very easy. Users can provide videos easily and VideoPro creates them own channels.
With this WordPress video theme, you can also host videos in different ways. VideoPro supports episode buttons to easily host long-form videos. Another option is to create playlists where you can synthesize a lot of video content from different video creators.
Other advantages:
BuddyPress will send membership activity notifications
Video player floating on the web
Support importing videos from YouTube and Vimeo
Price: $ 59 (regular license)
MagPlus is a great magazine style theme for WordPress. It is ideal for making blogs , news sites, and video content.
MagPlus allows you to adjust many aspects of the site art. More than 40 professional templates for you to choose. If you don't know which one to choose, you can use over 270+ different layouts and combine them.
This theme will also provide technical support for you. It is an SEO optimized theme with built-in cache to speed up WordPress website even more.
Advantages:
6 Premium Plugin is included free
Easy to configure and optimize for Ads and affiliates
Free lifetime updates
Price: $ 59 (regular license)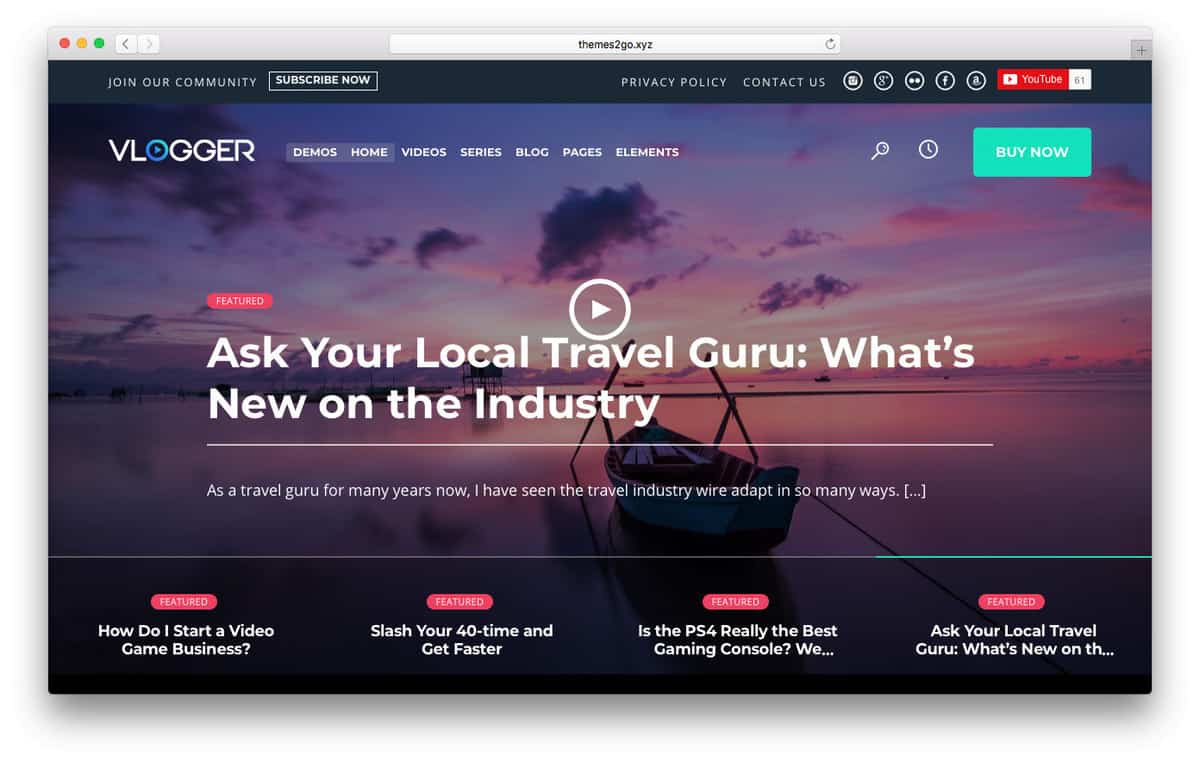 An online video-based project is easier to create with Vlogger. This WordPress video theme has many ways to help you improve your video presentation.
You can combine posts and videos in one post. While reading this article, you can still watch the video above the resizable sidebar. You can also skip some videos.
Interactive playlists are another way to present content. On them, you set the video playlist, description and suggestion to watch the video. All of these elements are separated by tabs and easily by 1 click.
Other advantages:
Supports all video formats
12 ad slots with real-time customization
Unlimited front-end adjustment
Price: $ 49 (regular license)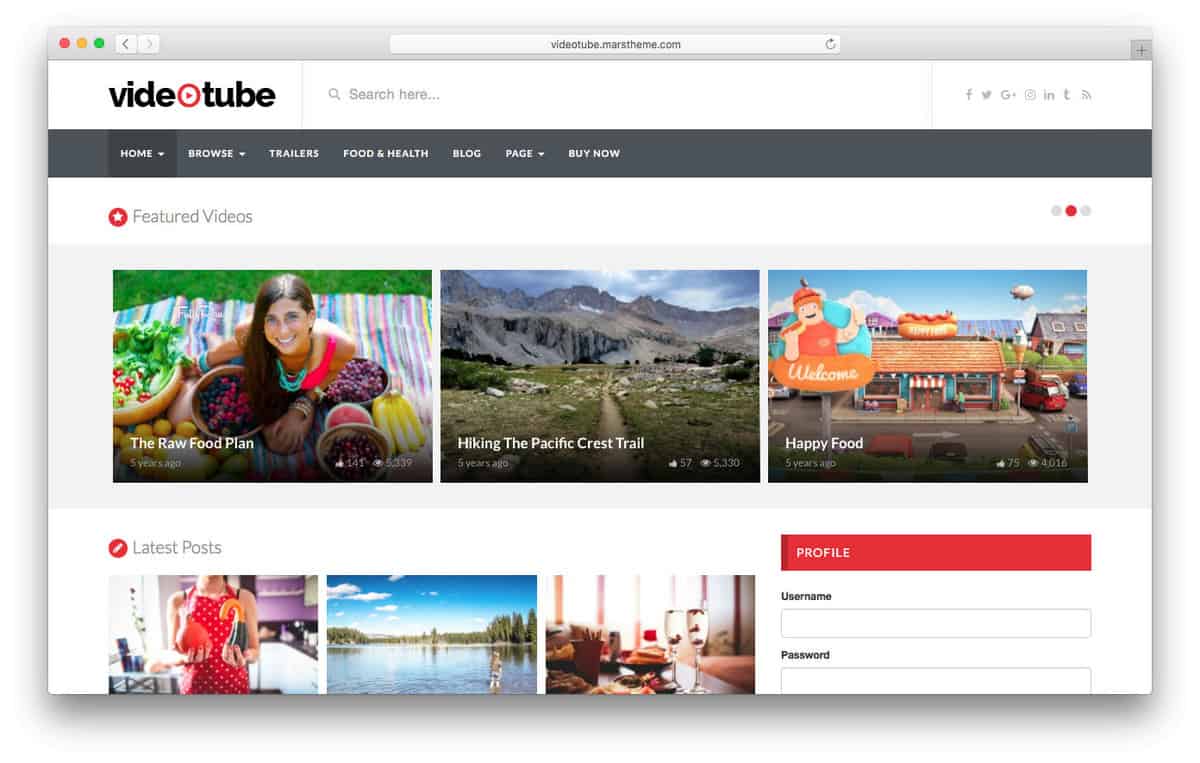 VideoTubes inspired by the planet's largest Video platform – YouTube . It is similar to this platform so it is easy to use and easy to access by visitors.
The WordPress video theme is not only similar to the appearance, but also has the same features as other platforms. It allows users to post videos and has a like button and a view count.
Other advantages:
Responsive design
Change colors easily
Premium widget for the homepage
Embedding videos is easy
Automatic thumbnail
Page builder visual
Price: $ 49 (regular license)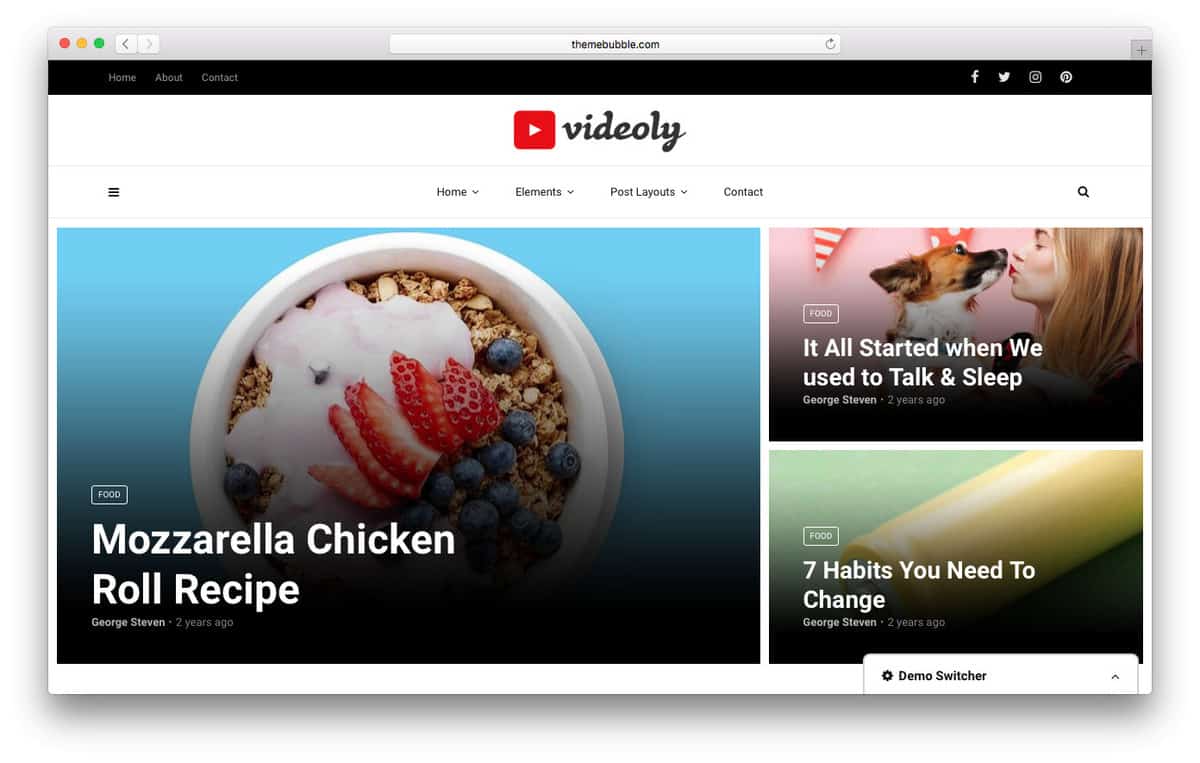 Videoly compiles all content and makes it accessible in a single domain .
This theme has more than 6 designs to choose from. They allow you to place a large background behind the title, can display the video before an article, or suggest other content on the sidebar. All templates can choose from a large font and layout structure to enhance the reading experience.
As for video content, Videoly has another option of blurring the background while the video is being played. This feature helps you display videos like a movie theater.
The theme includes a free set of Photoshop toolkits that make content creation easier.
Other advantages:
Free lifetime upgrade
Ready for responsive and retina interfaces
Visual Composer plugin is included for free
The share button is sticky
Mobile friendly
Price: $ 59 (regular license)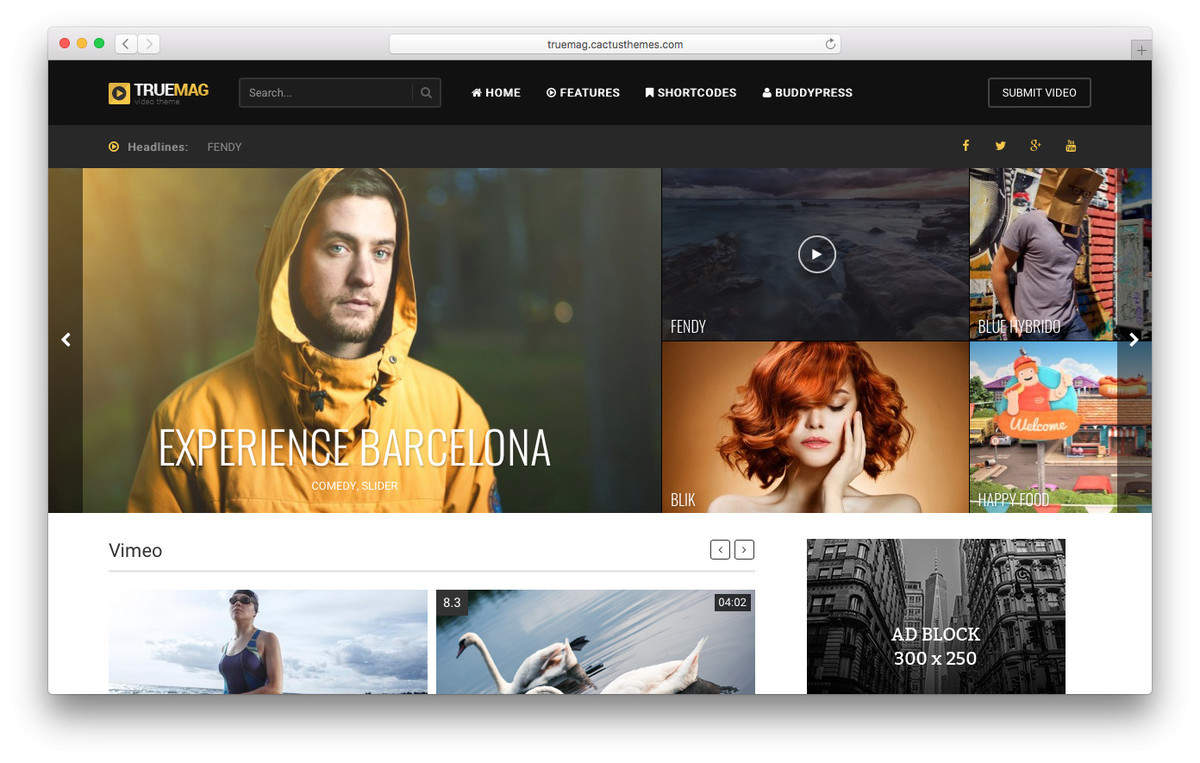 True Mag encourages users to stay on the site longer with a system that encourages watching other videos.
You can edit recommended videos based on the topic. This way, you can convince visitors to discover more of the videos you have. Counting views and ranking can also improve the way videos are recommended for viewers.
To make money from the website, you can install the Video Ads plugin, built exclusively for True Mag. This plugin helps activate ad video play before watching the main video
Other advantages:
URL embed feature
Integrate BuddyPress to build your own community
Google Adsense Responsive
Price: $ 51 (regular license)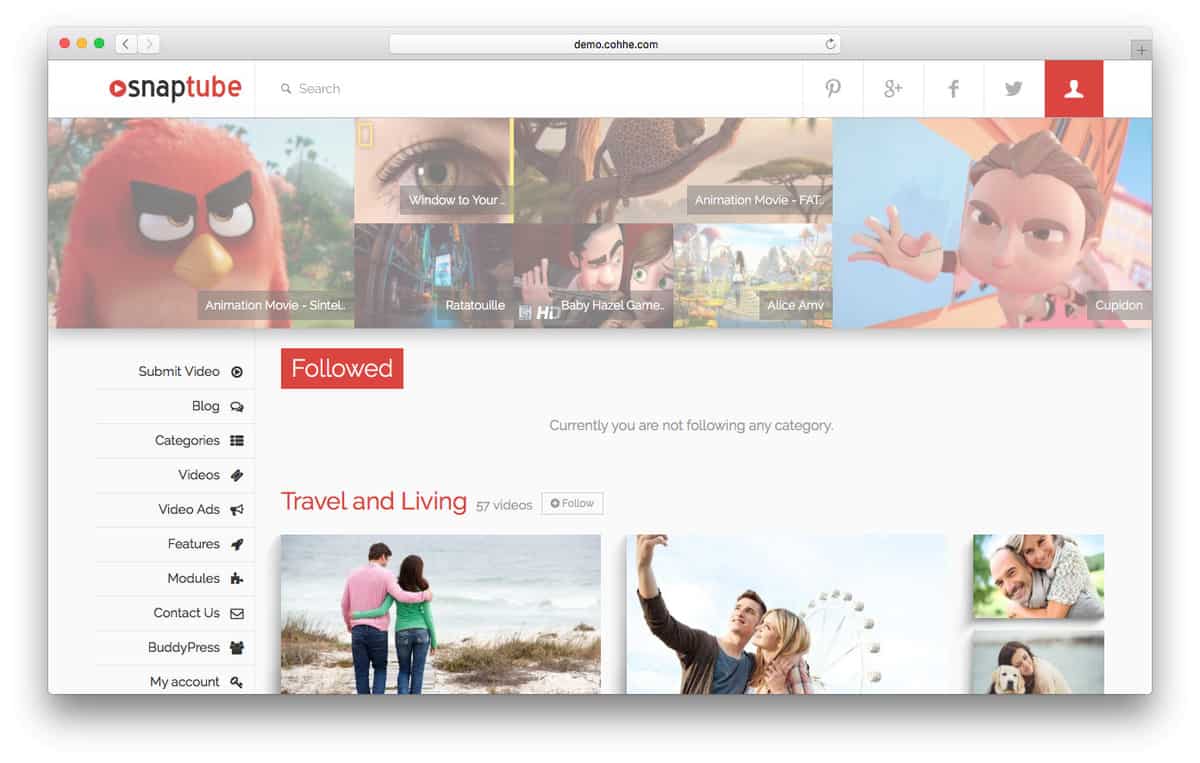 Snaptube is similar to VideoTouch WordPress theme. Both have special homepage headers to display the best and most popular videos. The difference is that the VideoTouch header can be scrolled horizontally, while the Snaptube is the same as the subtitle on TB.
The Snaptube's left sidebar has lots of features – sending videos, blogs, featured content, contact forms, and account management.
If you want to configure the front-end yourself, use the Frontenge Padge Building to customize it with drag and drop.
Other advantages:
AdRotate Banner Manager to make money easily from website
BuddyPress compatible
Support layer PSD file to customize
Price: $ 49 (regular price)
FilmMaker knows art can make a difference for a website. So it makes many nice elements and functions for this theme.
Anyone who likes pre-built websites will be attracted to this site. Just choose one click and you have your own video hosting platform. If you want to work with a lot of other groups, this WordPress theme video can also enroll everyone who participates in the project, which is reserved for them.
For technical people, they will like FilmMaker very much. Because although they don't need to know the code, they can still use the Visual Composer page builder to edit every single detail. To set the slider, you can choose Master Slider or Slider Revolution. Both are nice and nice sliders for posting the following information – photos, videos, buttons, links, yes.
Other advantages:
Beautiful prallax effects and videos under the background.
Complete icon set.
Support child theme.
Price: $ 70 (regular fee)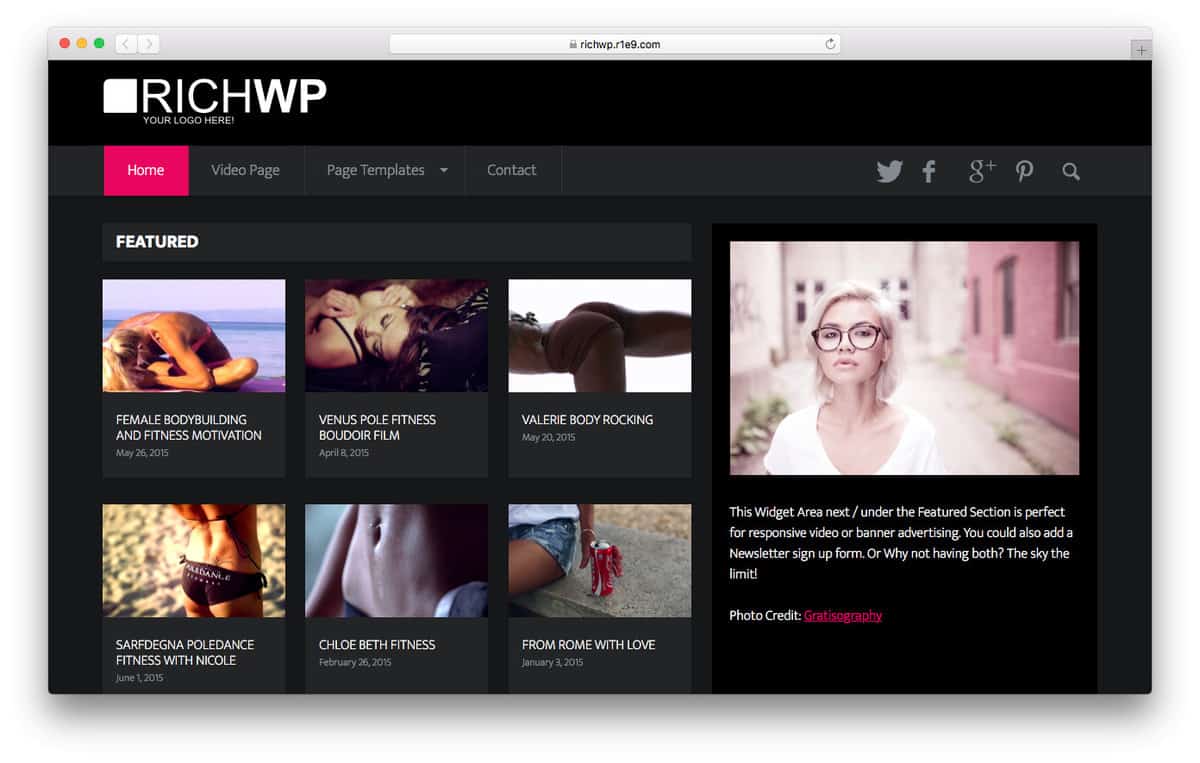 If you believe in the concept of "less is better", then you should choose Video World.
This theme has 3 theme options. Each option has a modern and simple interface with black background and large text. For watching videos, the theme supports creating a full screen page for the best viewing experience.
Although this video theme is customizable, you don't have to do a lot of tweaking, because the original design has focused on already available content.
Other advantages:
Logo format support (.svg)
Mobile friendly – mobile responsive
Unlimited updates
WooCommerce support
Price: $ 69.95 (regular fee)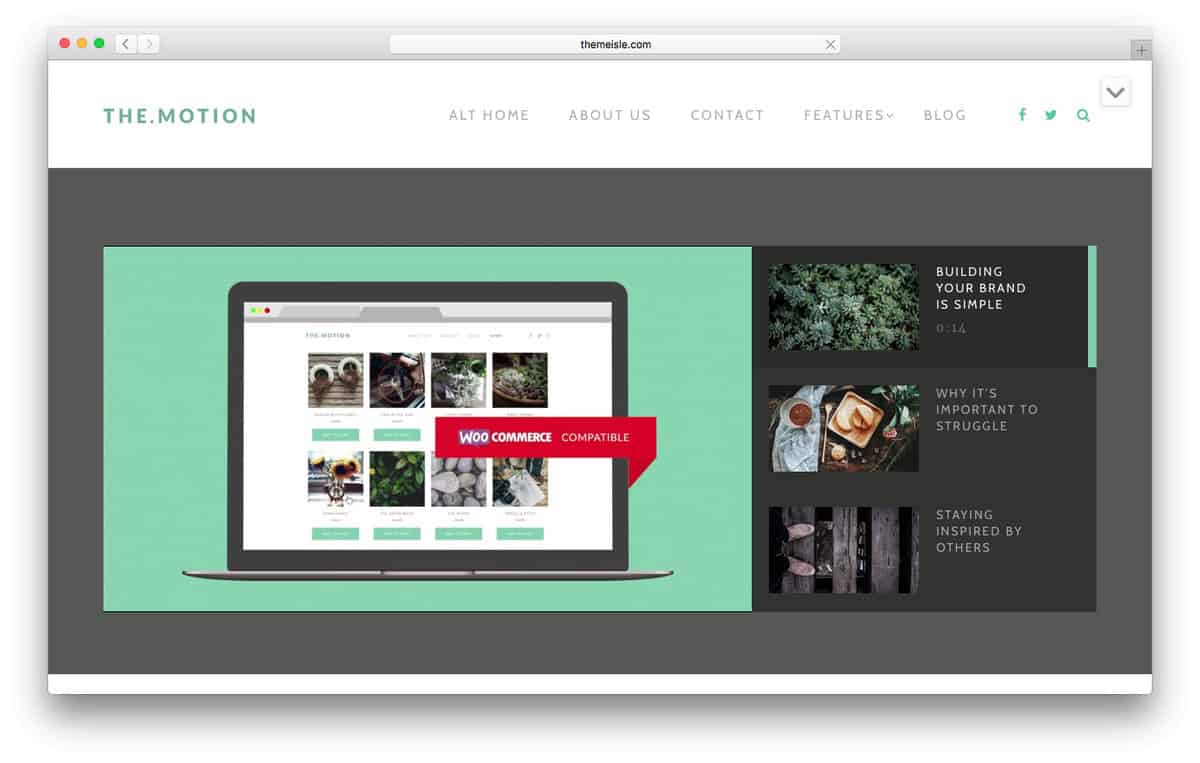 TheMotion is a beautiful theme, highly personal and very neat, clean interface, suitable for bloggers. This video theme makes you an expert without having to know what to code.
This WordPress video theme has 2 different homepage pages. The first page is a large background image with text, a call to action button and a video thumbnail. This homepage is suitable for vidoe professionals who want to present, highlight their capabilities to new customers.
The second theme presents the video as a playlist. Below, video thumbnails are displayed in the latest order first.
To customize, TheMotion video theme allows you to adjust the background, live editor, and mega menu.
Other advantages:
Logo support (.svg)
Mobile friendly
Unlimited updates
Price: Essential ( $ 89 ); Business ( $ 129 ); VIP ( $ 199 ) – for every year. Essential ( $ 329 ); Business ( $ 449); VIP ( $ 659 ) – is a lifetime price.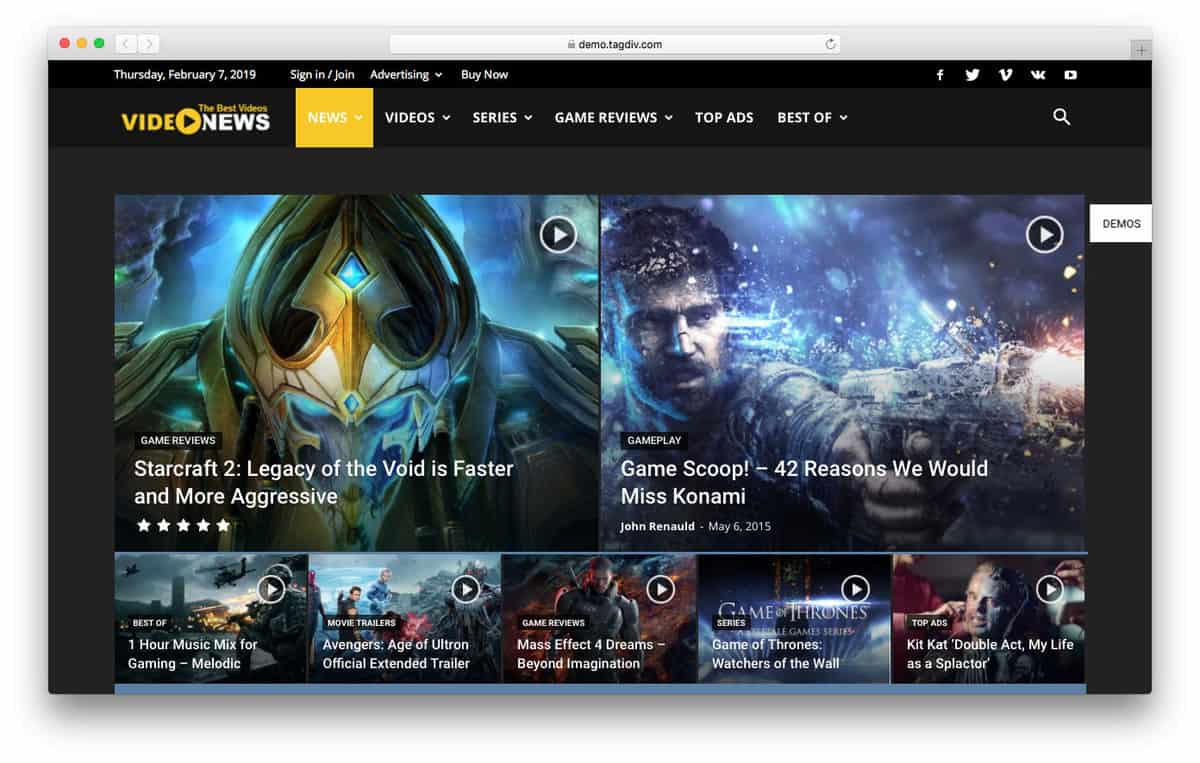 Newspaper WordPress video theme is a great theme if you like to click a button and you're done – there is absolutely nothing to customize.
Using theme panel, you can customize every element of the website in one place. From headers, footers, posts, and even technical elements, translation and statistics. Also, you can customize without knowing the code, just use the options available.
To see the changes, you can also use tagDiv composer. Drag and drop page builder will also help you easily use more than 420 elements to customize the website.
Other advantages:
Search online with AJAX
Customize the content block to automatically increase or decrease the size
Support responsive ads
WooCommerce support
Search friendly
Price: $ 59 (regular fee)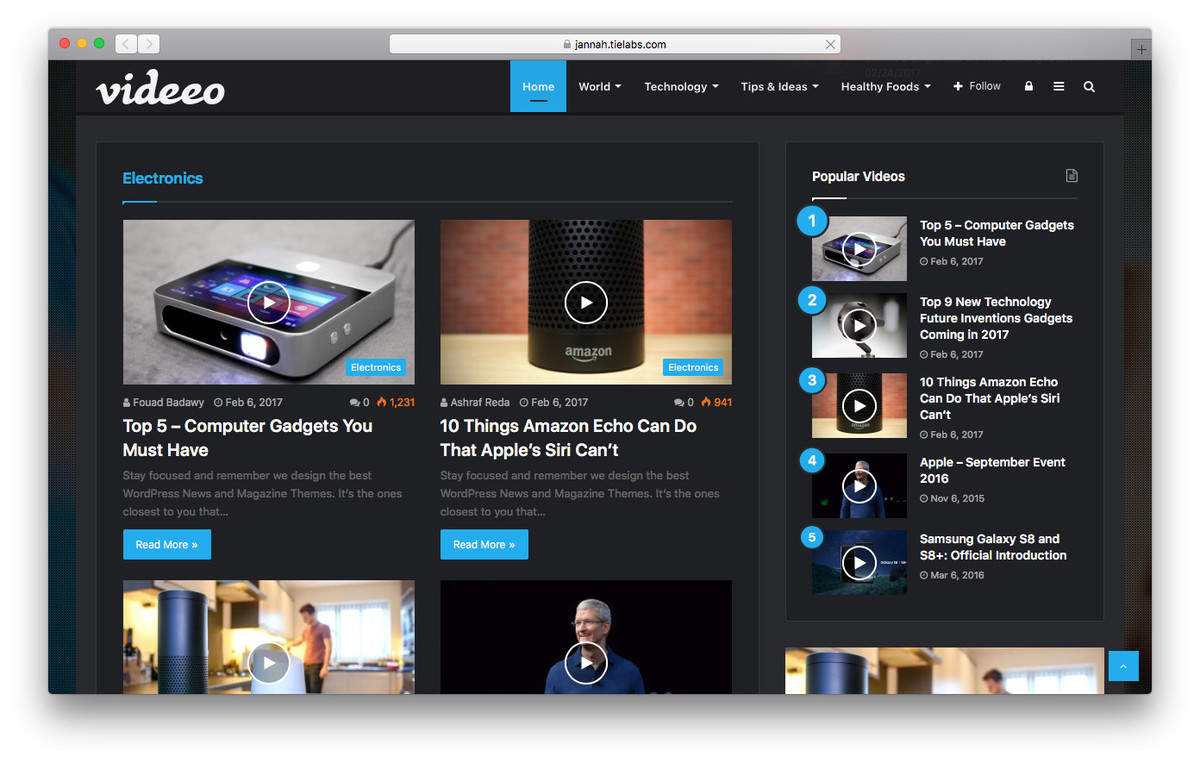 Jannah in Arabic means heaven. This WordPress video theme is truly a paradise for video creators.
It allows to customize a lot of things from header styles, menus, slider layouts, post layouts, etc. Each element is also easy to edit to fit your requirements.
To increase traffic, Jannah can send notifications to readers about new content.
In terms of making money, Jannah supports not only responsive ads but also AdBlock Detector. This plugin ensures you can gain advertising.
Other advantages:
Lazy load to help users download images when they want
1,000 fonts to choose from Google fonts and FontFace.me
The Migration Plugin helps move themes without losing any posts
Price: $ 59 (regular fee)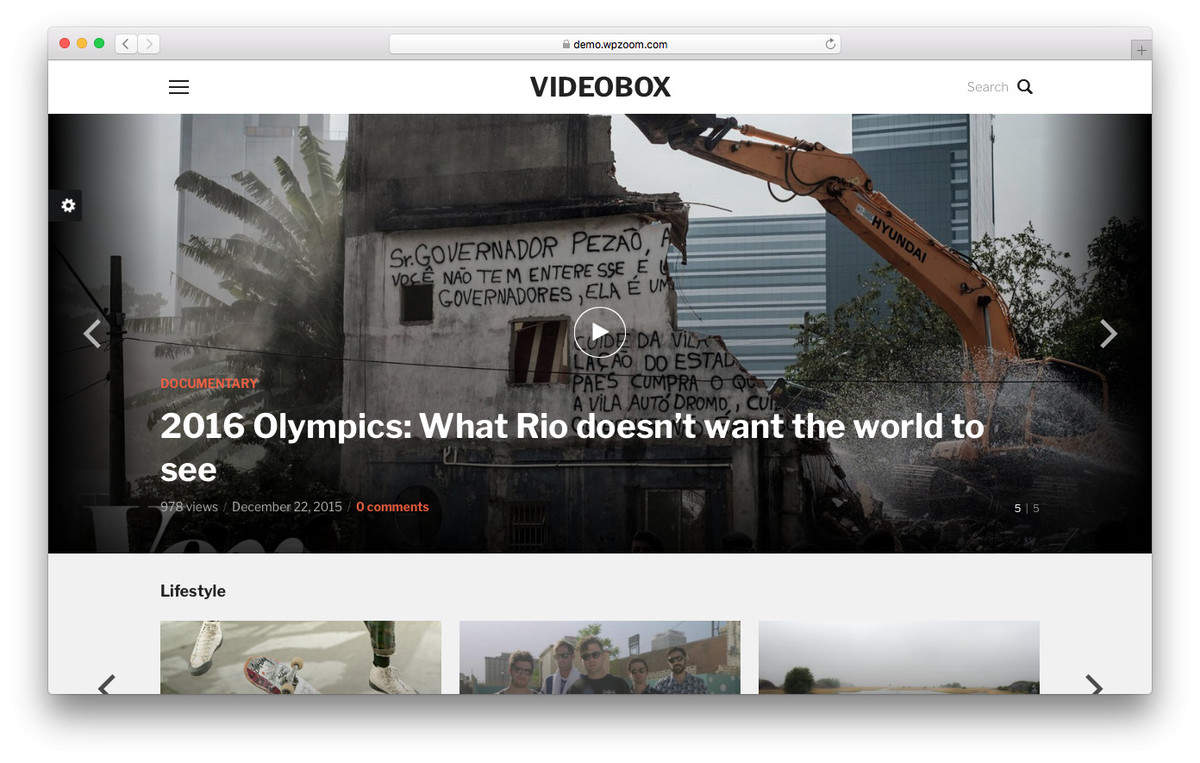 Videobox is specifically designed for video content creation.
Video slider is where you present your favorite videos. It does not display free videos but relies on Featured Post Management in Dashboard. You put any videos that you think will attract viewers.
You can also use the reduced version of the slider carousel widget. Use a few on the page to display vidoe from many different categories or to introduce blog posts
Other advantages:
Automatically detect videos in posts
Automatically create video thumbnails
Unlimited scrolling
Responsive layout
Price: $ 69 (regular price)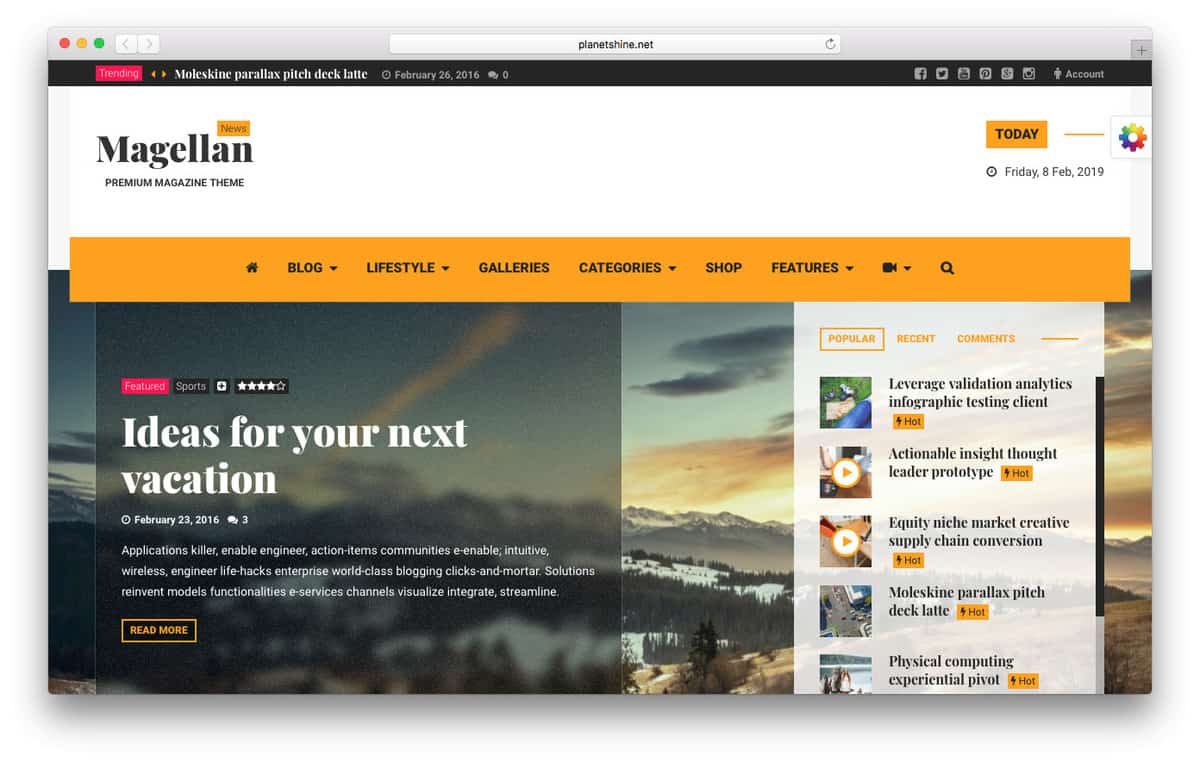 Magellan is very good at keeping customers staying on site longer.
The WordPress video theme supports many features to help users enjoy viewing your content. Using the automatic creation of hot topics, the most popular content will automatically be marked Hot on the title. You can put the suggestions above or below the content.
Another way to present hot videos is to enable the smart sidebar. The sidebar takes up space on your site and displays those videos. It also supports sidebar scrolling.
Other advantages:
Integrate with the bbPress system to create discussion forums
Interactive evaluation system with users
Responsive with Google Ads and custom banner ads
Price: $ 59 (regular price)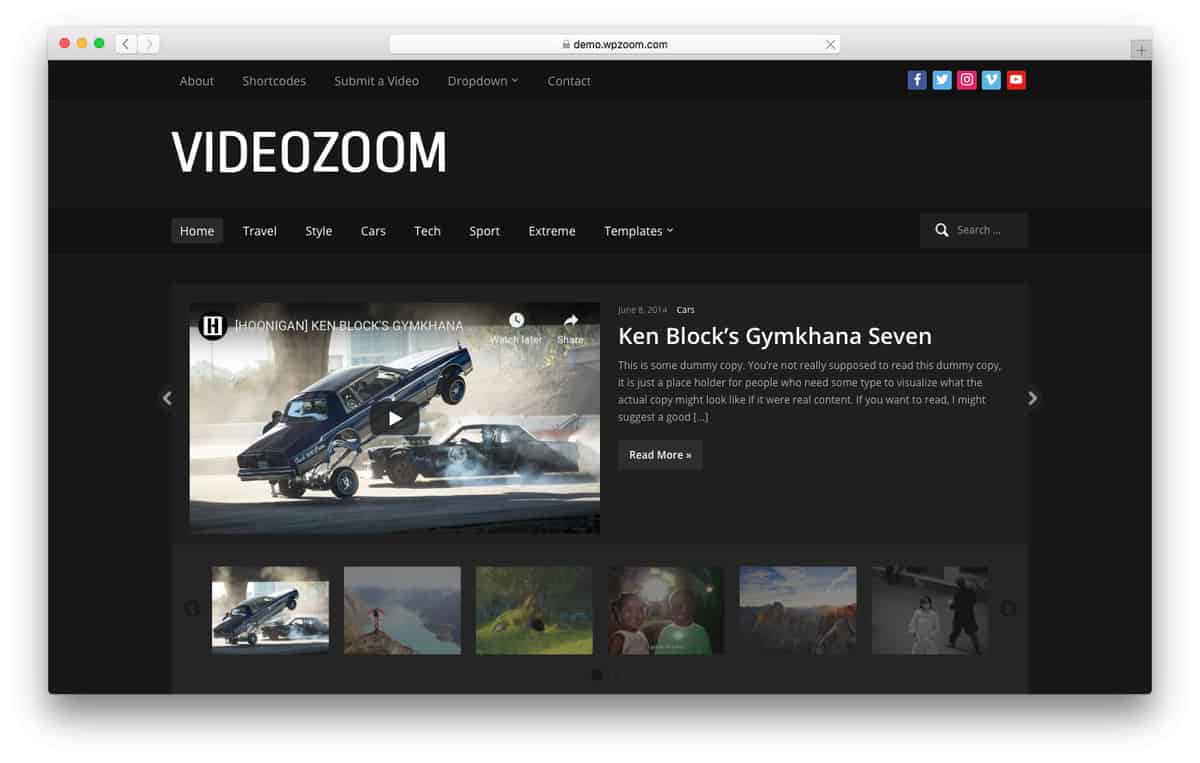 VideoZoom helps you put multiple videos on one page. You can use the video slider to place multiple videos on it with thumbnails and short descriptions.
WordPress video theme has 2 menus. The first menu is above the header, the second is below. The menu helps you create a structured website, making it easier for users to navigate the site. The top menu can include any links about the About, Submit Video, and Contact pages. The 2nd menu is where you place content themes.
VideoZoom also has 4 footer columns. You can use this area to present a brief description of the company, links to instagram accounts and other social networking sites.
Other advantages:
Automatic video thumbnails
Support Gutenberg
There panel theme attached
Mobile friendly
Price: $ 69 (regular fee)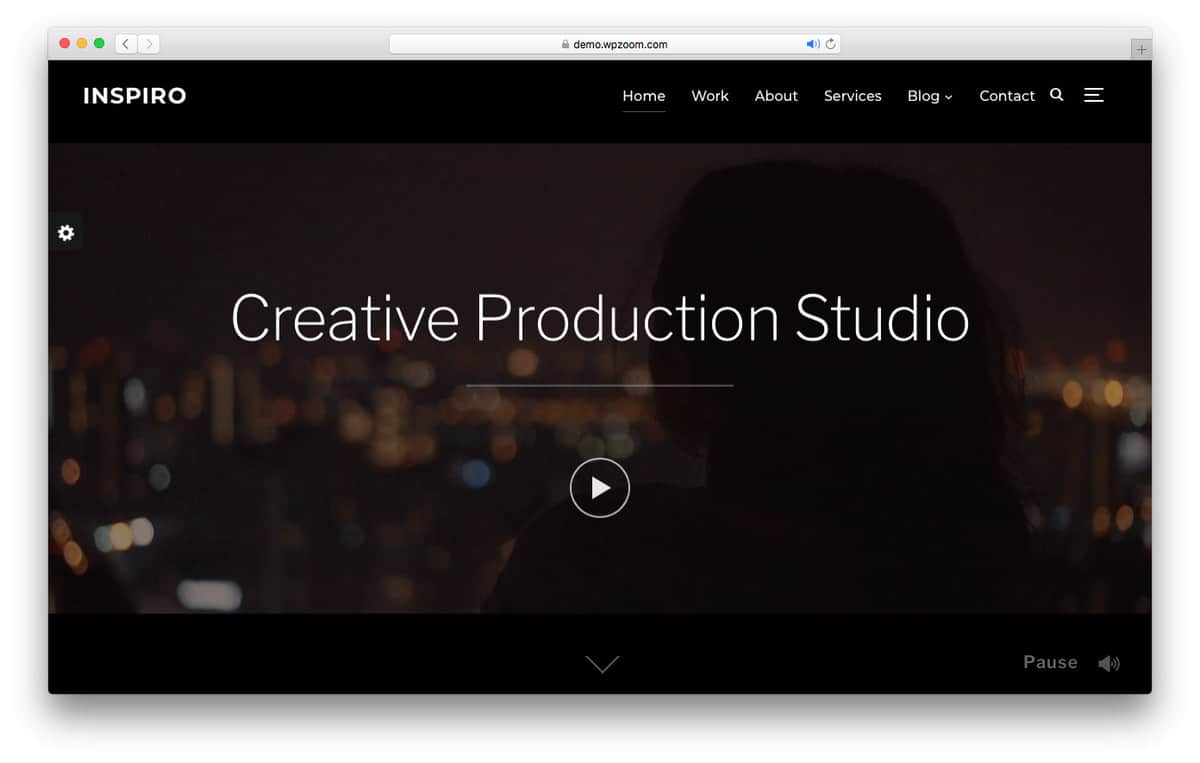 Inspiro is the perfect choice to exhibit your video collection. This WordPress video theme supports slideshow fullscree playing videos from the background. To be more beautiful and artistic, you can adjust the overlay overlay on the video in any style you like. In addition, you can present your portfolio and photos on slideshow.
You can also place trailers of videos because Inspiro is dedicated to the area where the videos automatically play when hovered over.
Other advantages:
Video lightbox
There is a page builder
Theme option panel
Responsive Layout
Portfolio module
Price: $ 69
Epilogue
The WordPress video theme is useful when you want to improve the way videos are displayed on the website, which is not only beautiful but also keeps customers longer on the web, thanks to the increased video viewing experience of users.
If you want a structure-like theme with YouTube – check out VideoTube .
MagPlus is the choice for those who like SEO and see it as a development focus.
WordPress video themes like Magellan will ensure visitors stay on the page longer.
If you want to increase the user experience, try Vlogger , it helps to watch videos and read your posts simultaneously!
In a nutshell – there are many different WordPress video themes for you to use, trust your intuition, download the trial to get the best rating.
Read more :
20 best WordPress video themes 2019
Videos are a very effective, proven method that can increase interaction with visitors, keeping them longer on the website. However, you need to ensur